Full House
Supporting Member
Joined

Feb 9, 2016
Messages

3,180
Reaction score

9,294
Location
Hey All,
Please allow me to present my sale of roughly 15k chips
Is everything ok?
Yup, just downsizing to my favorite 10 sets
Are these all ceramic?
Mostly - some HHL and Roulettes that I can't tell what they are
How can I get these?
Pickup only in Collegeville PA. I'm just being lazy and not wanting to ship this many chips
Are you splitting? Wouldn't you make more if you split and ship?
No splits at the moment. And I realize I could make more by shipping, but please see lazy factor noted above
How much was all this to buy original?
About $3,500 - $4,000 total. Ceramics don't age like wine like their clay brethren do
Is there any other stuff for sale?
Yes, definitely. I have random stuff (wooden cases, cards, etc) that I would unload for cheap to the buyer of the lot. I also have Majestic dealer chairs I could part with
What's the sale cost?
$2,000 (pickup only) for all the chips
and racks
. For the racks as well (I'd recommend for transport), it would be $2,300
. Most of the racks are Chipco and Paulson (24010 and old version)
Do you really expect to sell these?
Not really. Perfectly fine locking them in the vault as well.
Ok, onto the pics
Freddie's of Fife Chipco
(Condition - Most well used - sorry for blurry pic - didn't realize until I packed them back up)
Kash ICON Ceramic
(Condition - used to good)
Lady Luck Casino
(Condition - Excellent)
** NOTE: 174 x 43/44mm $1000 - This is not common to find, and they are usually several dollars per chip **
HHL Monogram Solids
(Condition - Good to Excellent)
Random Roulettes (I don't know the manufacturer, but they are 8.5g each)
(Condition - Good)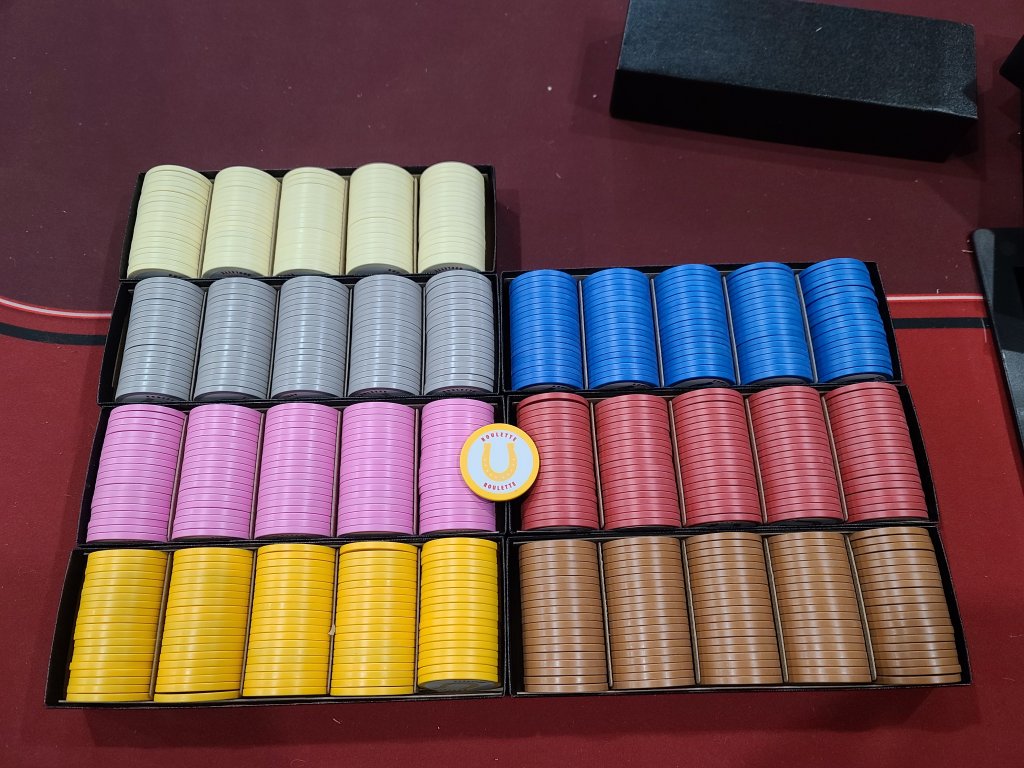 Micro Stakes Chipco Set
(Condition - Excellent)
Vintage Auto Chipcos
(Condition - Good to Excellent)
Large Chipco Tournament Set
(Condition - Excellent)
Langworthy Chips (denominated + wooden case)
(Condition - Used)
Please don't hesitate to hit me up with questions or requests for more pics.
Thanks!
Dan
P.S. Bonus pic of dealer chairs ($400-$500 new)
Last edited: