Joined

Mar 24, 2023
Messages

19
Reaction score

79
Location
Hi everyone,
I developed a real love of poker over the last year and found Poker Chip Forum to be my go-to for expert advice on all the fun things. I started a poker club for about 10 friends and colleagues and as our group expanded, I decided to build my own poker table design some custom poker chips. After much internal debate, I settled on some "Tina" custom ceramic poker chips.
As a sort of "thank you" to you all, I wanted to show off my homemade table and custom chips, so here's some pictures and a little background.
Custom table
I have been a hobbyist woodworker for many years, so building my own table was an exciting idea for me. Let's just get to the pictures.
Routering out the perimeter and hand rail pieces.
Raw handrail with 9 player cup holders.
Rough table coming together.
Arm rest padding and vinyl work.
I didn't want collapsible legs, so I went with a traditional table leg construction.
Play area padding and material going on.
Raised armrest ribs and perimeter LED lens channel.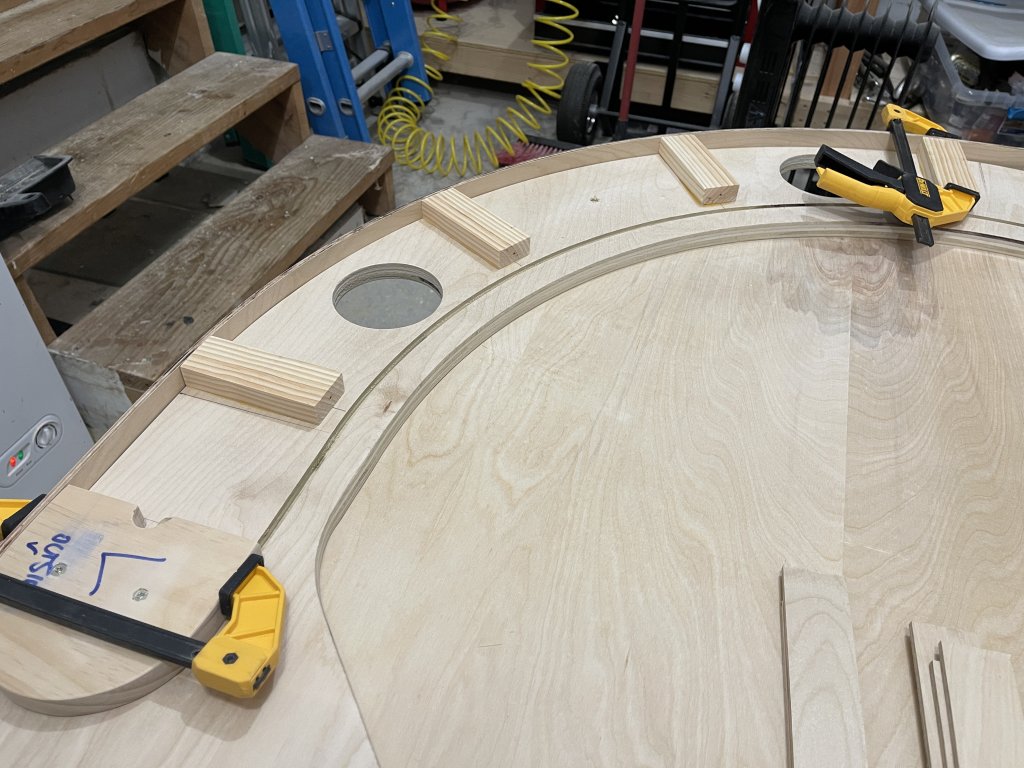 Finished table before the play area graphics showing off the RGB LED perimeter.
Bet line vinyl applied to play area (many thanks to my girlfriend and her Cricut).
Club logo applied to the play area.
The set
Requirements: I wanted either a real clay set from
CPC
or a custom ceramic set with a similar look and some kind of texturing. I didn't want a completely flat ceramic or anything with a sticker inlay.
The design: I wanted each chip to have vastly different edge spots and to preferably increase in complexity as value increases. It took me a solid two or three weeks to settle on a logo for my club. I knew I wanted something personalized instead of a generic club name as I wanted to use it for a small side business of building poker tables.
Order: I worked directly with Tina on AliBaba and I have to say that she was fantastic. She was very responsive and made sure I got exactly what I wanted. The lead time for the cards mold was only about 10 days and she shipped them the very next day after they were done. I highly recommend using Tina.
The chips: The chip quality actually shocked me as I was worried they'd have a very hard, dense feel, but was happy that they had a feel somewhere between china clays and a more dense ceramic. Their acoustic note is definitely on the higher side - pretty much exactly what you'd get from any other ceramic chip. The mold is amazing. I love the center circle giving the look of a real inlay, and the cards mold gives a little extra texture. They are not glossy at all, which is exactly what I was looking for.
The chips
25 Cents (200pcs)
This chip was designed to be rather subdued. I considered no edge spots at all, but found that to be a little too boring.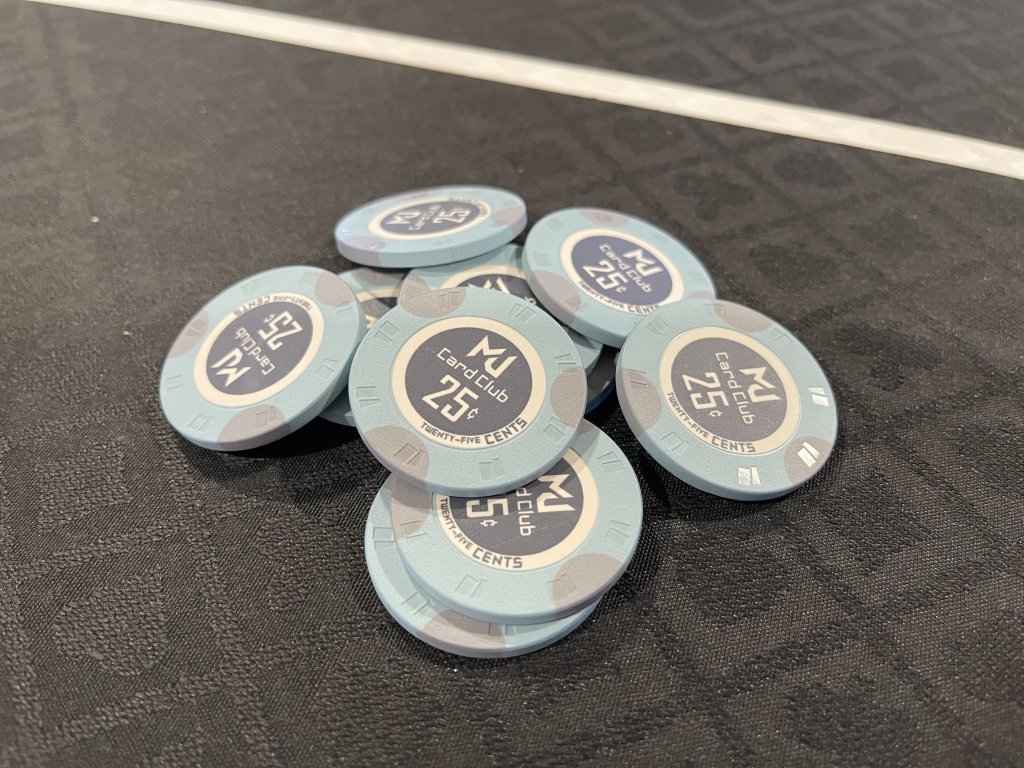 1 Dollar (400pcs)
I modeled this chip's edge spots after Harrah's Atlantic City as this was the first home casino where I played live poker. The color is slightly off-white to give the chip a little more of an "inlay" look. I was surprised by how much everyone seems to like the color.
5 Dollar (400pcs)
This chip is modeled after Live! Casino in Philadelphia where I played my very first casino live game.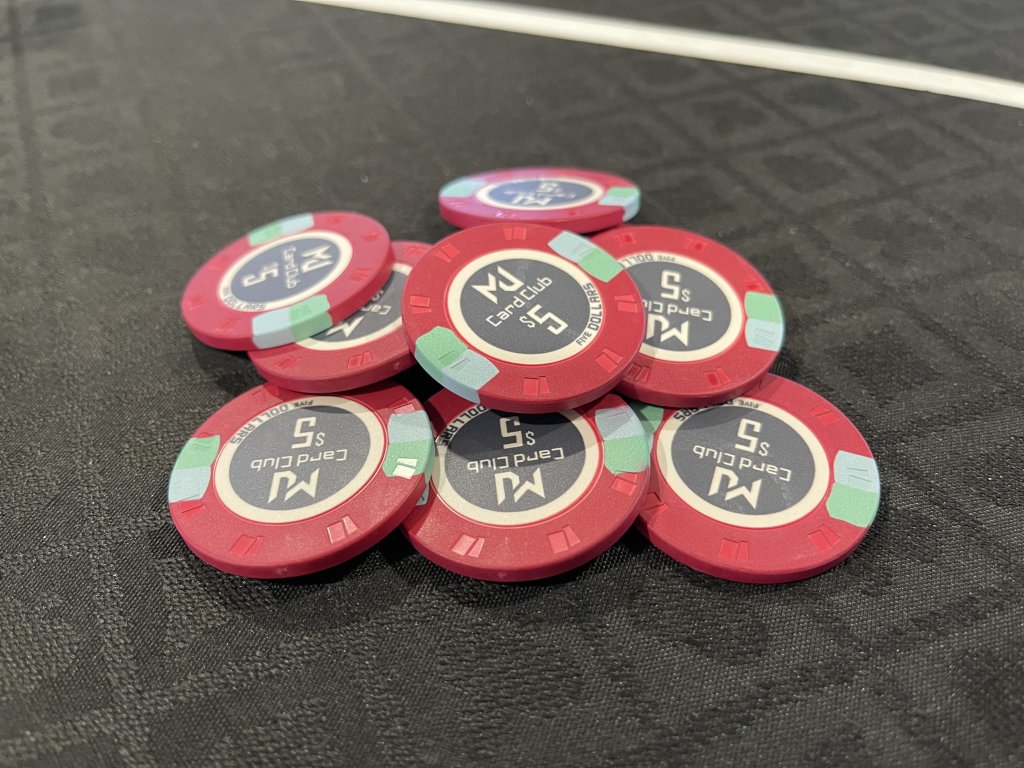 25 Dollar (150pcs)
This chip is completely designed by me, with a little inspiration from the $25 chip at the Hard Rock Atlantic City. They don't have a poker room, but I do like the look of their $25 chip. It turned out to be my favorite chip of the set.
100 Dollar (50pcs)
For this chip, I knew I wanted something very colorful and unique. I wanted it to have its own nickname, and after going back-and-forth on the design and colors for quite a while, I settled on this rainbow spot pattern, and I really love the way the spots look in a stack.
If anyone has any questions about the current chips, process, or quality, please let me know and I'd be happy to answer any questions you may have.
I'd love know what you think, and again, thank you for all the wonderful expert advice I found here over the last year. I've learned so much from so many of you!
Mark-