PCF Classic Poker Chips Mold & Color Sample Set

06/21/22 Update: The sample set is currently:
OUT - if you'd like to get on the waiting list, please shoot me a PM
Samples, samples, samples!
I have the following CPC Sample Set available to "rent" as a package. It includes a color sample, small shuffle stacks of each mold, and a handful of inlayed custom chips from various molds, as inlayed chips can feel slightly different than blanks.
COLOR SAMPLE (38 chips)
One full 38 plain color sample set on the "A-Crest" mold with all the current CPC colors:
White
Red
Madarin Red
Light Blue
Imperial Blue
Blue
Dark Blue
Light Green
Green
Dark Green
Canary
Yellow
Butterscotch
Orange
Black
Charcoal
Gray
Lavender
Purple
Blurple
Pink
Light Chocolate
Chocolate
Maroon
Dayglo Yellow
Dayglo Saturn
Dayglo Arc Yellow
Dayglo Green
Dayglo Peach
Dayglo Tiger
Dayglo Orange
Dayglo Pink
Dayglo Peacock
Retro Red
Retro Blue
Retro Green
Retro Lavender
Bright White
MOLD SAMPLE (150 chips)
Half stacks (10 white chips) of each 39mm and 44mm mold currently available at CPC:
A-crest
B-Diamond
Cards & Dice
Circle Square
Diamond Square
Elephant & Crown
Fluer-De-Lys
H-mold
Hourglass
Horsehead
Jockey
Large Crown
Small Crown
Plain
Scroll
44mm A-crest
44mm Scroll
Sample chips with inlays (13 chips):
Elephant & crown
A-crest
B-Diamond
Circle Square
Diamond Square
Fluer-De-Lys
H-mold
Hourglass
Horsehead
Large Crown
Small Crown
Scroll
Jockey
Note that CPC has samples of most everything noted above available for purchase, so if you'd like to get samples to keep, please check in directly with them, it will probably run you ~$350+ and is subject to availability. The intent of
this
offering is to give folks within our chip community looking to purchase a custom CPC set a chance to get their hands on a set of samples, complete with half barrels of chips to get a feel for each mold, at a minimal price (cost of shipping both ways).
Here's how it works:
The cost to rent the sample set is $16 plus a refundable** $385 deposit, paid via paypal friends & family. This is the cost of shipping with insurance via USPS.
Once payment is received, I'll ship the full sample set to you via USPS flat rate padded envelope with insurance.
You keep the sample set for up to 4 weeks, then mail the complete sample set back (you pay the return shipping).
As long as the complete sample set is returned (undamaged) in a timely fashion, I then send you back your $385 deposit via paypal friends & family.
**The details:
The color samples are numbered with a black permanent marker on one side – the key is noted in the OP of this thread
Do NOT shuffle the color sample chips or the inlayed chips, this will help to keep them clean and easily distinguishable
You may shuffle and handle the mold samples to get a feel for each mold, I just ask you do so with consideration for the next person getting the samples. The intent is for you to get a feel for the mold, not spend 8 hours a day for 4 weeks shuffling them at your desk at work while eating a cheesesteak with fries... without a napkin...
ALL 221 chips must be returned in the same condition for you to receive your deposit back. Partial refunds will not be given if one chip is missing - the value of this set to the community (and me) is that it's a complete sample set. The mold samples are white so I understand they're going to get a little dirty, but if there is caked on dirt from you shuffling them, please give them a quick cleaning before returning them (no oxi-clean!!).
The chips will be shipped in special wooden box (see below) with foam padding, in a double padded flat rate envelope with a USPS tracking number and insurance. At a minimum, the sample set should be mailed back the same way or better, in the sample box they came in. The box was built to fit into a double padded flat rate envelope. I would also recommend adding insurance to the package on the way back; if the sample is damaged or lost in the mail, your deposit will not be refunded. UPS or Fed Ex is acceptable if you prefer those options.
At the moment this is limited to the continental US ONLY. Canada may be a possibility (PM me if you have further details on shipping) but I would imagine that shipping costs overseas would make this cost prohibitive.
This offer is valid to all PCF members with at least 20 posts who have been active for at least one month.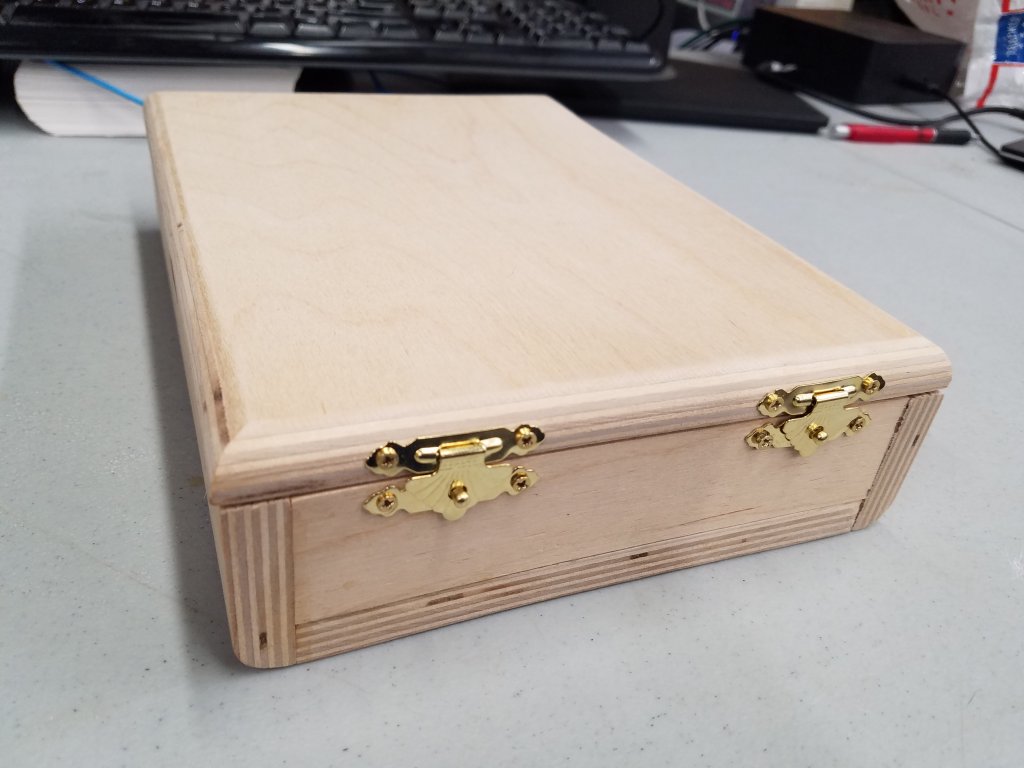 As long as you adhere to the above, your total out of pocket cost should be around $30. Again, the intent here is to offer a more comprehensive set of samples than just a color sample and a single set of mold samples, at the cost of shipping. I'm not making any money off this and the deposit is only in place to cover the potential of someone "forgetting" to return the set or just part of the set.
Feel free to ask any questions here or shoot me a PM.
Last edited: