Flush
Site Vendor
Supporting Member
Joined

Aug 2, 2015
Messages

2,178
Reaction score

5,244
Location
Updated: 04/30/16
Prices do not include shipping. In case of multiple inquiries the first time stamp will get it whether its in thread or pm.
4/30/16
19 Autographed Cards-16 are serial numbered. All are loaded into a penny sleeve, then a toploader and sealed in a team bag. All are NM/MT or MT condition. $80
players include: antonio esfandiarix2, scott fischman, humberto brenes, david pham, phil gordon, jonathan duhamel, nam le, gavin smith, michael mizrachi, josh ariehx2, hoyt corkins, patrik antonius, erick lindgren, todd brunson, david chiu, annette obrestad, jamie gold
4/22/16
Paulson Solids-
All will need to be cleaned. Some are very dirty.
I had planned to clean these up myself but it takes so long. I have sort of overspent as of late. 500 of each chip available. Racks not included.
Red Starburst: Easily stand on edge. Chips are used with various nicks and a few chips per rack. Picture shows dirty ones on top and cleaned but unoiled chips on bottom. $60 per rack.
SOLD
Grey Starburst: Some will stand on edge. Lots of micronicks, some overstamped and some chipped. Clean up really nice. $50 per rack
Orange MVR/50 cents: Stand on edge. Various nicks and a few chips per rack. The orange on these is brilliant. $40 per rack 300 sold 200 available
Blue MVR/1.00: Stand on edge. Various nicks and a few chips per rack. Light baby blue color. $40 per rack. 100 sold 400 available
Blackjack signs cleaned up from Jim's chiproom sale. Cord, on/off switch added. Brass polished and clear coat added to front to clean up scratches. All are used and will have nicks, or scratches including on the brass. Look great. I sold seven of the 5 color signs on ebay for $100 and had kept these last two for myself as they were the nicest of the bunch. If they dont sell I'll be ok with it.
Shipping $6
5 color sign-black(no light), red, green, blue, orange. $90
9 color sign-black(no light), red, green, blue, orange, white, purple, pink, yellow.....out of the 9 signs that looked identical this was the only one with the four additional colors. This was the one I kept for my special blackjack table. $110
SOLD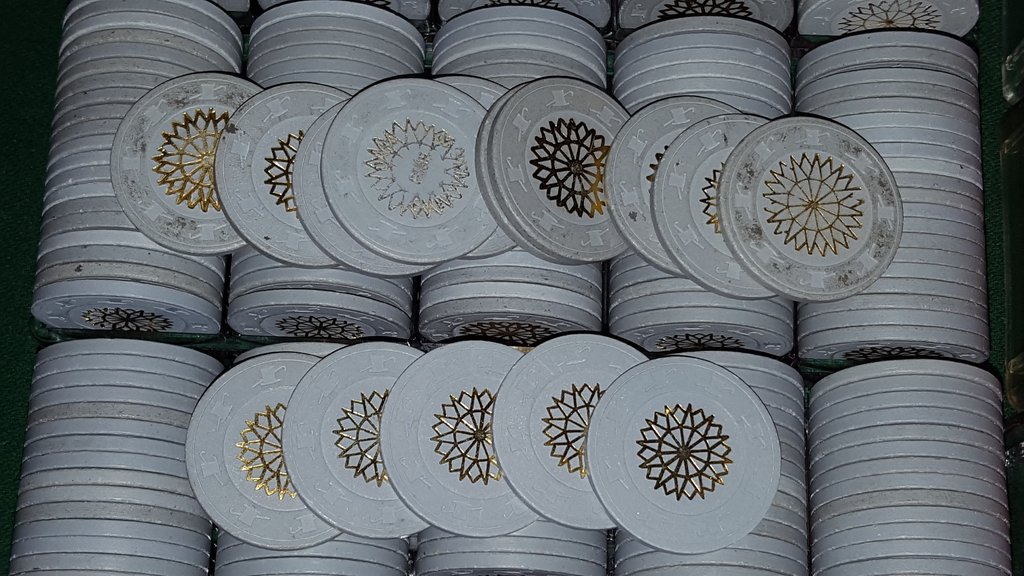 97 Darker Reddish/Brown ASM HHR with brass/gold flakes. All chips easily stand on edge. Show some signs of use with small nicks here or there. Still seem chalky. Dont think theyve been oiled before. $30
SOLD
98 Nevada mold chips. 19 black and 79 red. This mold confuses me as it has passed through many different manufacturers. Bud jones, ASM, Nevada Jack who the list goes on. This one also contains brass/gold flakes on the side. Chips easily stand on edge but show signs of use and have various nicks. $30
SOLD
296 Paulson web mold MD-91 chips. S&P Initials on both sides. There are 149 white, 74 red and 73 green. The colors on the red and green are brilliant. The white chips need to be cleaned. All chips show signs of use and have various nicks or maybe a very small chip. All chips stand easily on edge and have nice corners. A craigslist find a few years back, the older gentlemen I bought them from had told me they were paulson. When I went to pick them up I thought man this guy is trying to rip me off as I had never seen this mold. He told me his wife had worked for paulson many years ago and these were a special gift she had made for him. They were now divorced so he was getting rid of them. He also said something about paulson making furniture. I could tell they were clay so I bought them anyways. Later I realized Paulson did make this mold at one time. These did come in a pretty little wood case with three wood racks inside. Lock and key even worked. When do you ever see that? $129
SOLD
Last are a couple ebay auctions of stuff I have had in inventory for too long. At some point things just have to go.
90 frontier aluminum room tokens. These would make wicked bounty chips. I would use them except I never top 10 people at my house. DO NOT use buy it now. Let me know you want them and I'll cancel the auction. $20
http://www.ebay.com/itm/90x-Frontie...s-Vegas-/201533096772?ssPageName=STRK:MESE:IT
SOLD
Players club chipco chips. I paid .25 plus shipping per chip. I can sell them for .27 cents a chip plus shipping. Only $5 and $25's are left in quantity.
http://www.ebay.com/itm/20x-Tournam...ame-Red-/191785471030?ssPageName=STRK:MESE:IT
http://www.ebay.com/itm/20x-Tournam...e-Green-/201506065429?ssPageName=STRK:MESE:IT
80x Red ASM H Mold $.25 a chip
SOLD
http://www.ebay.com/itm/80-ASM-H-Mo...-Flakes-/201554280565?ssPageName=STRK:MESE:IT
160x Chocolate ASM H Mold $.25 a chip
SOLD
http://www.ebay.com/itm/160-ASM-H-M...-Flakes-/201554275964?ssPageName=STRK:MESE:IT
180x Green MD-3 chips $50
SOLD
http://www.ebay.com/itm/180-Ewing-5...-Casino-/201554284318?ssPageName=STRK:MESE:IT
Last edited: