Full House
Supporting Member
Joined

Jan 25, 2020
Messages

3,196
Reaction score

6,663
Location
I haven't had as much time to spend on the forum the past few months but I did want to just briefly mark the occasion. Today will be exactly two years since joining the forum, and happens to be coinciding with my 2500th post as well. Last year,
I wrote this for my one-year anniversary
which was a lot of fun. This year's post will be more subdued but a few highlights in year two included:
-Attending my first ever (and so far only) PCF meetup game, hosted by the one and only
@Irish
. Was great to finally meet so many legends of the chipping community and had a really good time playing all kinds of new variants of the game, while enjoying a range of chip sets I had only seen in photos. I managed to only lose a couple hundred dollars, but it's the friends you make along the way right?!
-Old sets, New Sets, Red sets, Blue sets: Now in my second year, I began getting a good feel for what sets I really wanted to have in my collection. I purchased my first true keeper set at the end of 2020 (my RHC Terrible's Lagrange secondary set) and it made me realize how much I really did like RHC chips. That makes me a minority in the chipping community, but I am good with that. To me, RHC chips have always, and continue to be the chips that actually remind me of actual casinos. I have rarely played with THC chips at any casino's in my life, and while I see why so many people flock to THC (especially the older leaded sets of course which I am the first to admit are, along with some of the TRK sets before them, the gold standard when it comes to chips), I really enjoy playing with RHC chips much more.
In my
one year anniversary post I showed some photos of my chip collection at that time
. It has changed a lot since then! Below an updated (not complete) photo of my current collection. I am especially fond of the CPC WSOP Tribute set (FDL mold) that I was able to purchase a few months back. It is honestly the first chip set that my regular weekly tournament players have appreciated on a deeper level (which as many of you know and be a rarity - friends often don't care much for the chips that we all spend too much time admiring:
-This past year I also got to get to know a few of the local New York City PCF'ers a bit better. In
@moechar
's case a LOT better lol. We play in regular games together now but online and in person and it's been fun playing live poker with someone who loves chips as much as I do. Speaking of appreciating chips, it's also been great to have been invited to several of
@rjdev7
's home games. He has some really sick sets (Money Tree TRK's for example), that I didn't think I would ever get to play an actual cash game with. We have been talking about co-hosting our first (slightly higher stakes) tournament together which would be really fun. I think for that, I will bring out my ESST set (not included in the photo above):
-This year I think I set a personal record for doing the most deals with a single person on PCF. Unsurprisingly that person is
@RivieraDanny
who really helped me out with a bunch of loose pieces for some of my Terrible's St Jo's Secondary set as well as a bunch of singles. Really appreciated him always giving me a good deal on whatever it was that we talked about and happy to have helped him out where I could as well: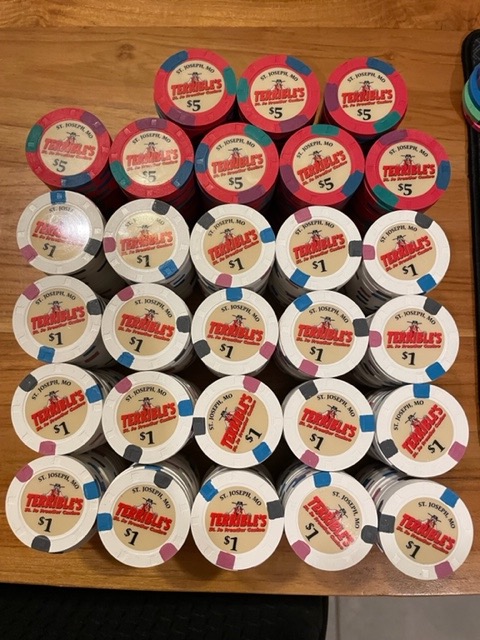 In the fall of 2021 I had the opportunity to collaborate with PCF legend
@Windwalker
as he battled literally the toughest cash games in the country against the likes of Garrett Adelstein, Tom Dwan and Phil Ivey. Railing those streams with what seemed liked the entire PCF community - those were some fun nights in September and October! Getting a shout-out on one of the Hustler Live streams from Krish was also definitely one of the highlights of this past year.
This past year was not without it's ups and downs of course. I was part of the "Poppin92" fiasco, where a former member here on PCF scammed a large group of us out of ~$20,000. While I personally ended up escaping without too much damage, it was a real wake up call for me personally and it was brutal for those who suffered serious loses. A rare negative experience here on PCF, that potentially could have been avoided from getting so bad. Through all of it however,
@horseshoez
really played the role of superhero, almost single-handedly raising thousands of dollars for those impacted. It was a real show of solidarity and generosity from a fellow PCF member that was pretty incredible to witness. I will always remember the hours of work that Zaki put in during that time, and not just hours but holding the anxiety and stress of so many of us that wanted answers for what happened to our money.
I have read a lot of reflections from members over the last two years about hitting valleys in their chip collecting journeys. I definitely felt that hit home for the first time myself over the past few months. When the prices of chips skyrocketed over the summer, it was hard not to be able to afford certain sets that I was gearing up to purchase or trade for. It seemed like the market went insane for a few months and I found myself paying prices for chips that I would have laughed at just a few months earlier (cough cough ESPTs
).
I'm not sure if I have hit "chip nirvana" yet but I do think I am getting close. I have a few NAGB set's that I will probably try to trade and/or sell in the coming months in an effort to add a few other sets to the collection but I (happily) don't scour the sales listings like I once did. There is something peaceful about not worrying anymore about missing out on the latest sale like I used to!
I will run some kind of giveaway in the coming weeks to mark this occasion, I just couldn't get it together tonight. Funny story - the kid who won my giveaway last year ended up becoming a big shot in the NFT community (his Twitter had like 2k followers when I met him on PCF last year and now he's over 100k - not bad for a guy in his early 20s - should I ask him for my chips back to give to someone else??
OK that wraps it up for my anniversary post, I told myself I would try to stay away from
@Ben8257
's trademark book length posts on here but it's so hard! Thanks to everyone who I've met on here over the last two years. Beyond helping to get me through the pandemic these past 24 months (which hit Brooklyn, NY very hard as many of you know), it's just been a ton of fun!
Last edited: