Joined

Oct 30, 2014
Messages

1,252
Reaction score

1,753
Location
EDIT: There is no Part Two, just replies to this thread with more pics. Can't seem to change title.
This is probably going to be boring but here's a poker-less themed trip report....
Although she doesn't gamble or shop, my wife is always begging for a kidless trip to Las Vegas. She loves the glitz, she loves the pretty drinks, she loves the pool. I love everything that is Las Vegas. We stayed at the Wynn for 3 days. I came equipped to play bigger than normal but surprisingly found myself playing less poker and more party.
Chicken Rob gave me the Matusow book at the last game we played so being half way through it I planned on destroying it during the trip. I got to about the 3/4 point on the way to Vegas from NH. I was in a middle seat on one side while my wife was on a middle seat on her side. She sat in between two guys who were good friends of Marvin Hagler, who was getting honored at some big boxing thing in Vegas. They said Marvin has a house in NH (lol). They invited my wife to a black tie event at Ceasars on Saturday night. Not sure if I was invited.
Yay cab ride from the airport to the Wynn! Wife is spray tanned up and I'm ready for a DRINK. We arrive at 10:30am Vegas time on a Thursday.
A view from our room. I upgraded to a view for an extra $30 per night. I'm gonna bink everything so why not right?
Quick bite at the Terrance Point Cafe. I thought this dude looked like Matusow but it was probably because I was on my 2nd Mai Tai at 11am. Because we were 3 hours ahead in our minds, I opted for Taco's. Meat was dry, service was crazy. Old couple next to us left because they f'd up their order twice. Lady on the right in Mike photo sent her food back. It took 70 minutes for us to receive our lunch. In all honesty, we didn't care. We are in the "just happy to be here" phase of the trip. Umbrellas you see out the window had water sprays pumping mist everywhere due to the heat. Wife got a veggie burger, which I believe is cult food.
"SIR... SIR.... YOU CANNOT TAKE PHOTOS" is what I'm greeted with here. The Wynn has a Ferrari museum that you can pay $10 to enter (we opted not to do it since we were antsy to walk around). If you show proof that you are a Ferrari owner, the museum is free. I just walked in and pretended nothing was wrong but got a few snaps before being brushed out.
Skrillex was playing at XS but we are too old to be cool.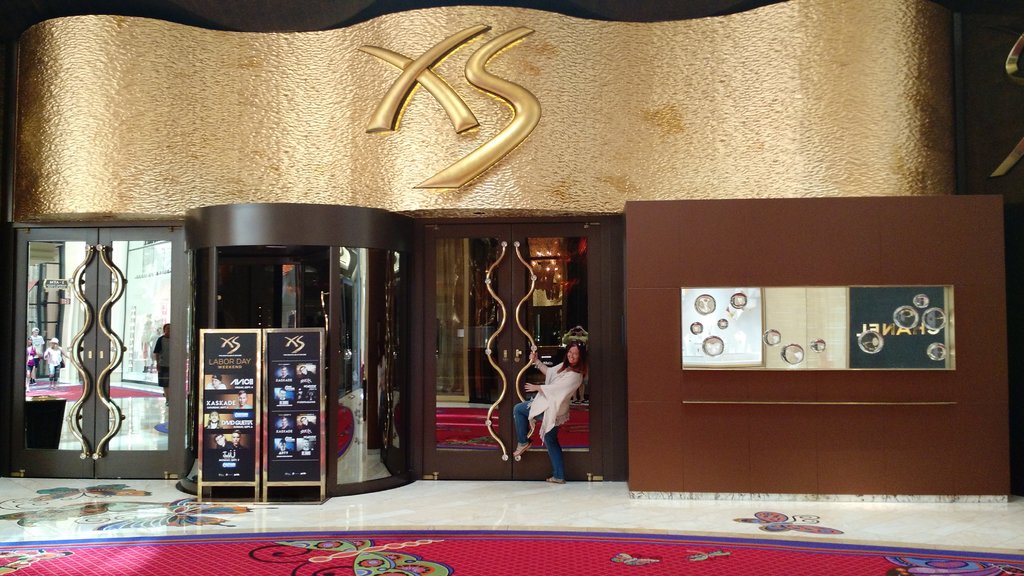 Got my card and saw some idiot on TV. I love that the bathroom has a bathroom in it in case Taco squiddles come through while the wifey gets dolled up.
Street performers. LOL Magic and the Pee Wee guy was great. Perfect Pee Wee voice.
After 30 hours of travel, party, eating and whatnot, wife goes to sleep in our room. I decide sign up for 10/20 PLO (poker lists are on our room TV) and head on down. After arriving to the poker room, there was 5 of us waiting for PLO and the guy asks if I want to play short handed 2nd table and say fine but the 2nd table doesn't lift. I'm waiting at the high limit stage area while watching the current PLO game. While waiting, I find myself falling asleep. I go over the PLO table and ask "is this 10/20 PLO" and get the ugliest turn around reaction from one of the players. It was StealthMunk. I think he might have just lost a big pot because he got up and was venting to another player. I felt like this guy when I asked if it was the PLO table:
Well at that point I looked at the table and I think 12K was the shortest stack. I'm like, okay, I'm exhausted, its my first time playing cards for a 3 day trip, do I really want to confirm busto right now? No. I find out that the Wynn is the only Vegas cardroom that has a $1500 max buyin for 2-5 NLHE. Sign me right the F up. I can play drunk 2-5 anytime. I won some money, I don't know how much. 5? whatever. Went to bed around 5am when everyone was playing tighter than a prom date.
HELLOOOOO SPORTS BOOK!!!!! I hit 2 out of 3. Should have been 3 out of 3 but stupid 9th inning bullpen gives up 4 stupid runs. Overall +350 or whatever.
Degen moment of the week: Kept 20K in a backback loosely in the room, but used the room safe to store my sports book tickets valued at much less. Did it for all 3 days.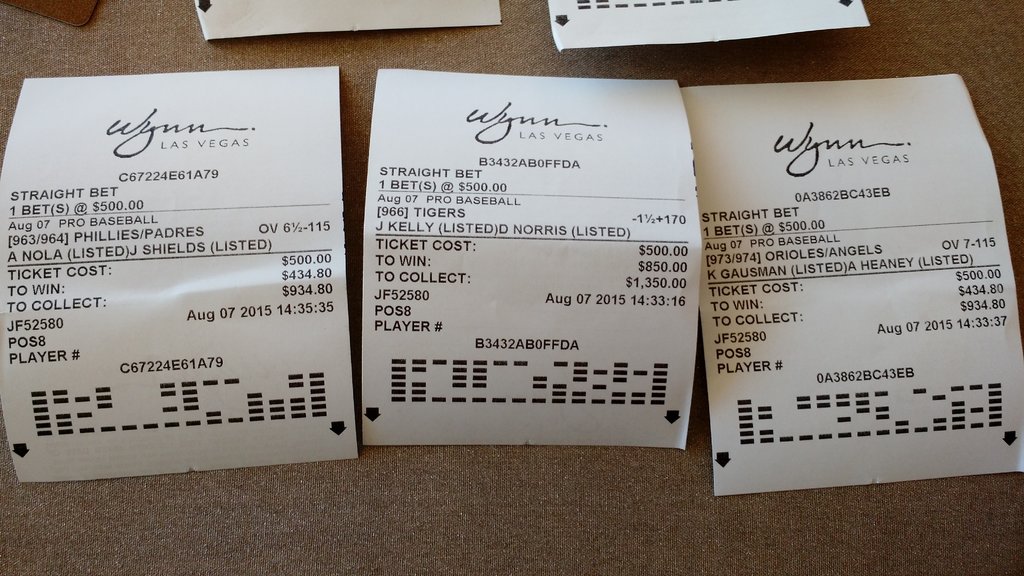 If you've ever watched "Best thing I ever ate" on Food Network, they profiled a steak and egg slider breakfast at Encore (connected to Wynn) that I had to eat. Wife got a pork hash and I got the sliders. The restaurant, Society Cafe, is a MUST eat for breakfast. The food is superior and the service is top notch. Because its in Encore, it attracts less people so its kindof a gem spot IMO.
Whatever day it was, we meet up with H|Q for dinner at Strip Steak right before the Michael Jackson ONE Cirque show at Mandalay Bay. We eat like KINGS!!!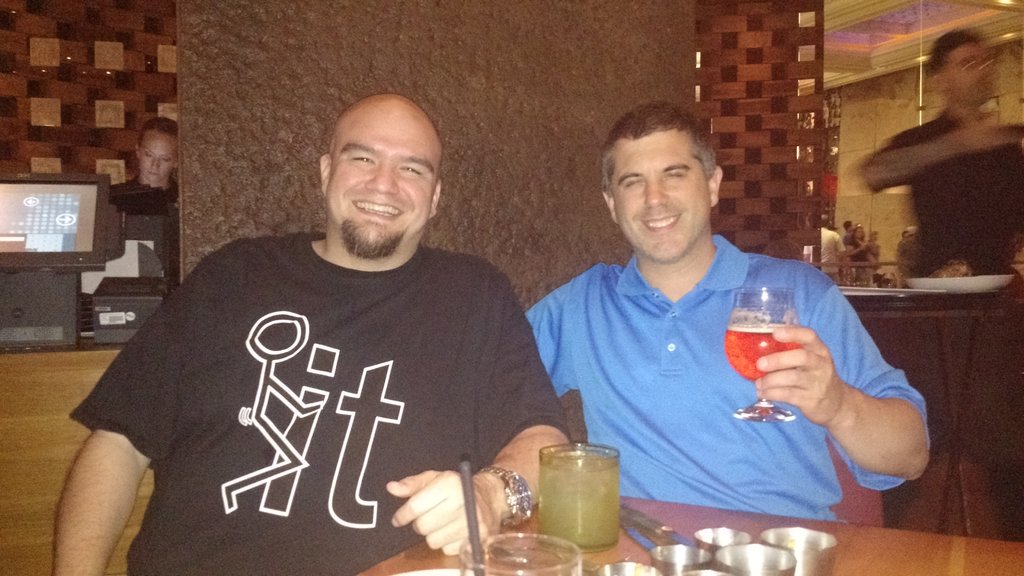 I tell Jayson to order whatever for apps and dinner, I don't even want to look at the menu, just bring it on. He looks at
me with Bambi eyes and says "REALLY?" and on we go. We have the same palette for food so I just give him the reigns. BACON appetizer. Thick ass pork bellies that melted right in your mouth.
TOMAHAWWWWWWK!!! Look at that beast. On the upper left is a block of creamy potatoes. Lower left is veggie whatevers but lo and behold... the crowning jewel is the little steak on the top. Japanese A5 Wagyu, flown in from Japan that day. The managers or whatever delivered it to our table with our servers, it was like we won something. Amazing beef, the best I've ever had.
Last edited: