Joined

Oct 31, 2014
Messages

1,587
Reaction score

3,053
Location
I ran into Sandy Creek at DCS and he asked me to flip his collection. Apparently, he is following in his daughter's footsteps and going on a mobile adventure across the US. That being the case he is liquidating his chips and accessories.
All prices are negotiable. Shipping is additional. I will leave the auctions here until I think they have gone stale, after that, I will go to eBay.
GET SAMPLES

Those were closely followed with this collection. There are a ton of samples.
Matsui Eclipse 8 chips, 2 plaques (2x 1000 chips) - $25 (sold Cyberottwieler)
Rodeo Commems Paulson - $10
Desert Palms - 14 chips - $5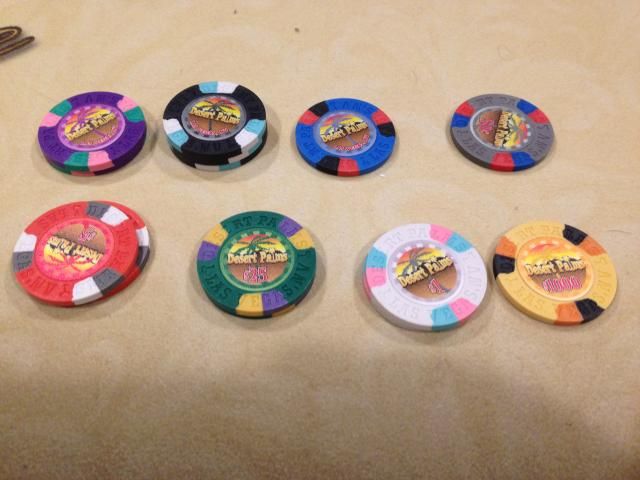 Speakeasy - 8 chips - $10 (sold Bubble)
Pharoah - 4 - Paulson - $5 (sold Bubble)
Steeler 2005 Champs - 9 chips - $5 (free shipping on this one, just to get it out of my house)
Caesars at Sea - 5 chips - $15
High Roller BCC - 11 chips - $15 (Sold Cyberottweiler)
Horseshoe Series, Ceramic - 14 chips - $10 (sold Bubble)
WPS Ceramic - 23 chips - $15 (Sold Frechipper)
Egyptian Ceramic - 7 chips -$5
Murphey's Coin in, I don't know manufacture - 8 chips - $10
Top Hat, Paulson - 7 chips - $10 (sold Carlin)
Private Card Room - 7 chips - $10 (Sold Carlin)
Chewelah Casino - 7 chips - $5
Capone's - Paulson 4 chips - $5
Blue Sands - 4 chips - $5 (sold Cyberottweiler)
Avalon Hot stamps - BCC 15 chips - $15 (sold Carlin)
Stralka - 8 chips - $5
[/URL



Shotgun Lot - Lots of stuff. Everything seen in the pic. First $25 gets it. Please don't ask for inventory.
[URL="http://s34.photobucket.com/user/harlequin011/media/Sandy%20Creek%20Sale/0F63495B-21A9-4D77-AF79-8A08003818D8_zpsnj8rekrk.jpg.html"]
Last edited: