Joined

Dec 1, 2016
Messages

36
Reaction score

199
Location
Hi folks, I've been a mostly passive observer of this forum for quite a while now, sucking in all the great info on here. Because there have been a few members helping me on my journey to my (hopefully final) poker table build, I want to share my process and progress now. I don't think I did or will do a whole lot differently than others, but maybe it encourages more members to go down the DIY route. Trust me, I'm not an expert woodworker (it is a hobby though), so I think almost anyone can do this if you put in the right amount of planning and care during the build.
Background
This is actually my second build. Here is a picture of the first one I did a few years back.
I know, a racetrack table. I can only repeat what so many members on here have said. A wooden racetrack looks great, but it plays terribly. We play about once a month. And while my guests don't seem to care (we are all casual players and my guests are just happy that we have a 'real' table) I'm triggered every time I'm trying to pick up cards.
So, a new table then. And this time I'm not cutting any corners. But what should it look like? A wanted the table to reflect a bit of personal history and fit to my set of CPCs (I never really introduced them here, but
here
is the design thread. It took me another few years to actually have them made and I lost track of this site back then. Maybe I'll show them off later). I contacted
@timinater
about designing a custom cloth. After only a few iterations, we settled on this.
This combines the oceanic theme, the branding on my chips and a style of designer tables which were created by artist
Duffy London
, which I absolutely love. The most inner section in navy blue serves as the betting line. The players sort of throw their chips into the abyss. The seahorse with the top hat & cane is the logo of a Bermudian hotel where I lived for some time. I don't have a
THC
chip set yet, but being a member of this forum, I guess never say never. I ordered the cloth from
@T_Chan
and by then it was time to design the rest of the table.
One mistake with my first table was, that I built the table, but never got to building a fitting base for it. I still had a steel base of an old IKEA desk. That worked, so I never put in the effort to build a base myself. I did not want to make the same mistake again. And because I know myself and how quickly I can get distracted with other projects, I knew that the only way to avoid a half-finished project was building the base first. I cannot do anything with just a base, so the motivation will stay high to finish the rest of the table. And because I'm actually still in the building process of the table, I will cover the base build here first.
Building the base
I clicked myself through this entire forum, Chanmans gallery on his website, Pinterest etc, to find some inspiration. I knew that with the curvy felt design I wanted the base to be curvy as well. One design I fell in love with are the
LaFortune
legs which Chanman has put on a few tables in the past.
So far, I had no experience with building something out of actual solid hardwood, nevertheless something so intricate. So, I thought this was beyond my skillset. My uncle is a retired carpenter who wanted to help me, but his workshop is inaccessible at this time due to renovation. I did not want to contract this part out completely (I know I could have ordered them from Chapman, but that would have been beyond my budget and ego as I wanted to do this build myself) so I was back to the drawing board, trying to find another design which I was comfortable enough to try building myself. I always came back to this style though. So, after much back and forth I said to myself: how hard can it be. Let's do it. I needed some additional tools (planer, jointer and a few new router bits), but as this is my hobby, I consider this an investment in future projects.
Step 1: I built a prototype of a leg out of wood which I still had laying around. For that I created a template from MDF board and routed the shape out of the real wood by using a curve ruler which I built myself. I used two pieces of 1 inch thickness, giving me 2 inches total. I was quite happy with the result, so I decided to continue with the project.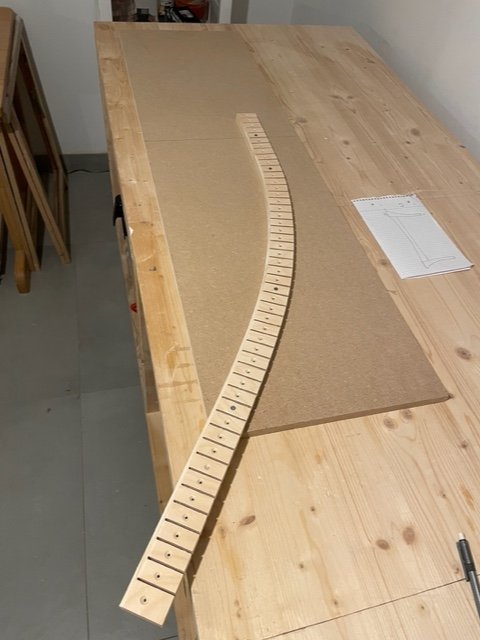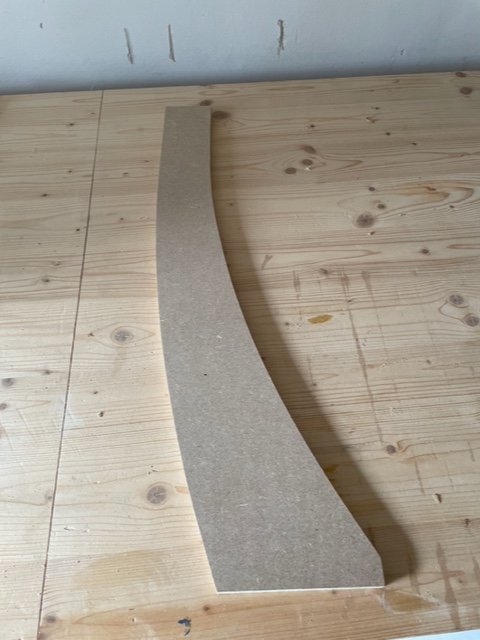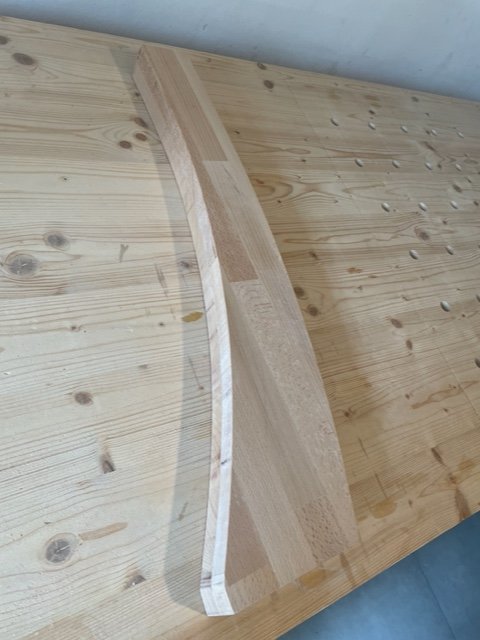 Step 2: The wood. I settled for ash, because I like the light color, which fits much better into our home where we mostly have oak and ash accented furniture.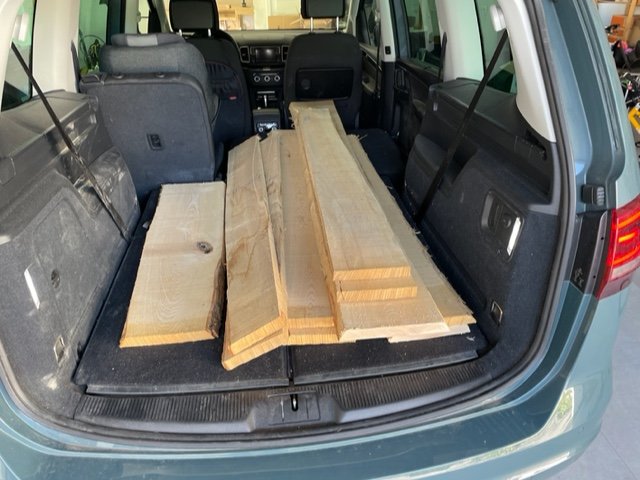 Step 3: Cutting off the bark, planing and gluing the boards to reach the desired width.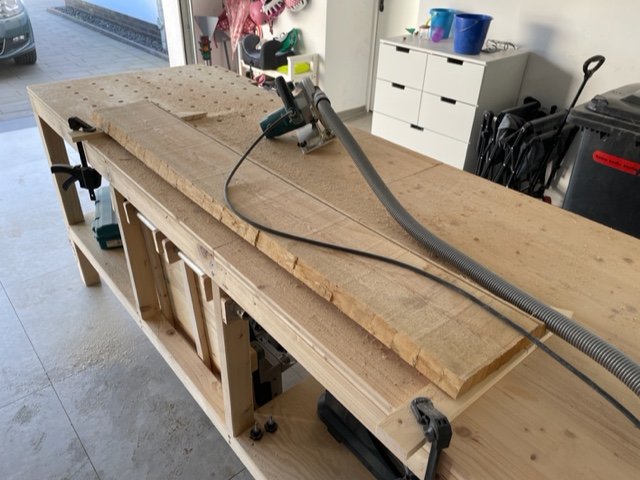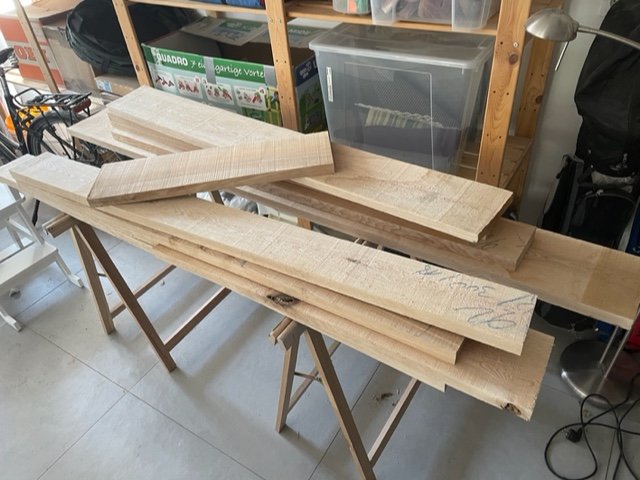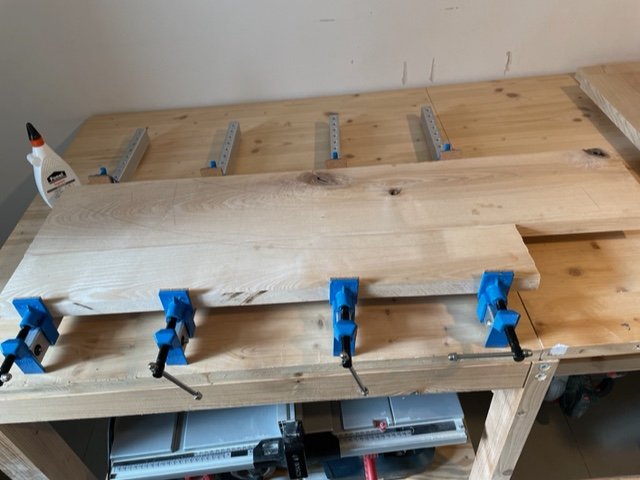 Step 4: I now built the template for the cross bars at the bottom using MDF again.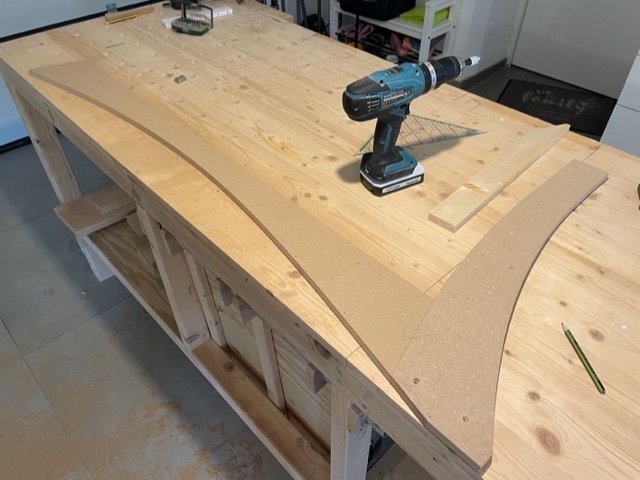 Step 5: I cut all parts roughly with my jig-saw. Then used the templates to get everything in perfect shape.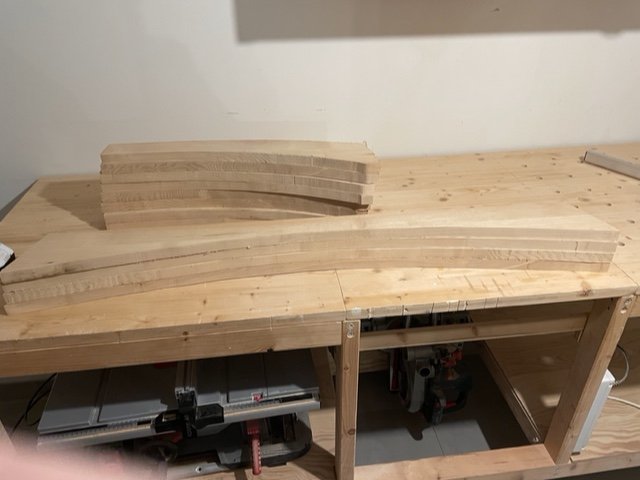 Step 6: Time to create the half-lap joint of the cross bars. This was done with a Japanese Ryoba handsaw and a chisel.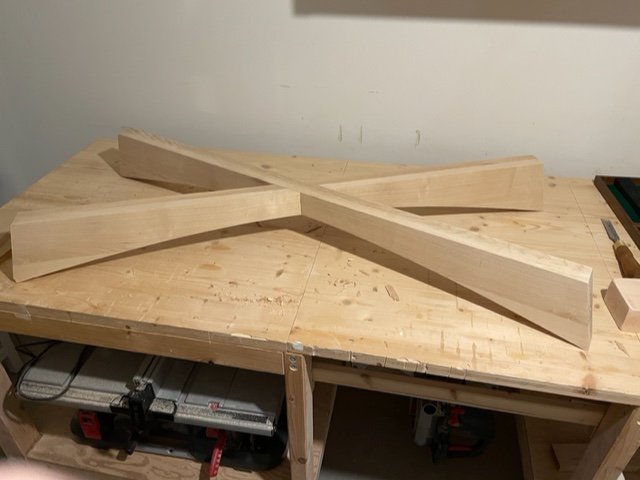 Step 7: I joined the legs and crossbars with wooden dowels. The glue-up was quite tricky though. Because there were no parallel faces from leg to leg, I had difficulties attaching clamps here. Also, my clamps were not long enough. So, I built some jiggies to help create some parallel faces and shorten the distance a little. Now I was able to glue legs and crossbars together. The glue-up of the overlapping crossbars was simple enough.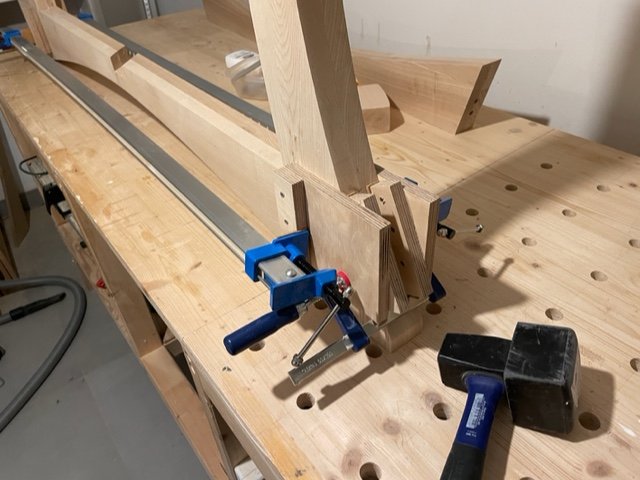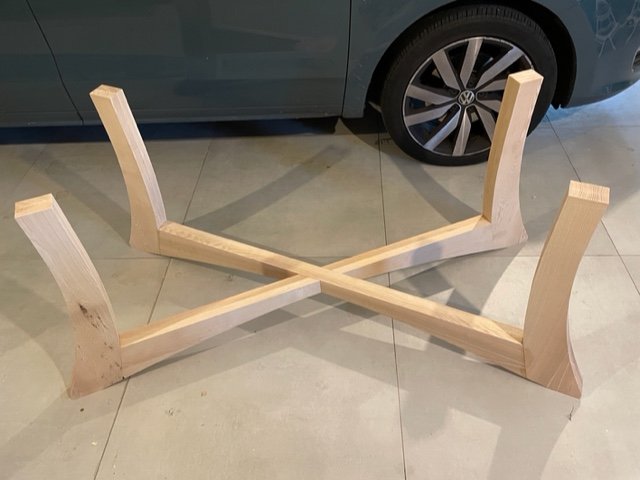 Step 8: In one of
@T_Chan
's posts he mentioned he had problems with the table being wobbly with these legs. I got in touch with him and braced the top of the legs with additional lateral support. I used a combo of wood glue and CA glue to attach these. The CA glue works in seconds (using activator spray) and creates the pressure needed for the wood glue. That way I did not need to use clamps again.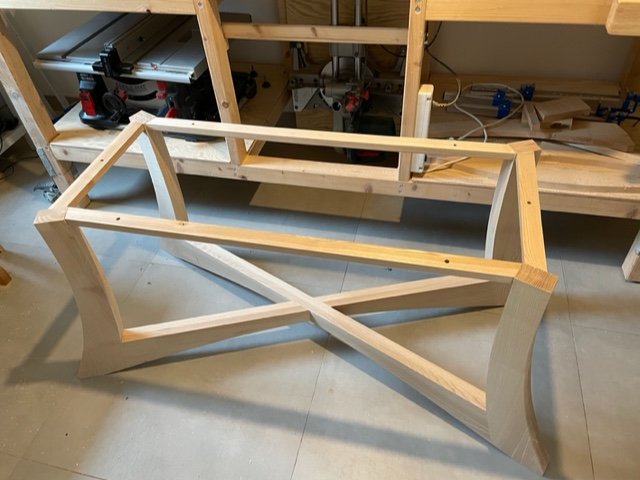 The finished base is really sturdy and does not wobble one millimeter. I'm really happy how it turned out.
This concludes the base. I'm still waiting for all the material for the table to arrive. Once the table is finished, I will share the rest. I hope I can get that done in the next 4 weeks. I have a day job and a family, so I only get to work on this maybe an hour per day, sometimes not at all.
In the meantime I might share my thoughts on material selection and budget, but that's for another day.