Sorry it's taken so long to get these pictures posted, but here they finally are.
I introduced this set a few months ago, for more information one the about how I chose the chip colors/spots, theme & inlay, check out the design & background thread
here
. However, for as excited as I was to introduce the set then, I left a little extra reveal for the pron thread. I actually designed this set as two sets - primaries and secondaries. Obviously this wasn't done in the traditional casino primary/secondary sense for security reasons. But rather, I thought it would be neat to have two different sets, each playable for a two table tournament, but similar enough that they could be combined in case I ever got the chance to run a larger 3-4 table tournament, like a PCF meet up
Plus, in the course of developing various
mock-ups
for this set, I had a few chip variants that I *really* liked, but just didn't fit with the rest of the lineup, so this allowed me to get those as well.
Anyways, without further ado, I present "The Barrel House"
Primary set:
T25 - DG Green 3V12 Retro Green / DG Yellow
T100 - Black 4A14 DG Peacock / DG Green
T500 - Blurple 4DSA316 DG Peach / Bright White
T1000 - DG Tiger 314318 DG Yellow / DG Peacock
T5000 - Imperial Blue 4D14 Light Blue / DG Tiger
T20,000 - White 3143DS18 Blue / Mandarin Red
T25,000 - Canary 3143DS18 Dark Blue / DG Peacock
Secondary Set
T25 - DG Green 3V12 Retro Blue/ Bright White
T100 - Black 4A14 DG Peacock / Light Blue
T500 - Blurple 4DSA316 Light Green / Retro Lavender
T1000 - DG Tiger 314318 DG Retro Blue / DG Arc Yellow
T5000 - Imperial Blue 6D18 Bright White/ DG Tiger
T20,000 - White 414418 Blue / Green
T25,000 - Canary 414418 Blurple / Retro Lavender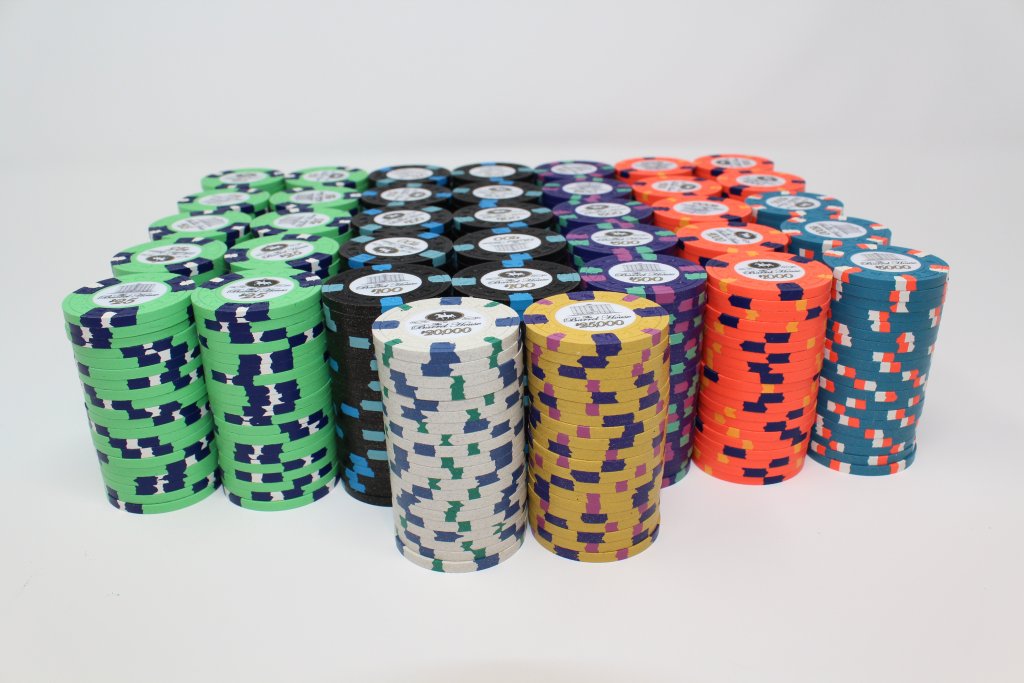 Add-ons:
Bounty - Retro Red 4DSA18 DG Pink / Bright White (44mm Scroll mold)
T5 -Butterscotch 2A12 Canary / Maroon
Last edited: