Full House
Supporting Member
Joined

Apr 29, 2020
Messages

3,895
Reaction score

4,939
Location
Spending WAAAAY too many hours on pokerchipdesigntool.com and Avery.com. Thought I would share what I'm finally comfortable enough to call my first finished DRAFT design for a chip label and some color combos.
So what's Texas Flood you ask? Well, among many dozens of different hobbies and pastimes are my love for music, and for brewing beer. I am thinking about possibly opening a small micro brewery after I retire from my accounting career in about 4 years. I'd love to get out of Houston and get 5-10 acres in either the Texas Hill Country, or in Colorado. We'll see. Anyway, for several years now I've called my home brewery Texas Flood Brewing, incorporating my love for music, especially Texas Blues and Stevie Ray Vaughan, with my love for craft beer. There's a good chance that will become my brewery name. So hey, I think a good brewery should have a good poker club, don't you?
There's only so much room on a poker chip label, so I decided to stick to just brewing in my design. As you may know, there are three main ingredients needed to make beer; barley, hops and water. Yeah, you need yeast too, but there weren't too many cool clip art designs for a colony of yeast online.
The inspiration for the style of the label was the Paulson Casino De Isthmus labels. The branches with leaves look a lot like stalks of barley, the shield looks a bit like a hop cone, I added water in place of the stars and a foamy glass of beer replaces the eagle.
So here's my tournament set! Let me know what you think and feel free to offer up suggestions for improvement.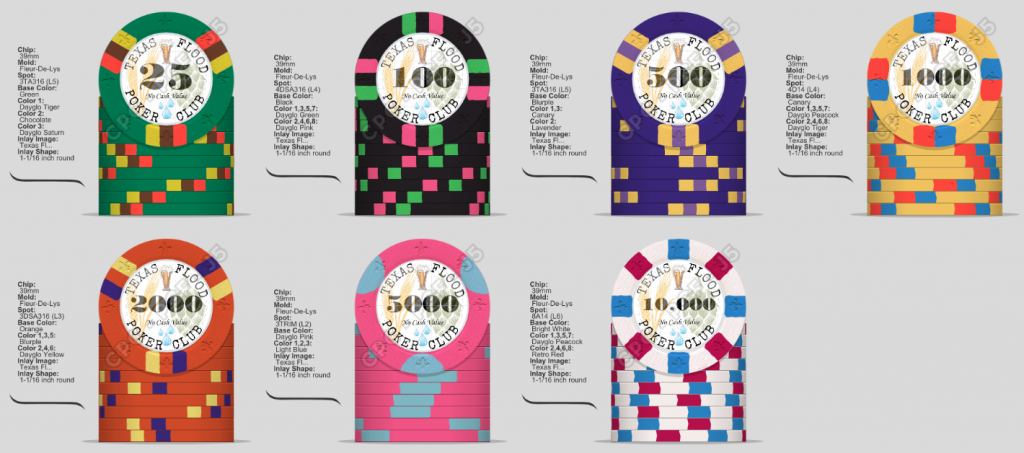 Here's a better look at the label: