Joined

Sep 18, 2019
Messages

1,284
Reaction score

2,541
Location
First table build! Been wanting to build this for a long time, finally got around to it.
Materials:
3/4in Maple Plywood
Hafele Legs
Rail foam 1" HD foam for poker table rails (from Tony)
Playing surface foam 1/4" closed cell foam (from Tony)
Vinyl Whisper Vinyl (from Tony)
Cup Holder Style: Jumbo S/S Cup Holders (from Tony)
Rings Wood Rings for cupholders (from Tony)
Custom gaming suede, misprint that I bought a while ago (from Tony)
- based my build around this felt, didn't choose this specific size for any reason, just wanted a nice felt and got this for a great price so based the build around that
bolts/washers/t-nuts for rail attachment
3M 77 adhesive spray
Wasn't overly concerned with cost, but I think I managed it pretty well, just wanted to build it myself + happy to purchase most of the materials from a fellow PCFer
Bullet points on the overall experience:
- Loved it!
- Just get a nice plunge router (especially if you do more woodworking that just a table), I had an ancient craftsman router that I used for this and I tried to use it in a way it wasn't made for, made it a nightmare
- Read this BEFORE you attempt your rail upholstery - I reached out to
@Irish
for advice before I started and he sent me these links but somehow I managed to avoid the most important one before I took a stab at the upholstery
https://www.pokerchipforum.com/threads/re-upholstering-poker-table-rail.41438/
- I am generally happy with how the upholstery came out but it is the farthest thing from perfect and definitely the least impressive part of the table. Still nice overall!
Progress pics below, but here is the end result: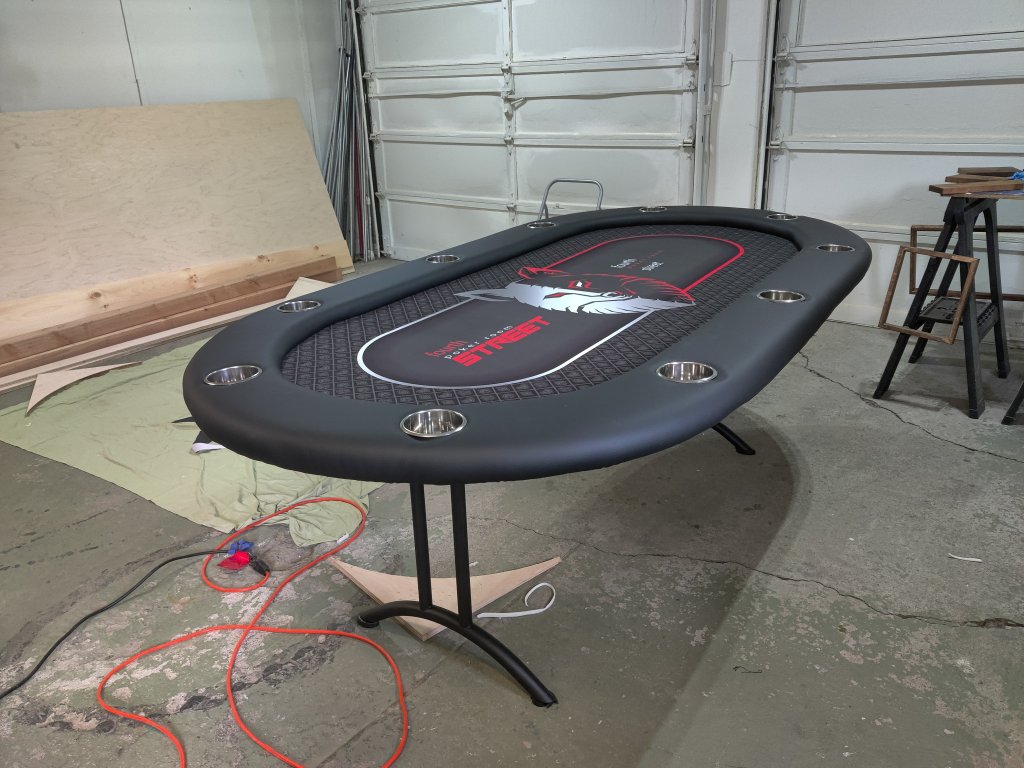 Progress pics below - lots of unnecessary repetitions in photos but just dumping them all here for anyone interested. It's rare folks complain about TOO MANY pics here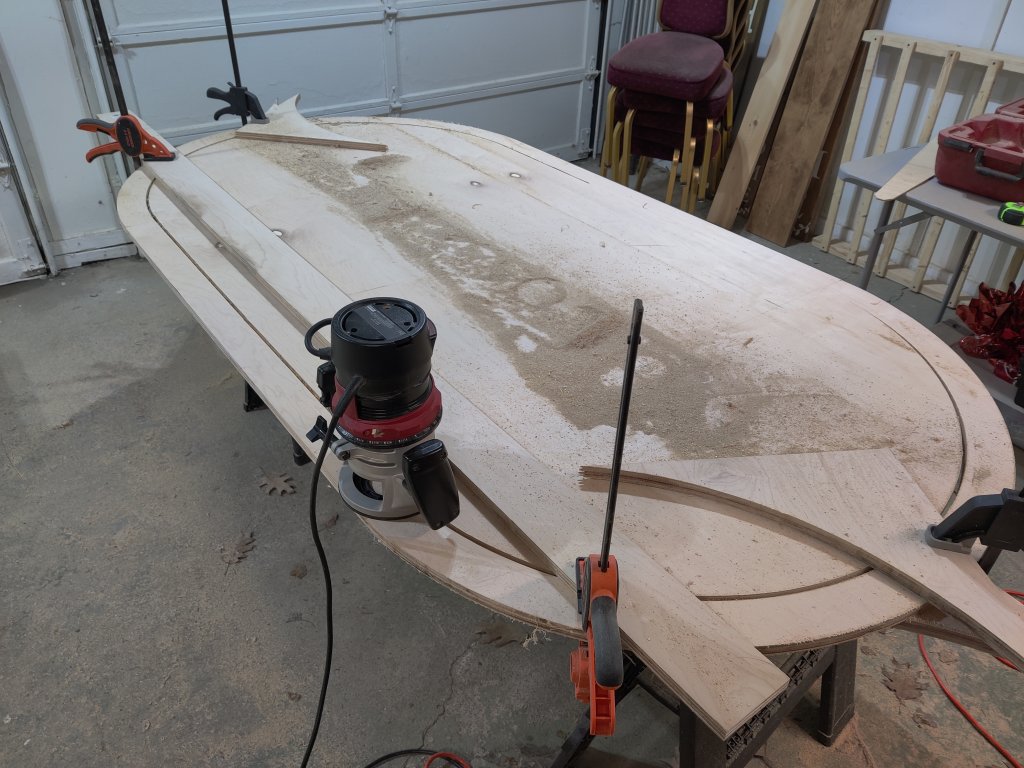 (LOL - look at the scrap wood underneath, my 1/4in flute dulled so I switched bits, + the collet came loose + drilled straight through when trying to route the straight-away so I ended up just using a jigsaw to finish up the straight-aways on the inside rail here. Absolute nightmare - 100% just get a nice plunge router and make sure your bits are sharp. I am lucky I got the curves done before the router decided to start acting up)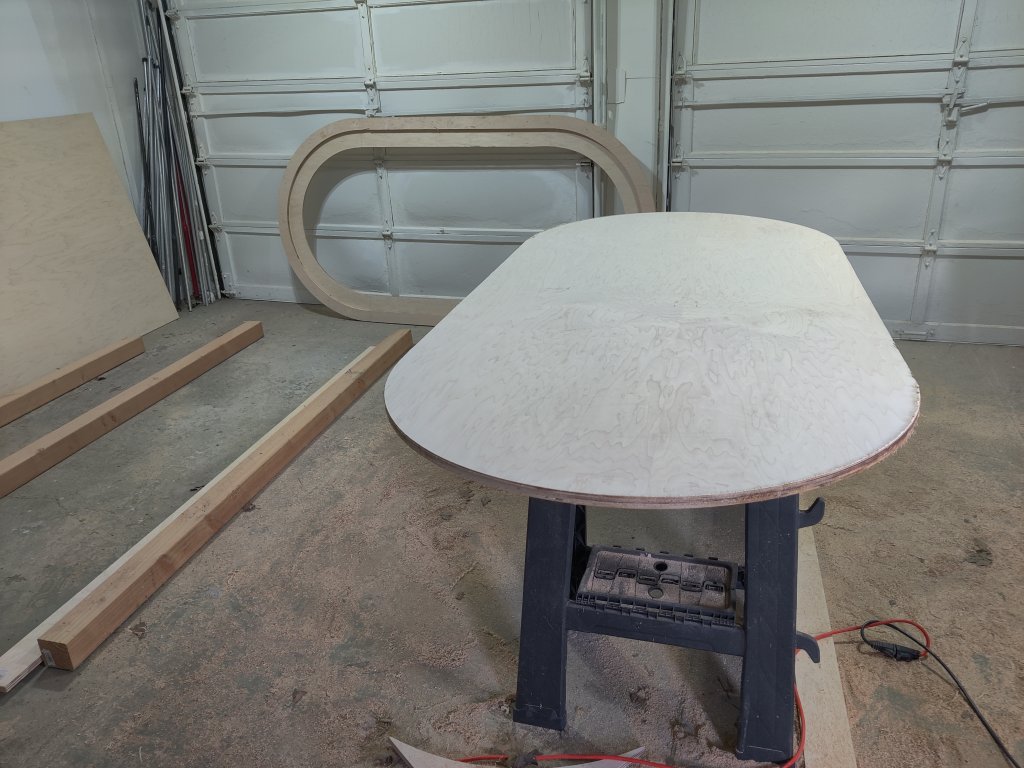 (ignore my gasser abuse with the sawdust haha I'll steam clean them + get some covers because my setup is staying in the garage for now.)
(just setting the rings down for a general idea on placement, ended up measuring the outer rail for exact spacing.)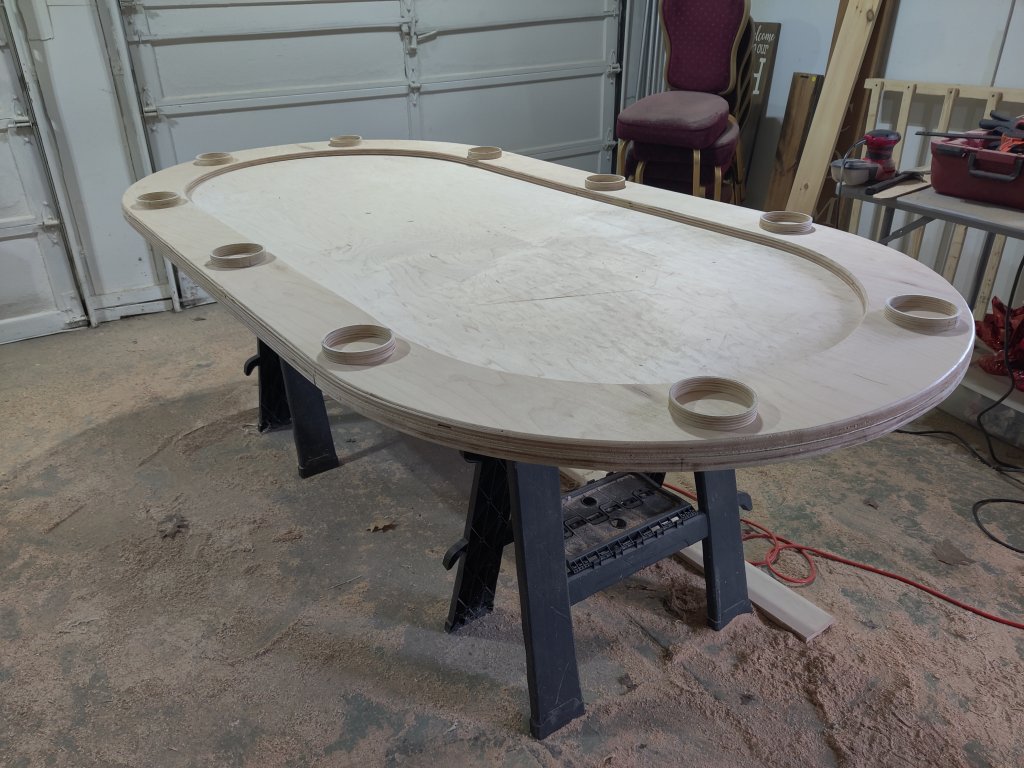 (drilling for the t-bolts)
(accidentally made my first marks in the center of the top rail instead of where they actually needed to go haha luckily fixed before drilling!)
(this is before they were tapped down + tightened into the wood)
(these bolts ended up not being long enough at the end, I was dumb and forget that the foam for this table goes all the way to the end, rail vinyl adds a bit of height as well. Went and got longer bolts in the end)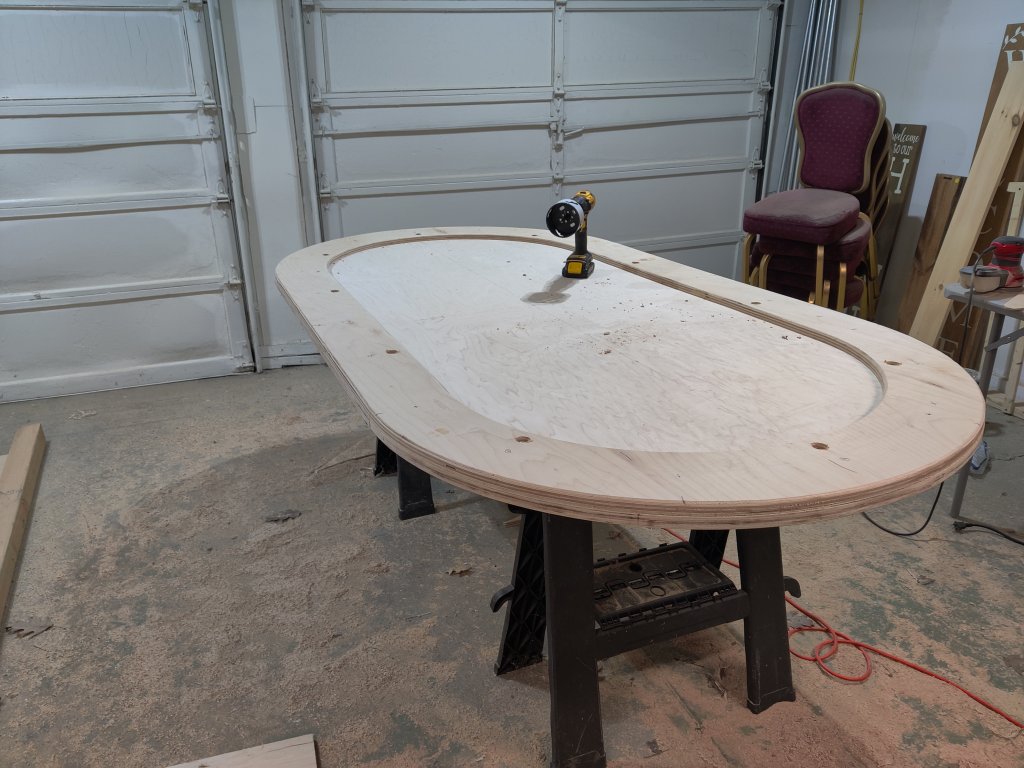 3 5/8" hole saw - My dewalt drill started acting up as well so I switched to my ancient firestorm black+decker. I will likely borrow/buy a corded drill for this next time.
Just testing out the cupholder! Looking good!
20 attachment limit - sharing the rest in the next post!