Joined

Feb 14, 2018
Messages

260
Reaction score

392
Location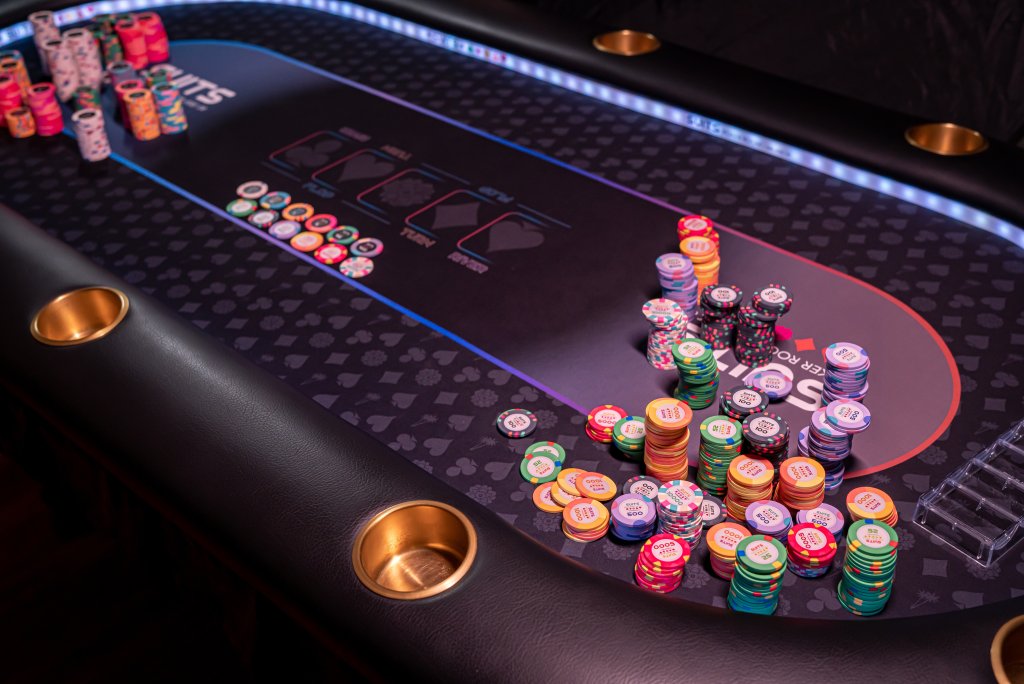 PROJECT COMPLETE. HOORAY!
Jump to Review of Chips
Jump to photos of completed project (chips, table, playing cards, etc)
--------------------------------------------------
ORIGINAL POST
It's been a while since I've posted anything to PCF, but since 2018 when I started this journey I've created 3x CPC custom chip sets and 1x Sunfly ceramic sets in addition to purchasing a few retail chip sets. I've learned a lot about what I like and don't like from PCF and all our wonderful members, but ultimately I've learned most from experiencing my custom sets (and others sets) in play. The feel of certain molds, the weight of the chips, the design of the colors and edge spots...
Anyway, I've set out to create a new custom theme that I can use across all of my poker products. The hope is to create something that I can enjoy for the next decade (until the design bug bites again). The objectives for this project:
- A simple and easily recognizable theme name
- Vibrant colors that are easily distinguishable
- Compilation of design elements I like from other chips/cards/casinos/etc...
- Enough chips/cards/products to cover multi-table action
TABLE
I purchased a custom poker table from Tony Chan (love it!) in 2019, and I've recently found that he sells custom cloth. I'm going to order new custom cloth and add LED lights to the table when I install the new cloth. I'll probably post a before/after thread of the project when I begin, but I'm waiting to order the new cloth until I finalize my poker chip designs.
POKER CHIPS
This project started out as another CPC custom set, but in searching the forum for inspiration I found the infamous Tina threads and was pleasantly surprised about the quality of the poker chips for the price. I know ceramics are not for some. I have really disliked the Sunfly chips I ordered back in 2019... enough that I rarely pull them out for any action. I wasn't a fan of the colors mostly, and I felt that the shape of the chips was also "odd." I've read that others have said that the Sunfly chips don't stand on end, and I can agree that mine don't. But mostly, the colors did not represent very well, and I did not feel that there were many options to choose from their palette. I was blown away by the colors on the chips in the Tina threads. Apparently a 6-color printer is better at color rendition than the traditional CMYK printers at Sunfly!! Specifically yellows, oranges, and reds feel promising on the ceramic chips where those were the colors lacking for me in the Sunfly chips.
So, a CPC project that would probably cost over $4K all-in (to cover the number of chips I want to order) vs. a Tina ceramic that could cost as little as ~$700 all-in has definitely got me feeling cautiously optimistic. I've spent eons of hours reading the lengthy first group-buy-thread (205 pages!!!!) just to ensure that I have up to date information about the pros and cons. As it stands currently I am looking to create 39mm textured chips on the diamond mold.
I'm also planning to make bounty chips and bluff-catcher chips ("show me" chips??) but I haven't decided if I want 39mm, 43mm, or other.
PLAYING CARDS / CUT CARDS / SEAT CARDS
I had tried to create custom playing cards once before. I designed the card back and made 4 different colors. I sent them out (Poker chip lounge maybe??) and when I received them we put them in play right away. Unfortunately the ink started to wear off while playing which rendered them useless (I could tell which card was the Ace of Hearts from looking at the back of the card within an hour of playing!). That experience deterred me from reordering cards.
BUT, I am a degenerate (like all of you) and therefore I can't stop myself from "branding" all of my poker supplies (haha). So this go-round I have designed a playing card and created 8 variations of color. This gives me 2 decks per table for a 3 table tourney with 2 more decks as backup.
The custom cut cards and the seat cards were ordered from a vendor on Etsy who makes student ID type PVC cards. I should receive them within the next few days and will post how they came out. If I love them I'll definitely order more products from them as the pricing wasn't terrible.
I have yet to determine the right vendor for the playing cards, but I'm sure there are a few more the choose from now than there were in 2019.
DEALER BUTTON
This one was easy! My favorite dealer button of all time is the one from The Mirage... white base, gradient of bright colored palm trees, black text... GLORIOUS! My dealer button(s) will be pretty much the same color palette applied to my logos. Since I'll need at least 3, I may make them all the same or customize the base color on each... we'll see.
MOCKUPS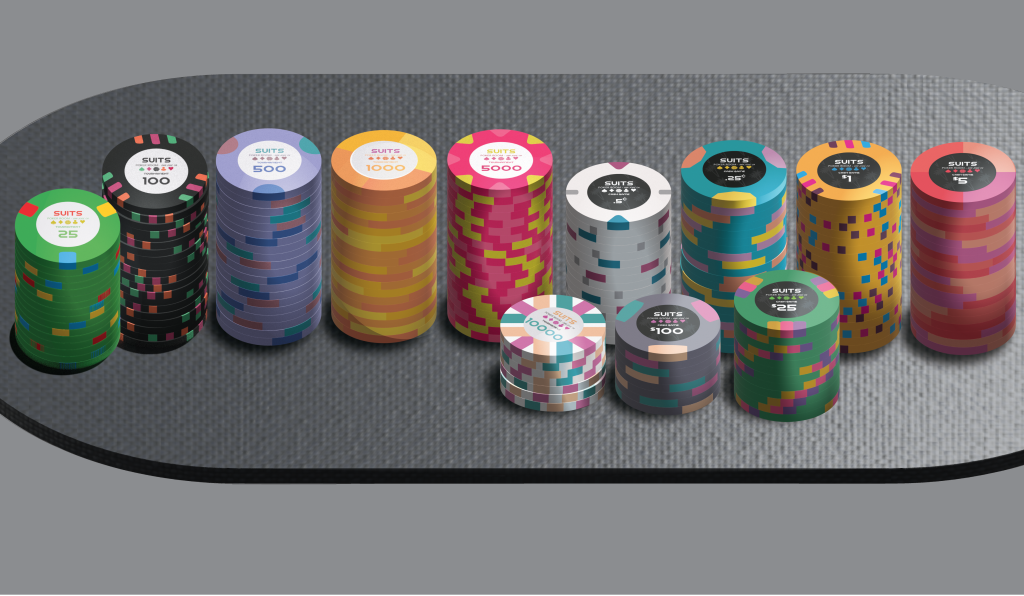 I can't begin to tell you how many iterations and changes are represented here. This all started using the CPC tool builder and migrated into a crash course in Illustrator when I decided to do ceramics instead. I've already created the side edge art, but it isn't updated to the current faces.
The thought behind the
Tournament Set
was to create bright chips (hence the white "inlay") using pretty traditional color schemes. The T500 is always the toughest to nail because in my opinion MANY tourney sets (including my first custom set) have dirty stack issues with black and purple in low-lighting. This T500 is my attempt to inject some "white" into a normally darker purple chip.
The T100 is the star for me in the lineup. These colors on black are playful and vibrant. The T25 uses Dayglo Green as it's base color and it seems to jump off the screen (hopefully it will print this way too)! T1000 is my nod to the Riverboat set, and also a nod to my first CPC custom tourney set which was made up of all quarter-pie spots (I won't do that again
). T5000 is a color combination that my wife loves, and hopefully the neon pink base will really scream when printed.
The T10,000 is meant to look like the corsage in the middle of the inlay logo of suits. It can also represent a bow on gift wrapping. I wanted a heavily weighted design for the T10,000 and this design sort of came out of me one night while moving the spots through the chip. It's the gift at the end of play (or the curse if someone bets it into you while you're holding a weak ace ugh..)
For the
Cash Set
I've banged my head against the wall a gazillion times. I wanted to go with black inlays, but I also wanted to go with gradient chip colored inlays (like the Boulevard chips).... I ultimately incorporated a palm tree (one of my nicknames for my wife) onto the black inlay and used the suits and corsage for the color "pop" of the chip.
The "Suits" moniker works to describe the different card suits as well as a suit for a wedding where the groomsmen would wear a corsage (boutonniere is harder to type, so I've been referring to it as a corsage... don't kill me
). The color inspiration of the set have come from EVERYWHERE... late nights looking every cash set imaginable online. I think the overall feel was/is inspired a lot by Casa Mangos, Viva El Donkey, Casino M8trix (local casino near me), The Boulevards, and The Nest chips.
Originally the base colors were in a more "traditional" order... salmon .5¢, white .25¢, blue $1, red $5, green $25, gray $100. However, I wanted to feel a color progression in addition to a spot progression, so... in a bit of frustrated inspiration, I viewed the chips for an hour with only the chip bases showing (no inlay) and came to the realization that I wanted white as the left book-end and gray as the right book-end. From there the colors fell into place.
The styles of the edge spots mimic the styles from the tourney set while taking a unique twist. And I knew I wanted the logo colors to pop out and not share as much of the base colors of the chips. All-in-all I think this set has been the most challenging, but I do think I've achieved my goal of the chips feeling unique individually and discernible together. See this splashed pot graphic with perfect photo lighting (lol):
For
Playing Cards
I've mocked up a bunch of colors on a design I created (with the help of some assets from a designer on Fiverr).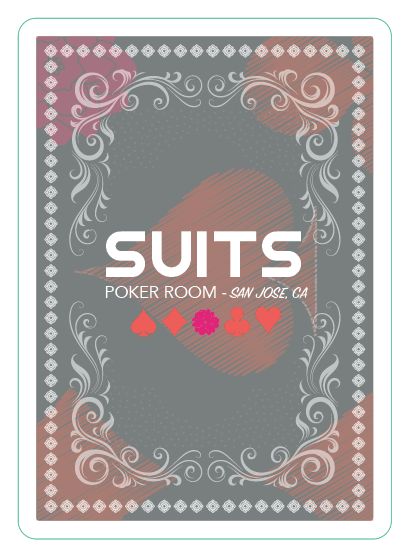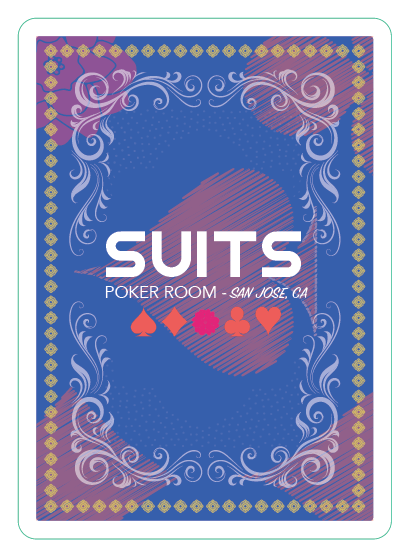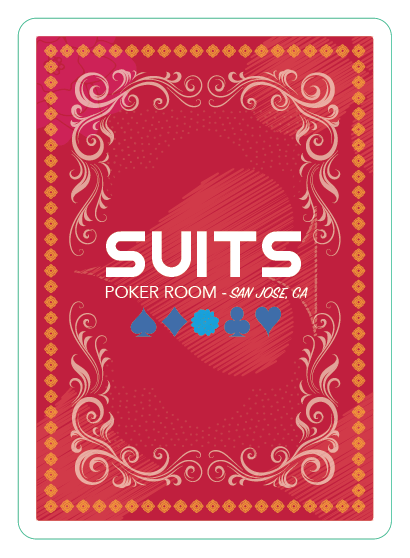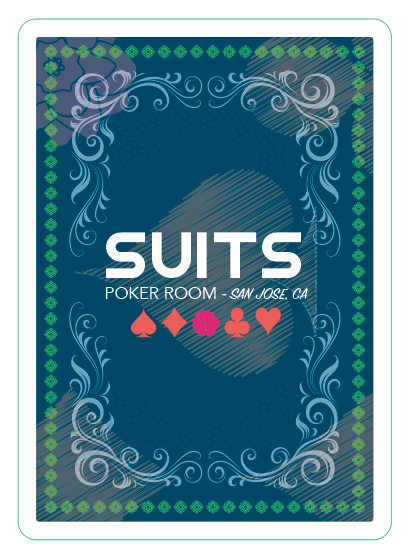 TO DO:
- Decide if the text/content in the inlay needs to be larger
- Finish up the edge spot artwork
- Create the dealer buttons, bounty, bluff-catcher chips
- Confirm all chip colors used match up with listed Pantone colors for Tina and co.
- Finalize felt cloth design
- Stop myself from changing it all again when I see someone else's cool chips
Am I missing anything?
Like any of the colors? Chips?
Hate any of the colors? Chips?
Please be nice I am a mere fragile humble human who can't stop dreaming about poker chips!
Last edited: