Straight
Supporting Member
Joined

Mar 24, 2021
Messages

987
Reaction score

1,223
First time cleaning chips so thought I would do a proper study on what works for me, starting with used white $1 Jack Cinci thanks to The Chip Room.
I decided to test out the method by
@abby99
which involves soaking chips in Oxi clean up to an hour each time. Original post:
https://www.pokerchipforum.com/threads/chip-cleaning-first-time.4571/page-2#post-111354
Here's what we started with - beat up THC 1s with red stains, marks, etc. This was the worse condition of two racks I received from Jim, since we were going with the heavy duty cleaning.
Approach:
- 1 scoop of Oxi Clean (or Vanish in this part of the world - same active ingredient) in 4 cups of warm water for 1-2 barrels of chips
- Soak chips for XXmins and stir once in a while
- After soak, hand scrub chips is required to remove the stains, washed them like plates. Very light magic eraser here and there but hardly.
- Rinse in clean water
- Pat dry and leave to dry
Timing: I ran three different barrels to check on effectiveness with two soaks for each.
1) 1hr + 1hr
2) 30min + 1hr
3) 15min + 30min
Results:
After bath 1: Chips are much improved compared to when they came, most red stains are removed but still not like new (added a mint 1a for reference)

After bath 2: Chips are starting to get close to Mint like, with batch 1 (2x1hr) the best by a slim margin, but batch 2 not far behind. Batch 3 is noticeably darker and was the best condition when it went in.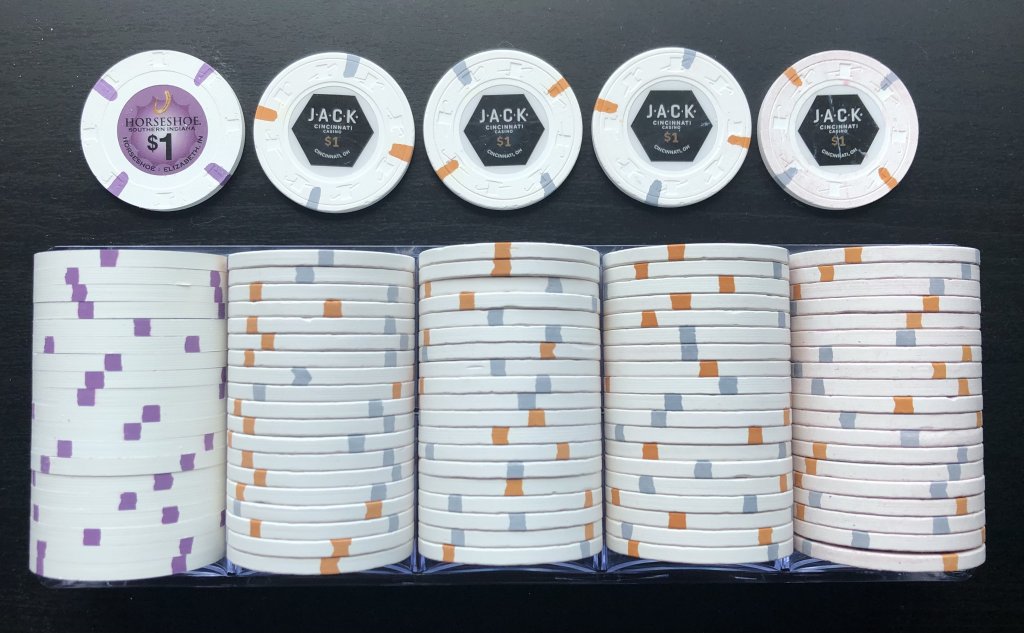 Findings:
1) Two soaks are better than 1
2) Longer soaks are better (1hr if you want to hit that mintier white but 30mins seems to work well) - edge spots are fine ◡̈
3) Wash your chips like plates after each soak
Not sure if I would do this for non-white chips, but hope this helps others make a choice ◡̈
PS: Anyone oil white chips?