Joined

May 16, 2017
Messages

735
Reaction score

780
Location
Hello!
Welcome to my Storage Clearout sale. In the search for my "perfect" sets, including my Paulson $1s set (
https://www.pokerchipforum.com/thre...shed-pot-pron-thread-of-pcf.1331/post-1938780
), I've gathered quite a few spares/extras and they've just been sitting around in storage. I don't plan on using these extras, so they really should be released into the wild for others to appreciate.
So here's the scoop on this sales thread:
This is a "dibs" sale for individual chips, but please read on for caveats
Place dibs for this thread's chips in this thread please
Minimum order is $25, racks are not included
All chips will *only* be sent via USPS Priority mail, so please plan on $11/$17/$23 for small/medium/large boxes in the US (looks like prices just went up???)
Sending to US and Canada addresses only (sorry), but again, plan accordingly for Canada priority (looks like $31/$57/$74 )
Payment via PayPal F&F
Have (or will have within a day) multiple "For Sale" threads, and most likely, multiple lots within each sale thread. I will combine shipping across all sale threads and lots (I will notate "Last Sales Thread" in my last thread post)

Close Date: Wednesday 10/12 at 9pm Pacific

Larger order dibs ($-wise) will override smaller order dibs.
Also available: first with "Buy the Full Lot" dibs will supersede all other dibs in the lot (not sure anyone will do this, but it's an option and winner will receive a bit of a discount)
I can provide additional pictures if needed.
I'm really hoping these prices are fair - as I've taken many things into consideration. If I'm way off - my apologies - feel free to PM me.
Below is a spreadsheet of the chips available, listing price/quantity/denom/condition/CG# (the CG# may not be precise - it's more for design/mold and definitely NOT taking SCV or LCV into consideration)
Posting dibs: please clarify Lot, Specific Chip (you can use "Location" # if you prefer) and Quantity
ANY questions/clarifications - please PM me.
LOT C - US CHIPS


Buy it all for $780 + shipping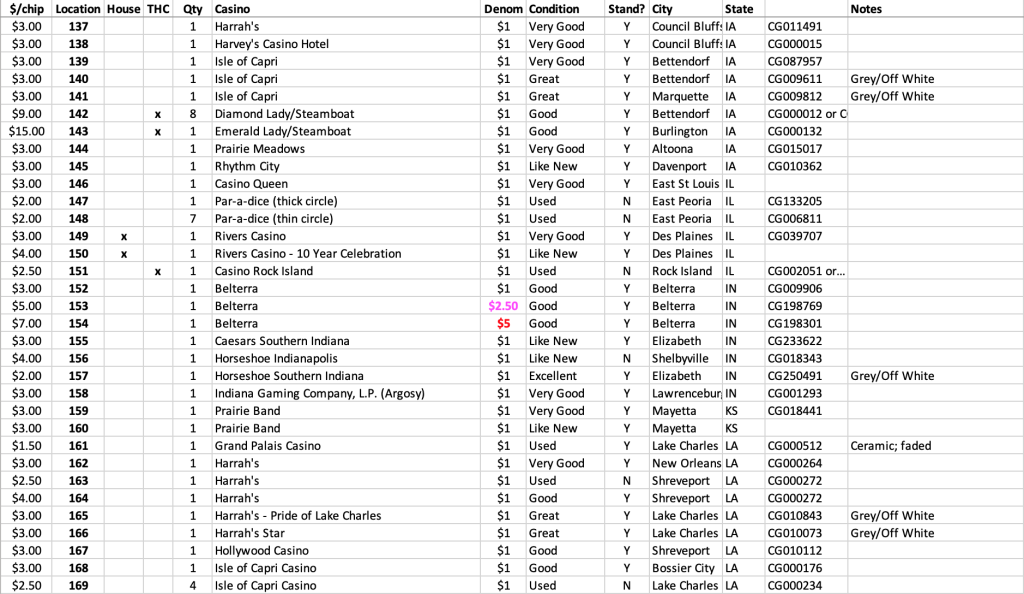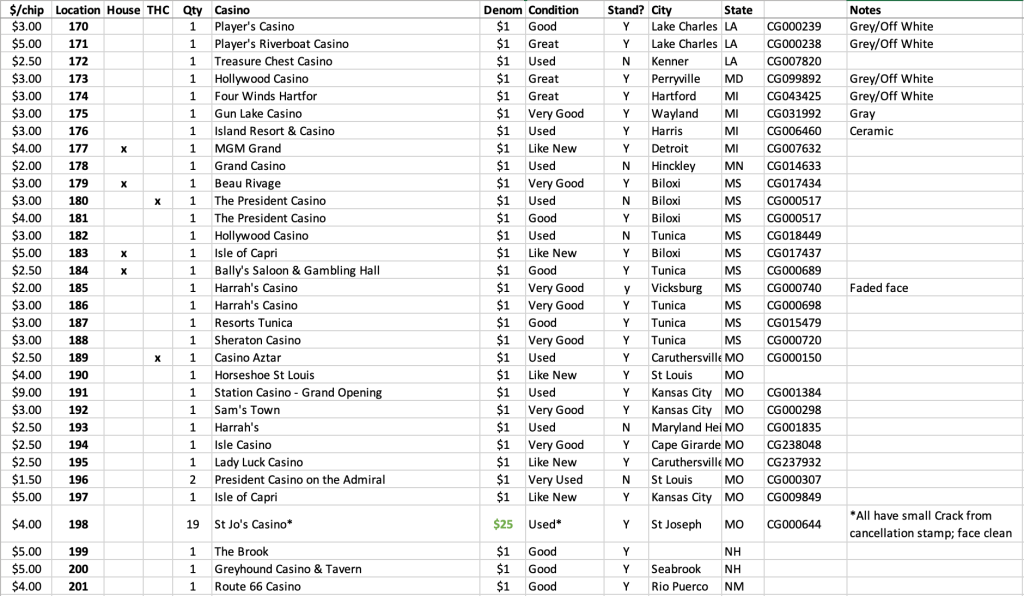 Thanks for looking!
Last edited: