Joined

Mar 8, 2017
Messages

604
Reaction score

1,086
Location
'Faight's' Steel City Poker

UPDATE 12/10/20:
Took advantage of BR Pros Black Friday sale and added another 500 chips. Added a nickel for micro stakes with the kids. Added on to all the other denoms, total set is now 1100 chips and 70 plaques.
UPDATE 6/29/20:
I went with the yellow 5 and had a couple racks made, Plus some more plaques. May add a black $100 plaque at some point
ORIGINAL POST 4/17/20:
OK so this set isn't complete yet. I was going to wait until it is complete and I have better pictures, but since that is a month or more away here they are and I'll update it later.
I sold off a couple cash sets to get my CPC tourney set made, but it still killed me not to have a good cash set. I've picked up a couple cheap sets - Freddie's and Fox Dens, I didn't like either a whole lot and we started getting more cash games going. As much as I would love more CPCs, I wanted something different and had an idea for ceramics for a while, so ABC it was!
@p5woody
did the design. We started with the label he did for my tourney set. I wanted each chip monotone to give the look of clay solids, but still take advantage of the ceramic design versatility. Originally I wanted 'Steel City Poker Circuit' with my personalized faux label - so it would be a fantasy/personalized mix as 'my' cardroom being part of a city wide group. As more was added to the face it was a lot of words, so we cut it to just 'Steel City Poker' and I loved it. A couple more tweaks and we were there!
I say it's not complete because of the $5's. I was pretty sure I wanted chocolate, but thought maybe grey as well. I ordered 100 quarters and 300 $1's, then 25 each of the different $5's and a couple stacks of the $20 chips even though I had the plaques made. Neither $5 really worked. They both looked great, but the chocolate didn't stand out against the orange quarters, and the grey doesn't stand out enough against the blue $1s. I'm going to have some more $5 options made in a much darker chocolate, as well as maroon. Once the $5's right I'll order two racks of those and more $20 plaques. We may not need it, but I think I'll do a grey/black $100 plaque.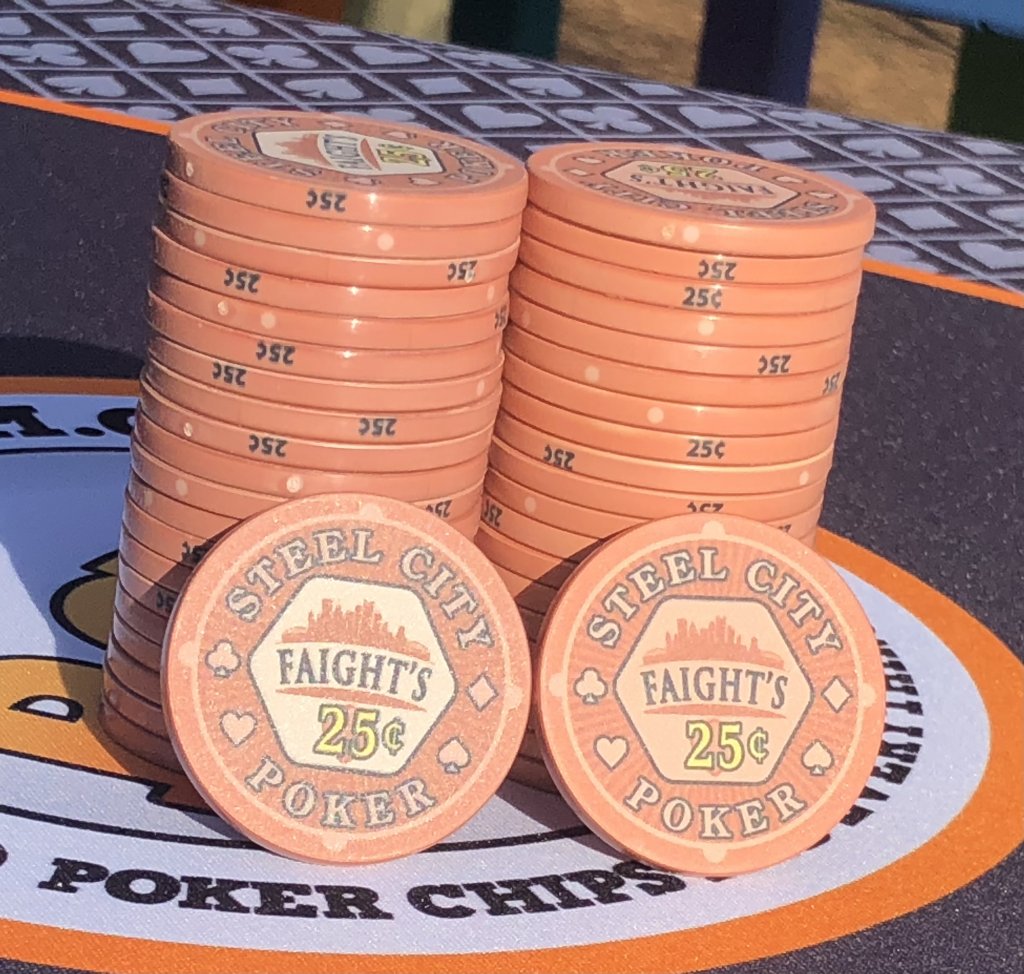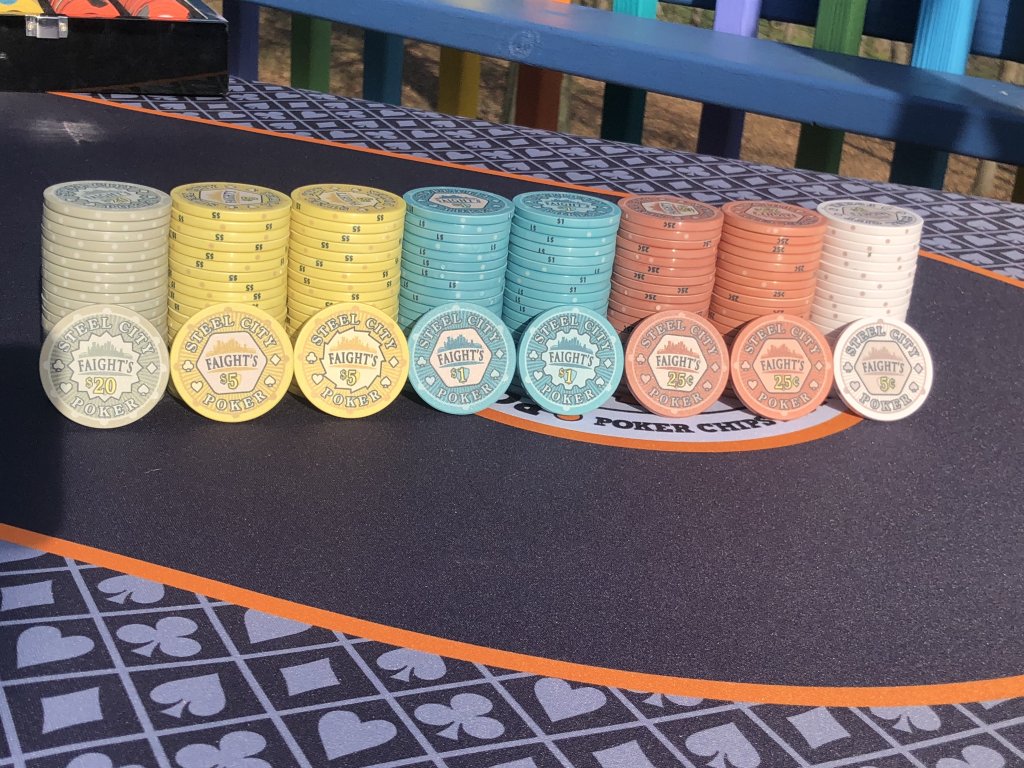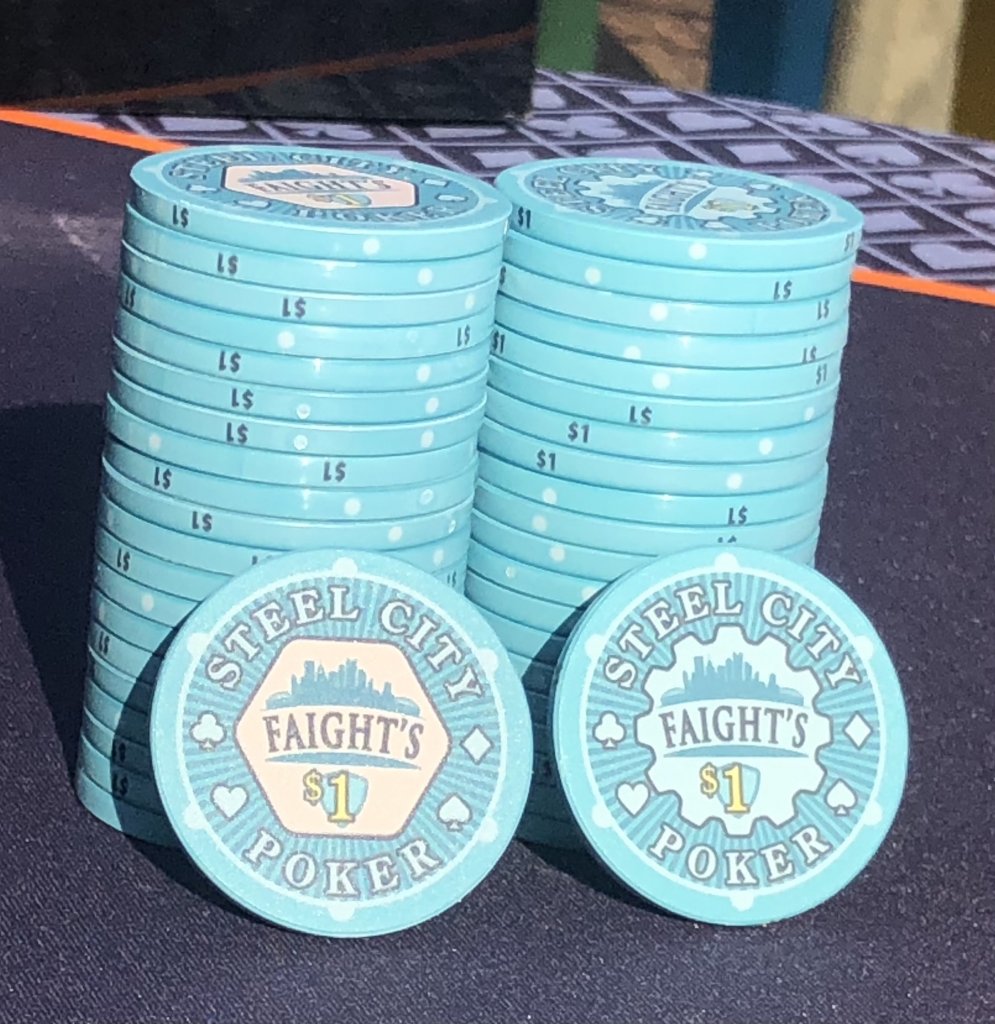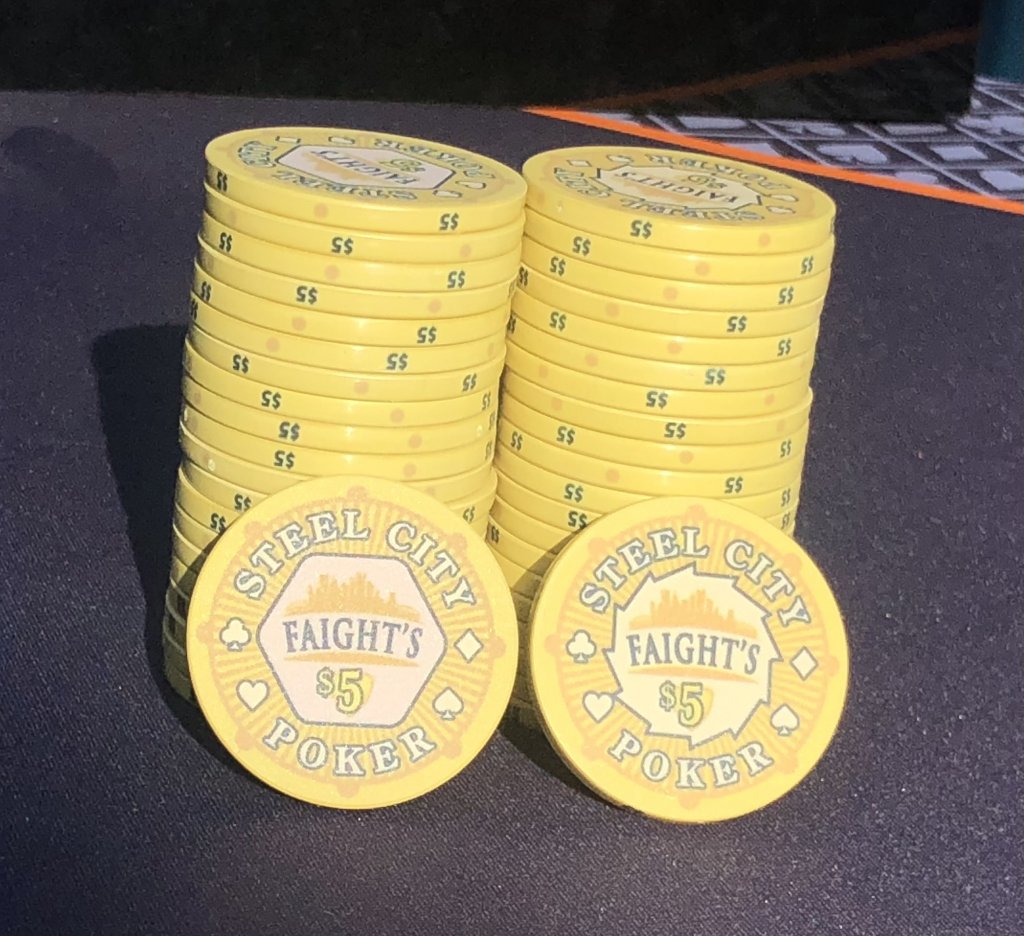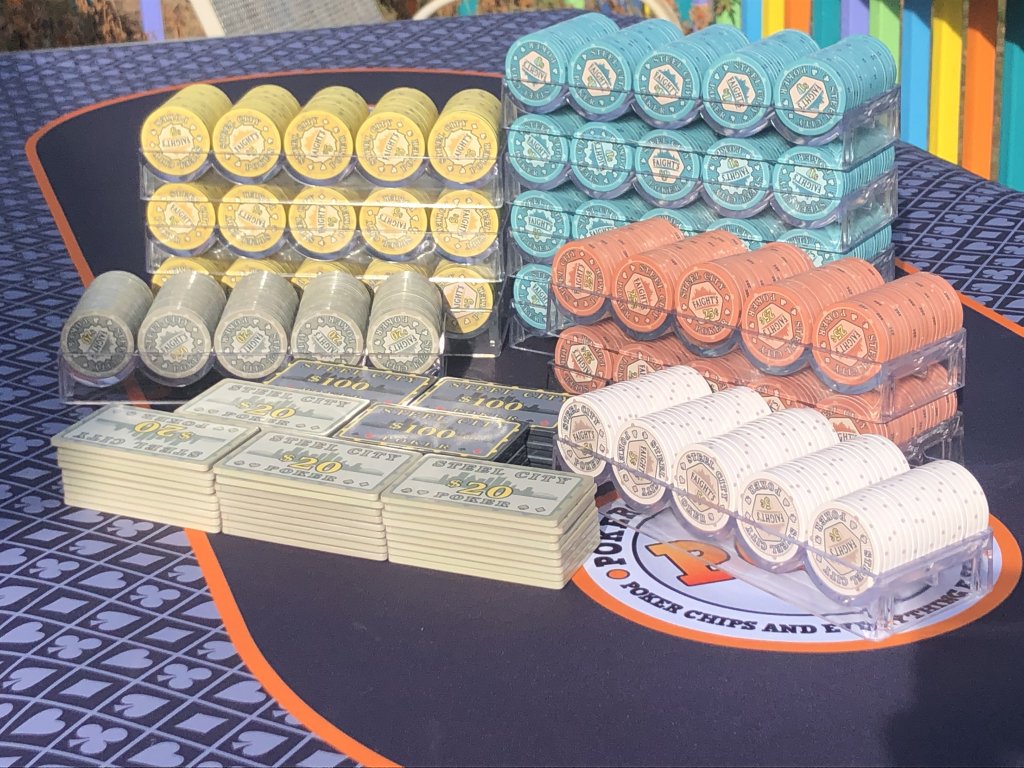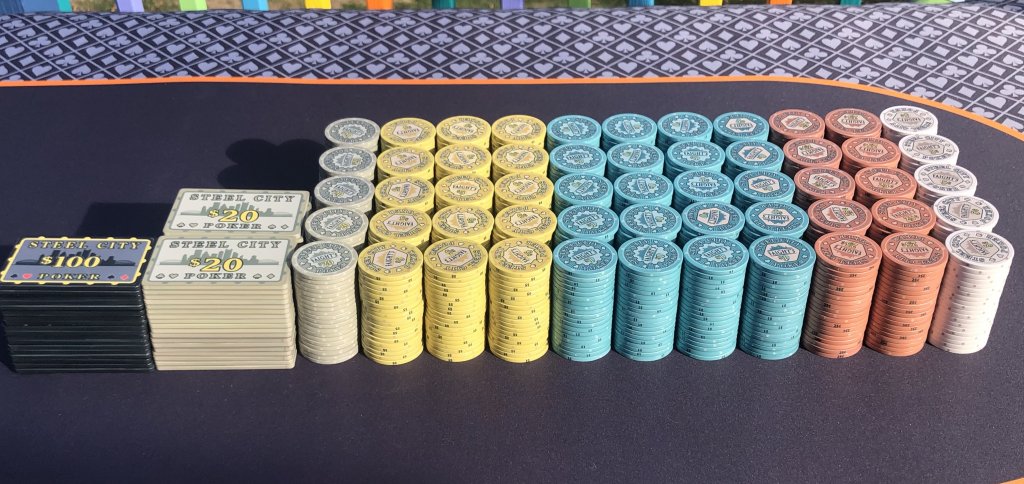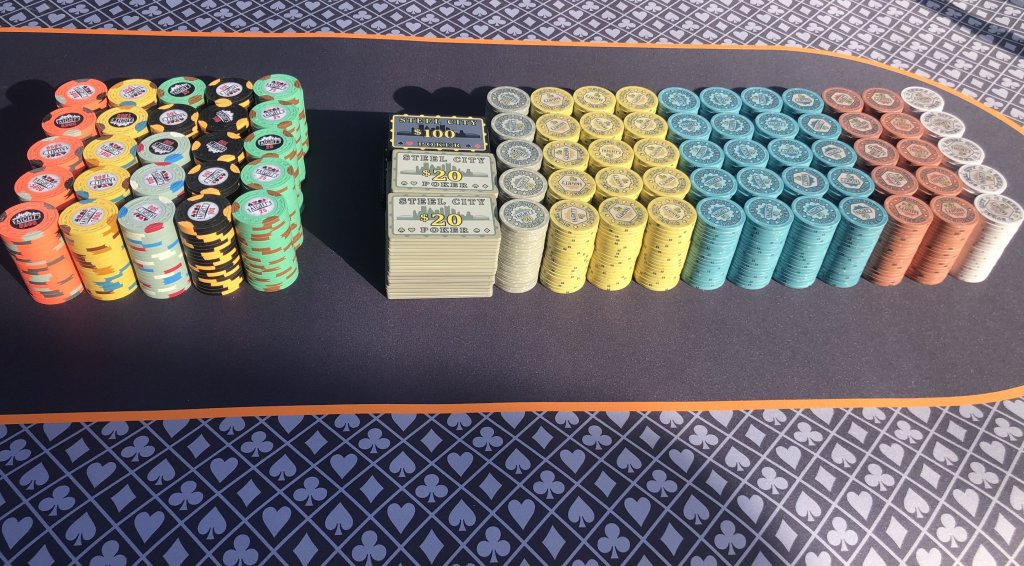 Last edited: