Joined

May 16, 2017
Messages

207
Reaction score

240
Location
I've finally done my Spring Cleaning with all of my poker stuff (chips, cards, plaques, etc). I've purchased a bunch of (read: too many) items over the past few years (mostly from members on this site – thank you!) without a real plan. Well, I finally have a "master plan". With that, it's time to start paring away at items that do not fit into this so-called "master plan". I'd hate for these items to just sit around in storage and not be used, so it's time to let them go to others that will use them accordingly…
Place your "Dibs" specifying which Lot in this thread you want along with a PM. If you want multiple lots (in this thread or others), let me know that as well and I'll do my best to cut down on shipping costs…
CONUS only (sorry). PP F&F or PP with add'l 3%. Thanx!
PLAQUES
Lot #1 -
SOLD
45 Majestic Card Room Plaques (from ApachePokerChips.com; retails at $266.25
$500 x 30 (75mm x 45mm)
$1000 x 13 (85mm x 55mm)
$5000 x 2 (85mm x 55mm)
$140
$120 shipped - Will include a Majestic sample set for free...
Retails at $266.25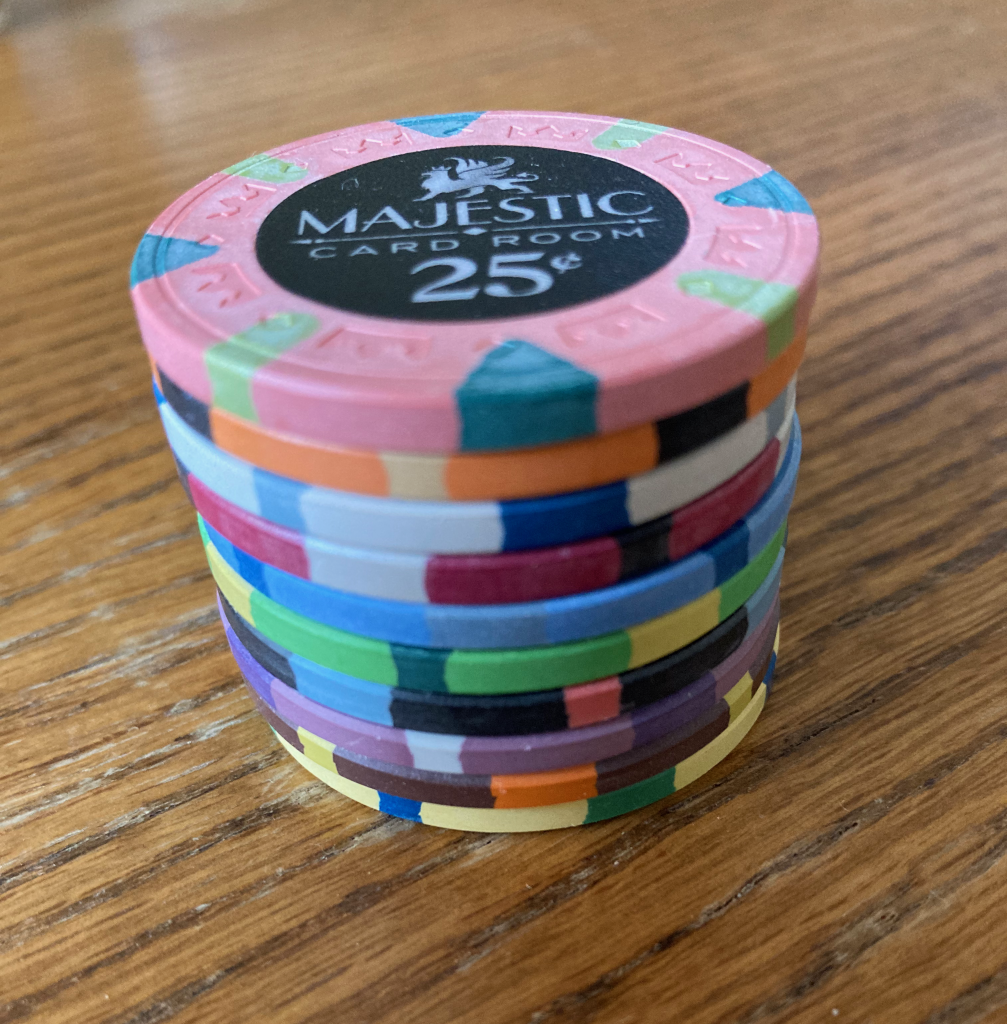 Lot #2 -
SOLD
MSK Sample set (9 plaques)
Various sizes (from 66mm x 48mm up to 118mm x 82mm)
$32 shipped
Lot #3 -
SOLD
12 ApachePokerChips.com Plaques (82mm x 57mm, but my eyesight might be off 1mm)
$25 x 10, $100 x 2 + Dealer Button – used, but in very good shape (if not great shape)
Usually used as Gift Certificates, but these plaques have no balance.
I used these for my home cash games. I have since had customized plaques made for my home games.
These plaques are gorgeous - My loss, your gain!
$80 shipped
Lot #4 -
SOLD
4 Plastic Plaque cases purchased from MSK
Best fit with 94mm x 66mm plaques
$23 shipped
DIBS OVERRIDE CLAUSE:
First one to say "I'll take ALL of the Plaques" (or something equivalent to that), can purchase all 4 Lots for $235 shipped.
Last edited: