During shelter at home our home game has migrated online. With the the instructions
@BearMetal
and
@LotsOfChips
I was able to get a Poker Mavens room up and running, which has been fantastic. We are playing at least once a week and our player pool has at least doubled -- for some reason everyone's social calendar is much more open!
But there's been some unexpected side effects from this: with the influx of new players, we are playing almost exclusively NLH. The Mavens mixed game line-up isn't "spicy" enough for me and the handful of guys who love those games, so even that crew has stuck to NLH. And strangely, I think we've all rediscovered hold 'em -- it really is a great game. I'm sure we'll slide back into pot limit Archie at some point, but I expect when we migrate this new group back to live play we'll be doing hold'em only. I'm actually cool with this, but as the biggest degen in my circle I've been preparing for how to liven things up more in ways we can't do on Mavens, especially when the number of hands per hour is going to plummet with a rotating deal. The weeks of lockdown and my urge to be creative have yielded these new additions to my poker setup. I present to you my creations.

Seven-Deuce Game Button
- this was already a feature of our game in the times when we played hold'em but we had some times when we forgot to explain to a latecomer. Now when this is on the table the 7-2 game is on, no misunderstanding.
Small Blind Bounty Button
- will replace the dealer button. The dealer will add a big blind on top of the button on each hand. If the small blind wins the pot, they win the jackpot.
Spicy dice
- this is a total original. This is a 1 inch custom die which will be passed counterclockwise after a roll. When the button gets to the player with the die they roll it and that dictates play for that hand.
1: Bomb pot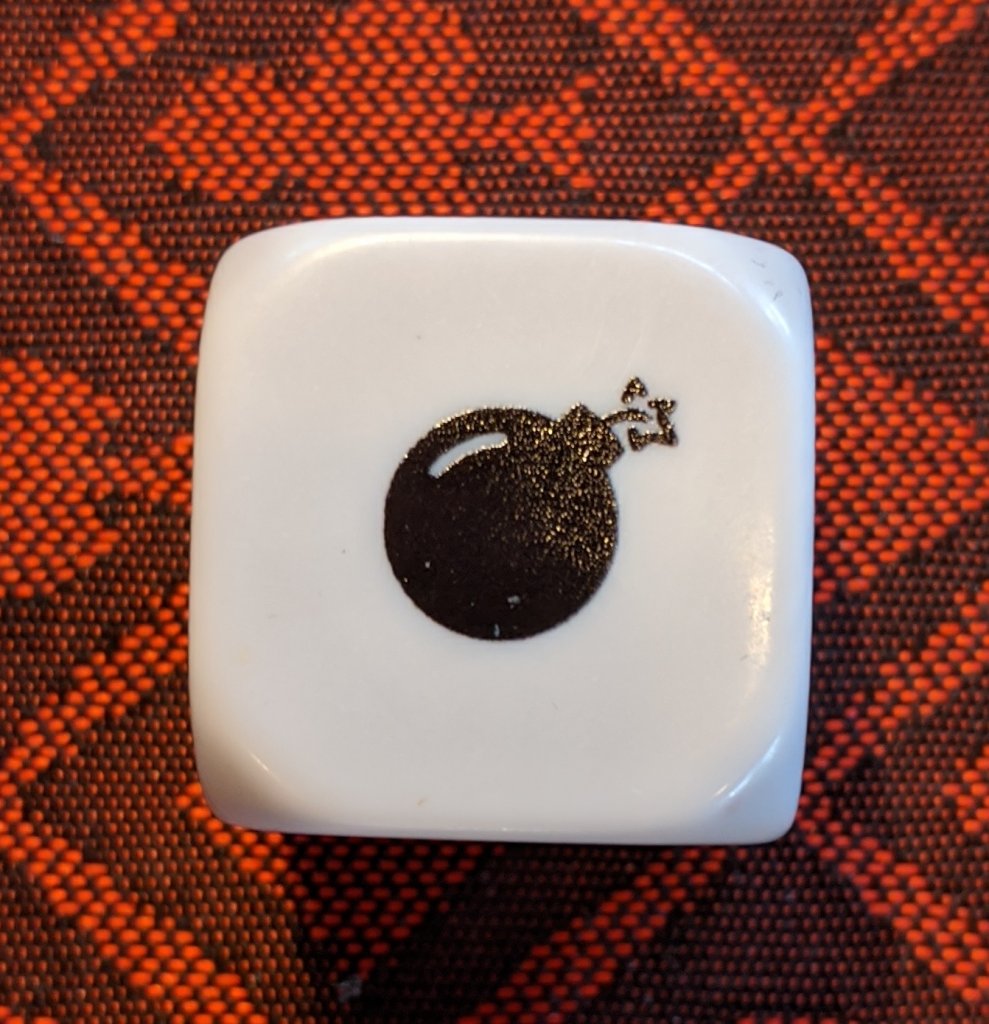 2: Double board




3: Double bomb pot




4: Crazy pineapple




5: River of blood -
if the river is a red card, there's another street after the river betting round. Rinse and repeat until the river is black.
6: Teddy KGB
- "pay dat man heez myoney!" Everyone gives the roller 5 bucks.