Joined

Dec 9, 2014
Messages

8,939
Reaction score

16,079
Location
Before summer, I hadn't done any real chip buying in a couple years. Turned off by chip room flippers and skyrocketing prices I was out. I have some holes to fill but figured the price is too high
After a few years of not really buying anything, (I'm unwilling to go north of 10 bucks a chip for anything). I started again with some huge harvesting. In May I was at Ballys with my brother and took notice that a good percentage of the glorious 5s were in great condition. I had stated earlier that harvesting live 5s in this market is a no brainer so scheduled the first 5 day harvest run during convention week. I had a mixed Vegas house mold set but it wasn't right. I needed more Dunes 5s and better condition Trop 25s and hundos. Sold off the Trops and actually offered the Caesars 1s to Godzilla I believe. Glad he didn't bite.
So we all learned about Caesars Entertainment and the wide open cage when WSOP arrived. What a gift. In the right place at the right time to harvest 1s and 5s and take care of 6 chipping friends at cost. All the while I was after those Ballys 5s. Fifty+ trips to the tables and I had my 4 racks with help from
@nitzilla
I made a friend at the poker cage so I think things will go very well in the next few trips.
Then I discovered even better 5s at Golden Nugget so I've been hitting both places hard since. Made friends with a cute blackjack dealer at GN. She was staring at me playing 3 card next to her and i mentioned she looked lonely. So. Started playing $7 BJ. 2 goes to the bonus spin if you hit 21. I saw a column of $2 chips most of them looked mint. So I ask for a barrel of 1s, harvest what I want and keep making toke bets for her…like 20 hands straight. She was very happy as we were both doing great. She mentioned I sure made a lot of toke bets including at the last table. I said it's because I'm taking every good chip I can get from her including a barrel of those drop chips. So she sorted 20 for me. Ended up with a rack by the end of the day. The craps dealer Carmine knew the gig too. I'd buy a barrel of 1s and makes pass line tokes with odds. He was sorting 1s so I didn't get ceramics. Remember, take care of dealers and they take care of you!
But that really isn't the story here…sometimes the stars line up. I needed upper denoms for the mixed set. I had 200 nice Caesars 1s, 400 Balleys 5s but no more. Then Mikko shows me a dead mint Trop 25 rack that was a snap buy since mint Sundance 25s were no more. Now what I really need were GN 1s, a few more racks of Dunes 5s, the Sundance and some Mint Vegas house mold hundos. Lots of holes…
So I get a message from my good friend Scott
@Psypher1000
He is in Denver so we met for a lunch with his lovely wife. We are just talking chips when I mention my projects. Then he drops the bomb. He had a mixed Vegas house mold set he was considering selling. "What's in it?" I asked. Nothing special just 500 dead mint chips, 200 GN 1s, 200 Dunes 5s, 80 Sundance 25s, and 20 Trop hundos. Every friggin hole filled at a lunch meeting. What are the chances? This summer has been a Vegas chipping mega flood. I can't thank our good friend Scott enough. He is the PAZ of the Desert Southwest. Going back 3 times before Ballys closes. Every good 5 I can get my hands on is coming home, we'll see how many and where they might end up.
Could Caesars screw up again next year? Will the WSOP cage have new Horseshoe chips and will they be worth harvesting? We'll see soon enough.
Sets acquired during this run?
Paris, GN, mixed Vegas House mold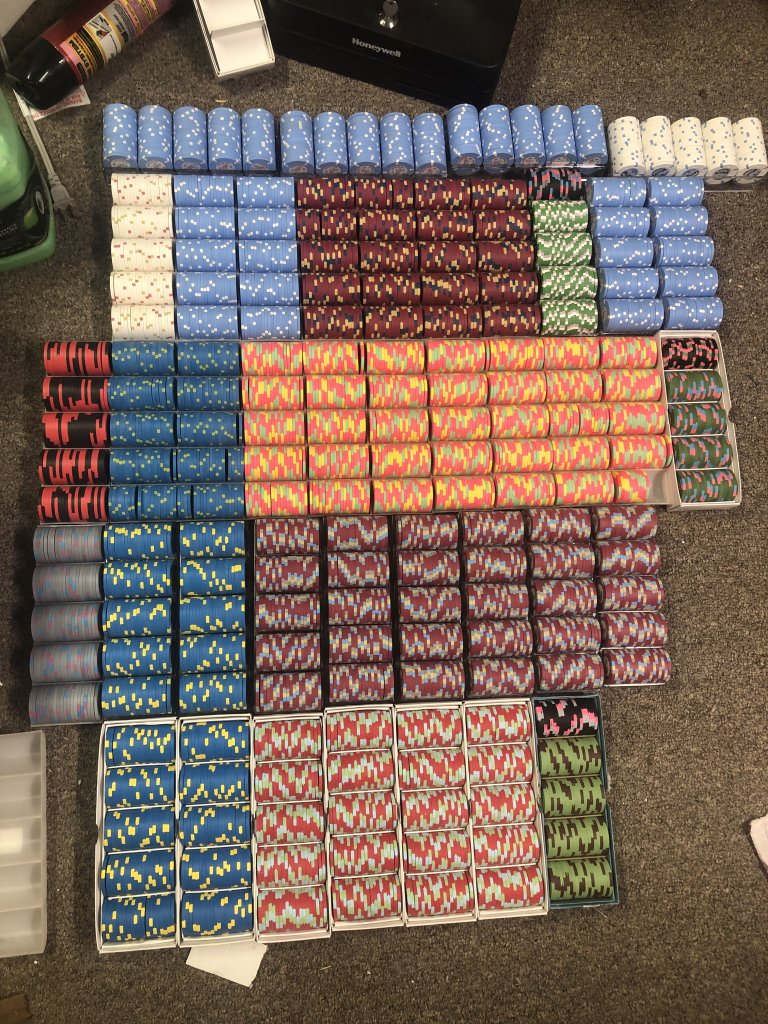 Last edited: