Joined

Dec 9, 2014
Messages

9,137
Reaction score

16,791
Location
I'm listing a huge trade thread to see if I can shake loose some chips I need to fill holes. No sales at this time unless you offer something stupid. There are more chips in reserve so I'm not posting numbers available for some…I have more and can get more.
Lots Bally's 5s in 3 different conditions, near mint/excellent +/excellent
Lots Ballys 1s in 2 conditions new in box, never played or tabled and excellent
149 Ballys House Mold blue roulettes mint, never played probably will package with up to 400 Ballys 5s. They make a great Ballys 1with a gear label matching the old school 1s from the 80s and 90s
200+ Golden Nugget 1s near mint/excellent
300 Golden Nugget 2s near mint/excellent + great frac relabel chip for mixed Vegas house mold sets. wunderpuddle uses his as 20s in his set
220 Sahara 1s near mint
200+ Paris 1s excellent +
200 Flamingo Spotted Birds excellent - will only trade these if Four Queens QP 1s made available
100 Four Queens House Mold .25s fracs mint
100 Royal Princess 20s mint
There are more but too lazy to get em out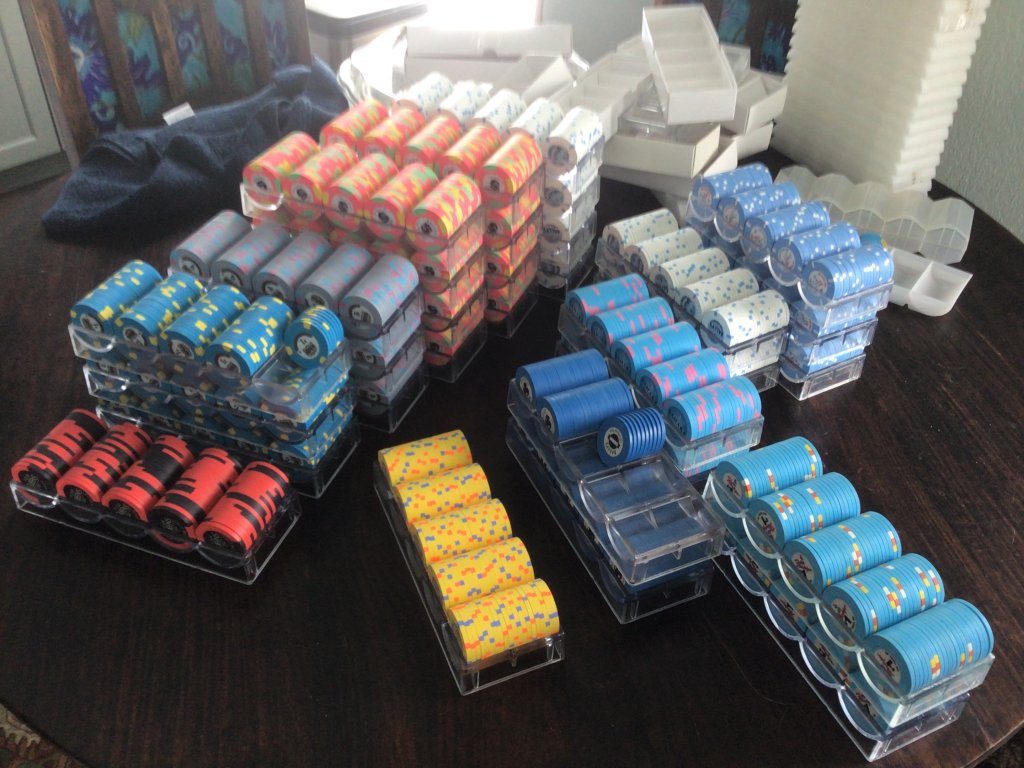 What do I want? Looking for fair balanced trades when possible. No RHC chips of any kind. No star chips with the exception noted below.
wish list
Four Queens QP 1s
LCO 2s
Empress Star Primary T5,…the trim on
Fakeshore 5s aka RP 1000s
barrels of shaped inlay hundos
Flamingo 5s
Old school spotted Caesars 1s with large inlay smooth or textured
Strat 1s
Circus Circus 1s and 5s
RP fracs
BTP T100s
spotted yellow racks
spotted fracs
Looking for purple shades to make a Cali 25. BTP T500, AS T500, ESST T500. Any NAGB chips that fit considered
BCC? Sure, TRK? Probably not
If you are a serious trader with chips ready to go, I can provide better pics via PM
Last edited: