Royal Flush
Supporting Member
Joined

Nov 22, 2018
Messages

10,076
Reaction score

19,232
Location
Prices do not include shipping. Sales thread comes down Sunday night, purchases will be sent out from Florida next week (SQM). For every rack you buy, I'll knock moolah off the top.
Outpost Casino
It's a mix, but take it all and I'll knock $350 off the top!
(There's also another 80 Excellent to mint condition fracs, error Fracs, and $20s not listed.)
PENDING
3 Racks of Heavly Used $5s - $264 from here:
https://www.pokerchipforum.com/threads/outpost-casino-5s-88-per-rack-10-racks-available.49221/
2 Racks of Oversized $5s - $140 from here:
https://www.pokerchipforum.com/threads/havana-1s.49376/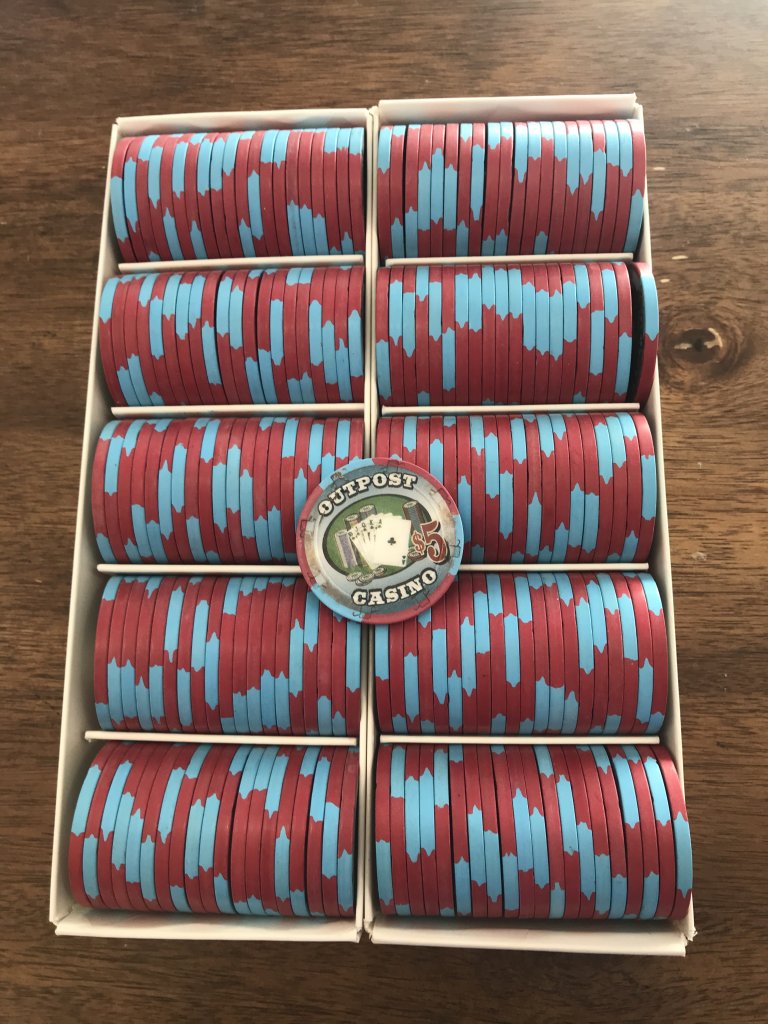 PENDING
180 $1s, casino used, not really many fleabites, but just tried 10 and none stand on edge - $160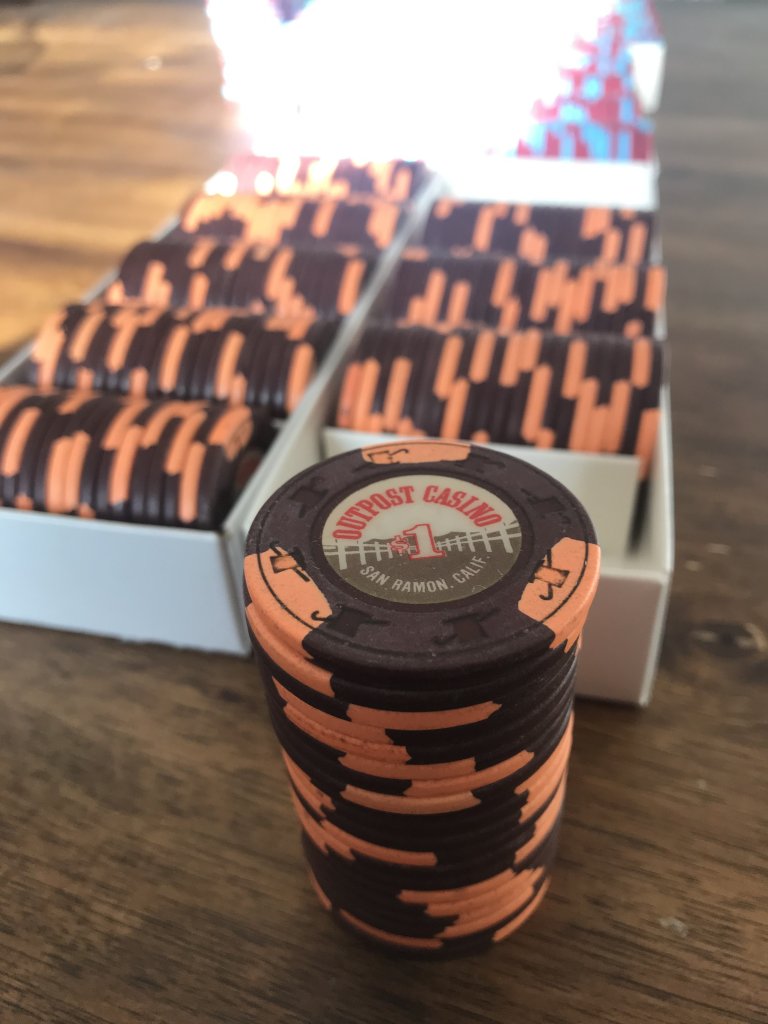 PENDING
1 Rack of Mint .50 - $180
98 of NearMint/Mint $20s - $190 here
https://www.pokerchipforum.com/thre...nice-paulson-thc-ihc-chips.49199/#post-924092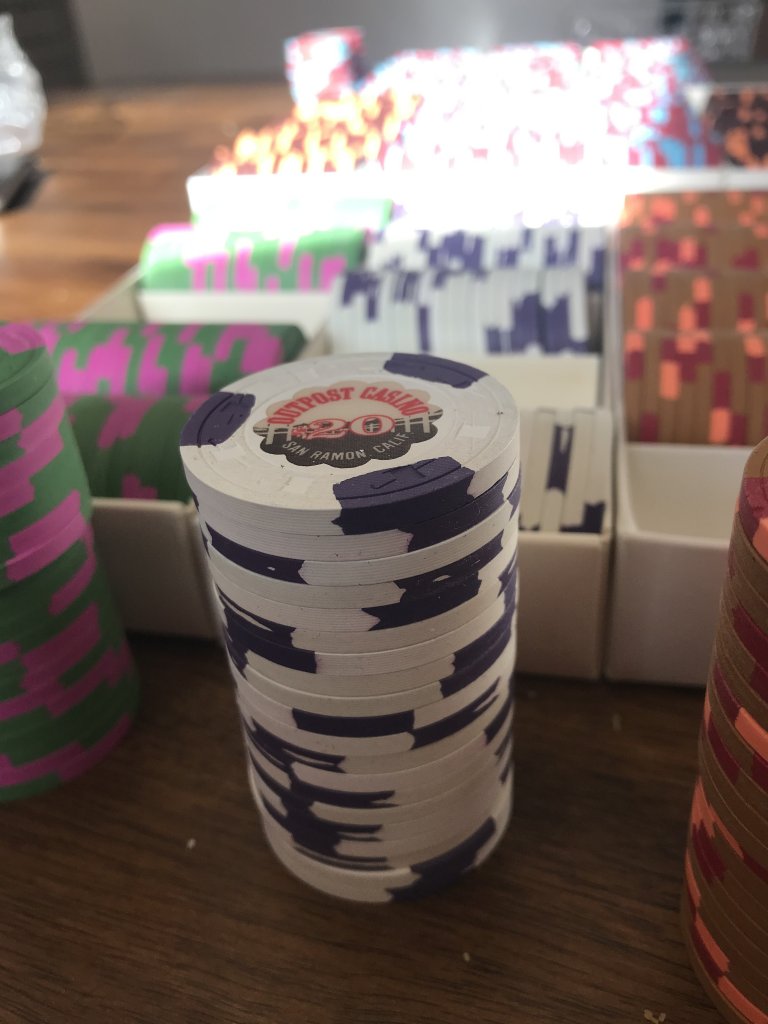 SOLD
Rack of cleaned and oiled .25 error chips
Pending
@Ethan
20 Oversized Inlay $20s (do stand on edge) - $20
Lac Courte Oreilles
Casino used set with ceramic $5s. Perfect for a chipper looking to dip toes into leaded shaped inlays. Some ridiculous price, will just take a couple $100 off what I paid, but need to find that number. Make an offer in the meantime.
200 Bally $1s to be relabeled
300 x $1s - Most used chip of the set. Tried to get good picture of the worst.
500 x $5s - 500 shown, closer to 660ish. THCs are a bit difficult to come by, I enjoyed having these candy stripes on the table.
200 x $25s - Casino used, intermittent fleabites but not nearly like the $1s.
100 x $100s - Beautiful chips.
(60 Roulettes for whatever. Only ones I could find, they've been murdered into other pretty things)
Pricing:
SOLD Bally $1s - $105 per Rack
No joke here.
@ADS Aviator
hooked me up when he was in Vegas, so you get the same price. Thanks again Brian!
2 RACK SOLD 1 LEFT LCO $1s - ?
I legitimately can't find what I paid or what they sell for and my back is going out sitting here. If you have dibs, name the price and pay it (make it legit).
PENDING Ceramic $5s: $30 per Rack
(were all picked up somewhere between 30-40, most recently 3 racks coming from here for $40+ shipping
https://www.pokerchipforum.com/threads/300-x-lac-courte-oreilles-5-ceramic.46650/
)
$25 Single Rack: $140
$25 Rack and $100s Rack: SOLD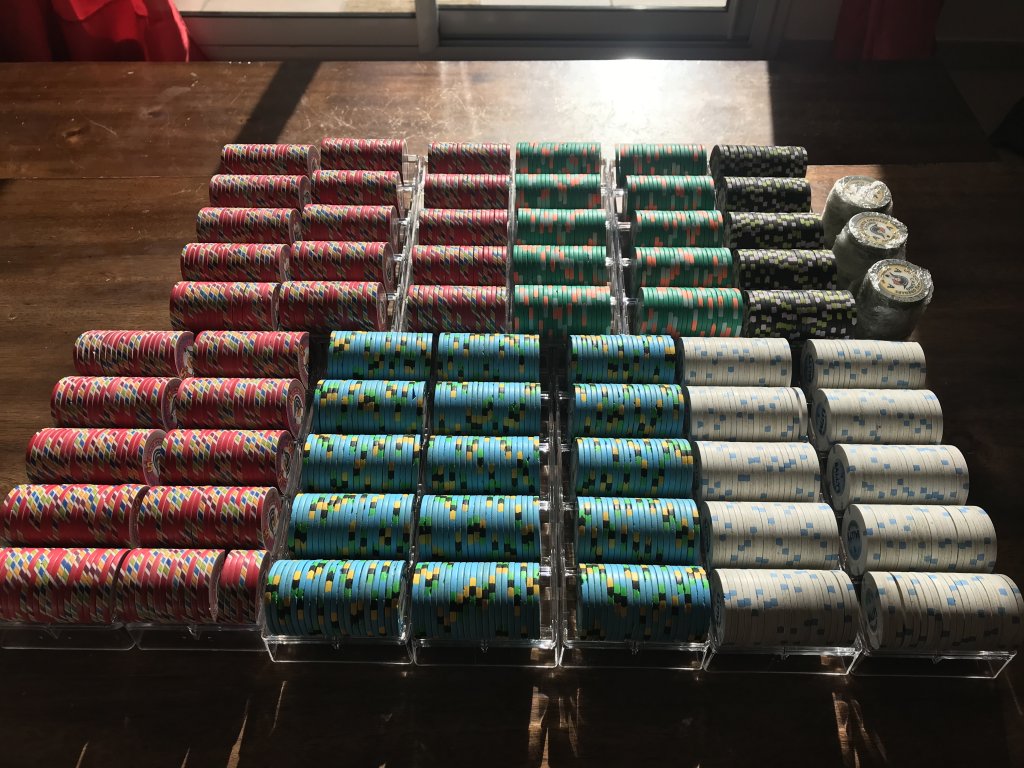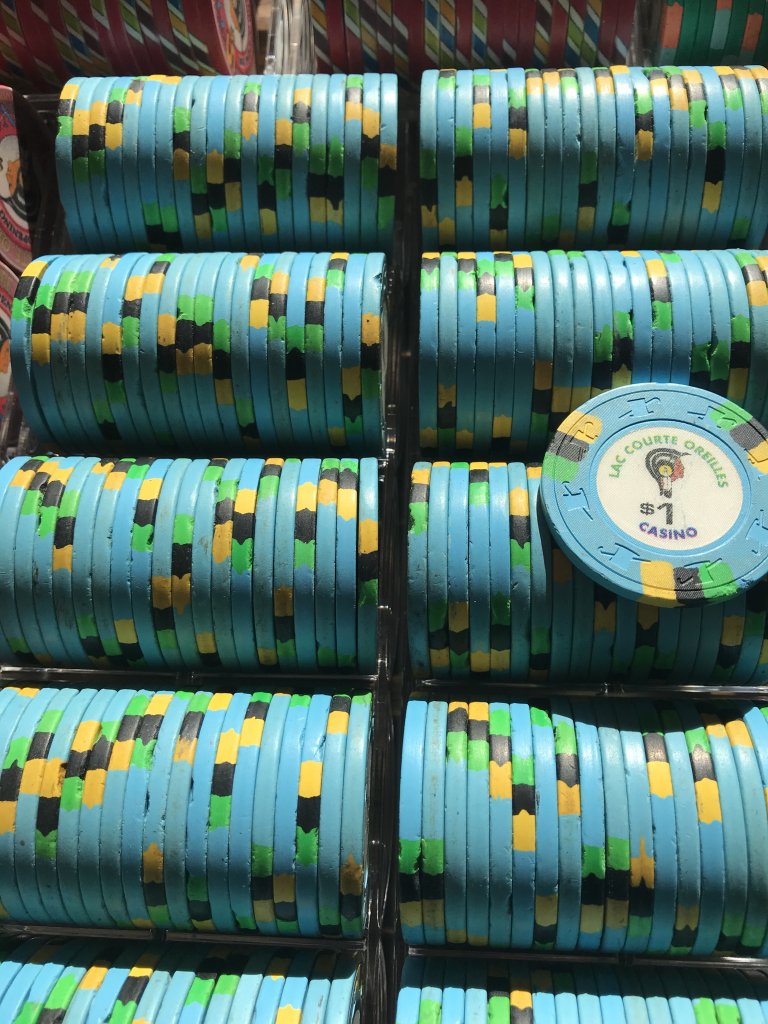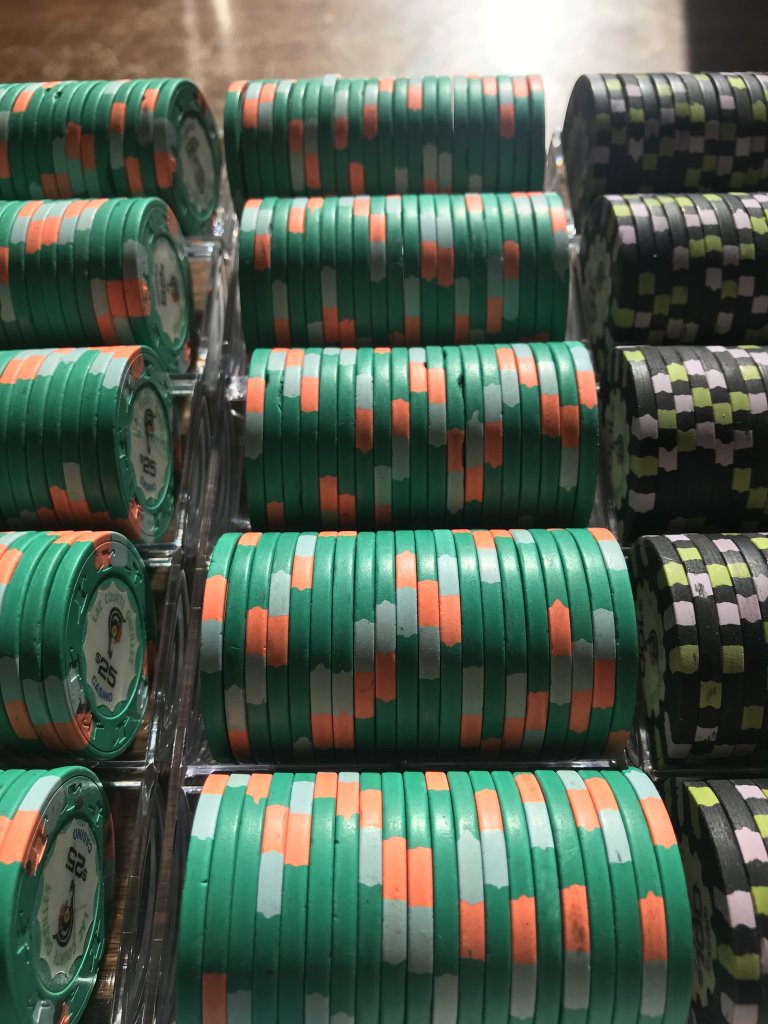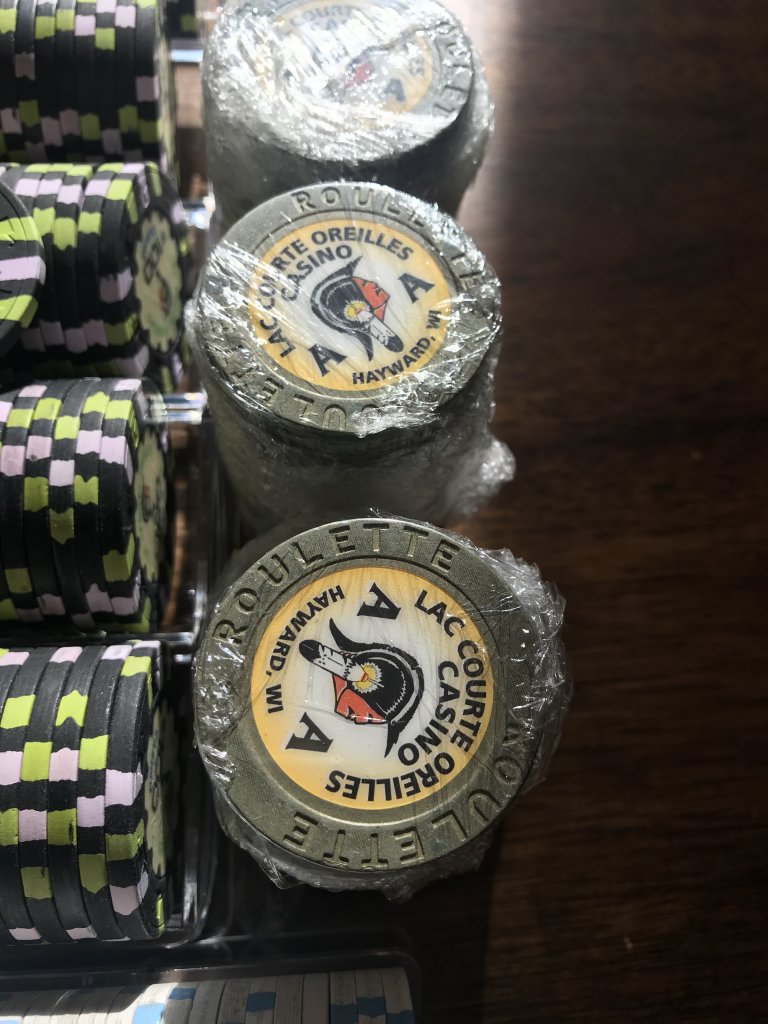 Last edited: