Joined

Jan 1, 2019
Messages

770
Reaction score

1,269
Location
AUCTION ENDS ON

Oct 2, 2021
AUCTION ENDS AT

9:00 PM Eastern Time
STARTING BID

$100
MINIMUM BID INCREMENT

$5
PAYMENTS ACCEPTED

PayPal F&F
Venmo
SHIPPING TERMS

Free - CONUS Only
SHIPS VIA

UPS
AUCTION GUIDELINES

The highest bid at the closing time listed above will win. If there is a bid within 5 minutes of the closing time (original or extended closing time), 5 minutes shall be added to the time of the last bid, until there are no bids within the final 5 minutes. Because seconds are not displayed on post timestamps, these examples will be used as a reference.
No Reserve. The Starting Bid of this auction will be treated as the Reserve Price.
Bids must be placed in whole US dollars, using numbers in minimum increments as stated above. (bids using images or spelled out numbers are not valid)
All bids are to be placed openly in this thread. No bids via Private Message/Convo. Sellers are not permitted to bid on their own auctions.
The seller reserves the right to edit the listing to clarify statements or correct any errors.
Once a valid bid is made, the auction can not be canceled. Bid edits and/or retractions are not permitted. Violations of this rule will result in discipline at the discretion of PCF Admins and/or Moderators.
PCF (its Owner, Admins, and Moderators) are not responsible for any actions or outcomes that take place in this auction.
- One rack of S&K Card Room solid $0.50 hot stamps. Unsure of the color (Chip Guide says Brown, my uneducated guess would have been Maroon, perhaps someone could chime in).
- I'd consider these "near mint," if not "mint," but I know that's an extremely subjective subject. I'll leave it up to others to judge for themselves. I am not the original owner, but these have gone untouched by me since I purchased them. There are no flea bites or signs of wear that I can see.
- Free shipping in CONUS. International would be at buyer's cost (I don't think I've ever shipped international - buyer could assist me in determining their preferred shipping method, if it comes to that).
- Venmo preferred, also would accept PayPal F&F.
- If anyone requires more pictures, let me know, and I will do my best to post them quickly, but I believe the photo below pretty much shows everything that needs to be seen.
- If I have missed anything, or if anyone has any questions, please let me know!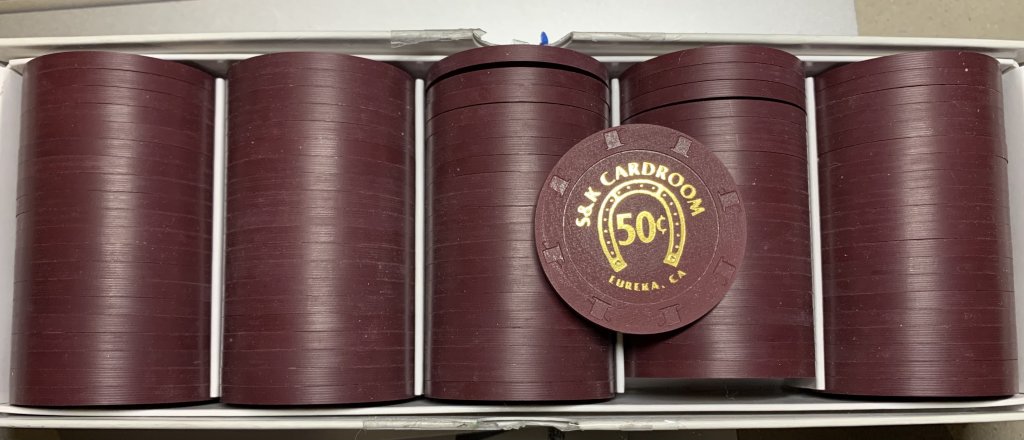 Last edited: