Full House
Supporting Member
Joined

Sep 20, 2017
Messages

3,418
Reaction score

7,649
Location
My wife, my son and I went with two other Families to the Kartrite Waterpark resort in Monticello New York for President's Day weekend. If you live in the NY, NJ, CT, Eastern Pa,, Maybe western Ma and have kids I would suggest going there. The place is pretty new and has a few things to do besides the waterpark. Killer Arcade, they show movies and other activities like 80s Nintendo Galaga Tournament. Also before the Summer Starts they are going be opening the largest Legoland in the US in New York and will be under 30 minutes from the casino and waterpark. Anyway when we went to the Kartrite my wife and I saw another friend of ours with their kids who happen to be from NJ too. We didnt know they were going to be there. My buddy Dean is an old poker friend of mine from home games. Anyway I was excited because it would give me a reason to go to Resorts World Casino to play poker. RW is like a 2 minute car ride down the private road. If I went by myself my wife would of still let me go, but given me a little bit of ribbing going by myself. So both my wife and Dean's wife said go have a good time. We actually went Saturday and Sunday night. I would have to say the Poker room is pretty Nice with like close to 10 tables going on when went there at 10 PM on Sat. night. They have enough TVs, friendly dealers, and they give you Red Bull's for free(most waitresses will pop the tab on it so cheapos don't take them home). Most Casinos don't offer Red Bull's or charge you for them. They had a high hand going on until 2 AM on Sunday and 11 or so on Sat. There was good action at the tables. The poker room has its own cashier booth too which is nice. Unfortunately I broke even on Sat and lost $300 on Sunday night. Their chips $1 and$5 are below.
The big hand I lost I had spade and club Pocket Aces. I raised to $20 preflop. Everyone folds the last guy calls. I'm thinking he has a pocket pair. Kings, Queens, and maybe Jacks. The flop comes like 2 7 9 or some crappy cards like that. I bet $50 he takes a few and calls. Then the turn comes and it is like a 4 which is dealt now. No flush draws or pairs on the board so I say all in for $130 and and he is taking minutes and says I know you have Aces, but ill call just in case. He then Flips over two Kings. I'm happy.Then the dealer decides to deal him the third King on the River. I would take that call 100% of the time, but sometimes that is my luck more often than not.
Enough of my whining story. I just wanted to check who has been to the Kartrite and Resorts World and what did you think of Resorts World? Their chips look ok to me and not anything special. It's actually not much further to here than to AC for me and it maybe another poker option.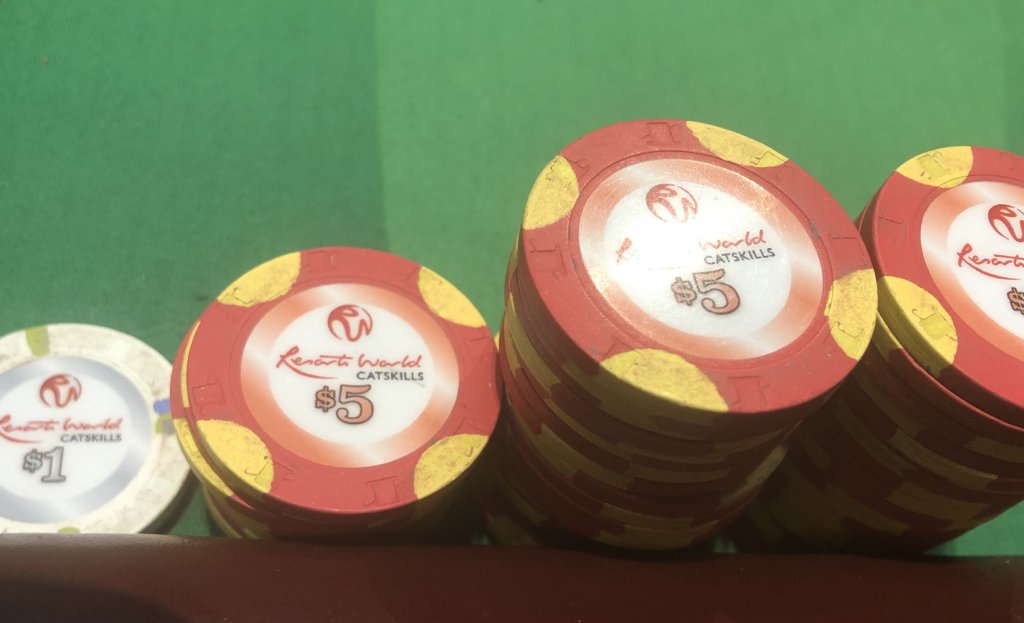 Last edited: