After spending several months remodeling my basement & getting in my custom CPC order in, I wanted to complete the poker room overhaul by re-upholstering my poker table with a new chanman cloth and new texuede rail covering. I get requests from folks from time to time about doing this on existing tables, and they're often very put off by the price tag as it's often not a whole lot less than buying a new table. And there's a good reason for this - I'm hoping this illustrates it, and provides a primer/guide for anyone else looking to tackle the project on their own table.
Here's my table:
It's a little less than 10 years old, and the cloth is about 7 years old. I've quite honestly done a piss poor job in taking care of it, not cleaning up crumbs and covering it after every game, so all the dust in my basement had really taken it's toll on the cloth and padded suede rail. Since building this, I've also discovered that YAT carries texuede, which is a really nice upgrade from the standard padded suede.
Once you've unbolted the rail and separated it from the table base, you flip it over and lay on the ground with the underside facing up.
My table has a solid raised rail, so I had to take the riser out in order to get to the staples on the inside of the rail:
Lots and lots and lots of staples. You can try to simply cut off the old rail covering, but leaving that many staples behind will typically cause issues in re-covering the rail. If you don't remove the staples, you'll need to staple the new covering down in a different line than the existing, which is especially tough around the outer lip, and especially so when you have cup holders (very little space to staple). It's a lot of work, but I recommend removing the staples. YAT sells an excellent staple removal tool that makes this task a little easier. A good pair of needle nose pliers is also a must to pull out the staple legs if the connecting bridge breaks.
I did the first half one evening....
Then finished up the next morning.
Depending on the staples originally used and how far they were driven in, you may find that many staples will break during the removal process, leaving a stray staple leg embedded in the wood with not enough meat to grab and pull out. This usually doesn't present too big of a problem, you'll just have to pound any exposed portions back down, otherwise you'll end up with a bunch of cuts on your hands/arms (and potentially scratches on the new cover) when re-covering. This is a full size 10 man table, it took me about 3 1/2 hours to pull out all of the staples, not include the overnight break I took to give my hands a rest.
Here's what it'll look like after you're done.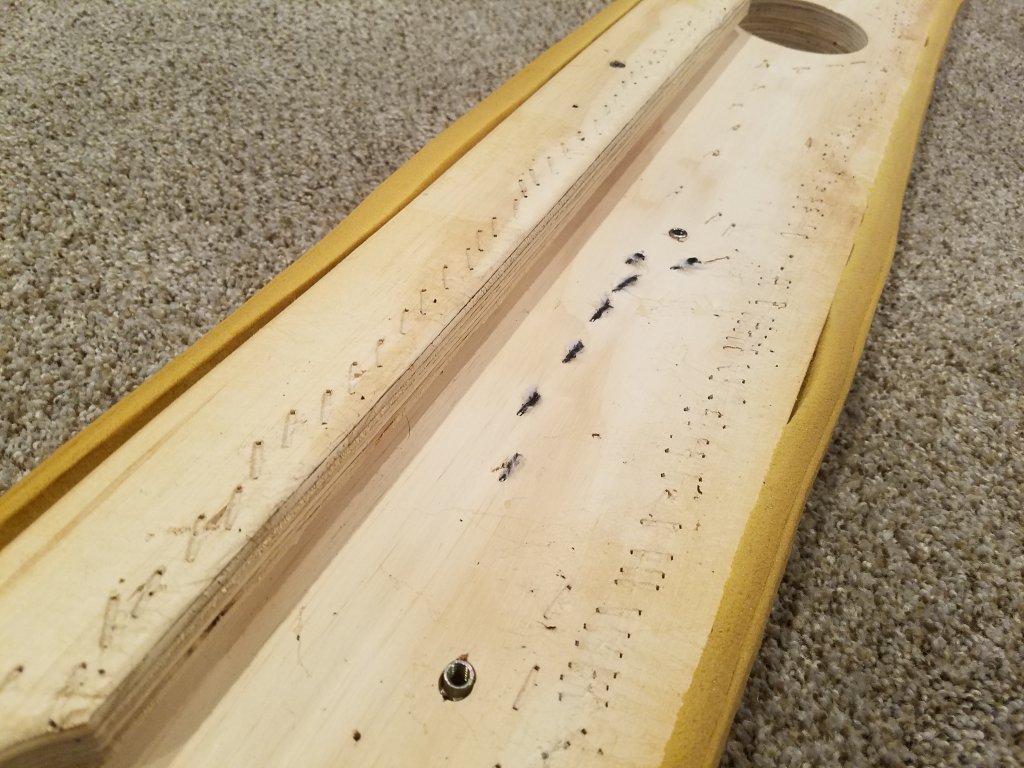 Once you have the covering off, you can elect whether or not you want to replace the foam. The foam on my personal table was fine, so I didn't replace it, but if it's in bad shape, removing the foam is pretty straight forward but takes a while. Start by pulling off whatever pieces you can by hand, then use a putty knife and/or paint scraper to remove any leftover chunks still glued down. Here are some pics from a rail I re-upholstered a few years ago.
Once the majority of the foam chunks are off, use a sander (I used a random orbital for this one) with a heavy grit sandpaper (60-80 grit) to remove the rest of the foam & adhesive. You don't need to get to bare wood, you just need to get it smooth so you won't have bumps under the new foam.
At this point you're ready to re-foam and re-upholster like you normally would.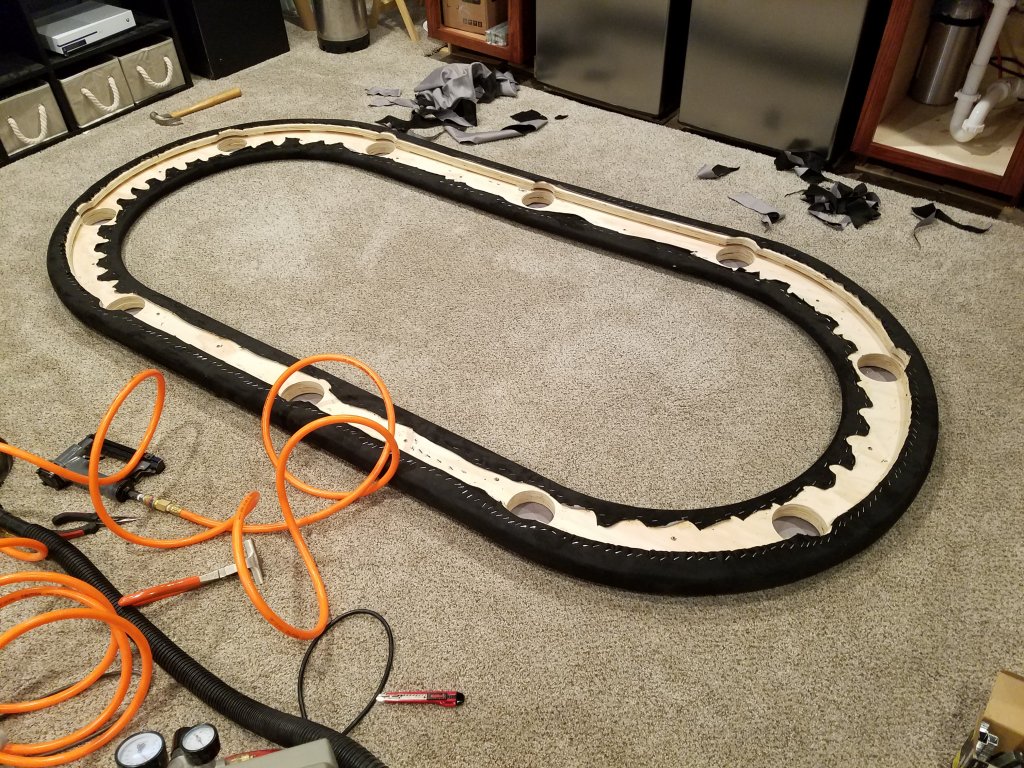 The process for re-cover the playing surface is similar, but you often don't need to remove the staples because there aren't as many and you have more room to shoot a new line of staples. For this table, I utilized a foam rubber called ensolite for the playing surface. This stuff is awesome and feels great (tough to find nowadays), but one issue with it is that the skin of the foam will often peel off when you remove a cloth that is installed using the light haze method (where you spray a very light mist of adhesive to help set the cloth). Tony's cloths are awesome, but soft/pliable enough that you can see these areas of peeled foam skin once the new cloth is installed. So in this case, because I didn't need to replace the foam, I simply installed the new cloth directly over the old cloth.
And ready to go after a bit of trimming and re-assembly.
Last edited: