Greetings, welcome and thank you for ANY input!
This is the Philosophers set. I would very much like your input any and all aspects.
Let me explain the set.
I enjoy various aspects of formal logic and arguments, debates and discourse don't bother me in the slightest. I do wish however some of the core fundamentals of logic were a bit wider known. I wanted to create a talking point around this at the table. I want it to be fun.
Here are the elements of the logical ideals:
Burden of proof / evidence
non definable ideals
knowledge vs belief / historical values
theology this goes significantly deeper but I want to try to not get in the weeds, afraid I may offend someone =D
Denom vs non Denom
I don't want to bring up the argument of denom vs non denom, but I do want to know what / how ppl would incorporate denoms into this set. I am not a fan of writing on the edges (numbers would be a coin flip, no pun intended)
This is a cash game set, and I wouldn't want people who don't know the standard color values to play. If it was a tournament set 99.99999 it would have clear denoms.
I'm in final selection of the chips, without further ado, here they are, if you can recognize the figures please post! I'll post after a few days who they are and the aspects of the images.
White - (Standard 1 USD)
Featured left to right
White chip with a light grey starburst - Solid White chip - light grey with a white starburst.
The difference on the chip is subtle, and the photo skills are lacking.
Blue - (non Standard 5 USD)
The work horse, I dislike the color red, so I went with the typical opposing color =D
Obvious orange vs blue border
Green - (Standard 25 USD)
Subtle color difference
Black - (Standard 100 USD)
Starburst is the difference - it feels like a flash or a glare but the difference is as much, although I do think the starburst version feels faded. The purple looks good in the photo but too dark in person, so I think we are going to go with a pinker version so it 'pops' more.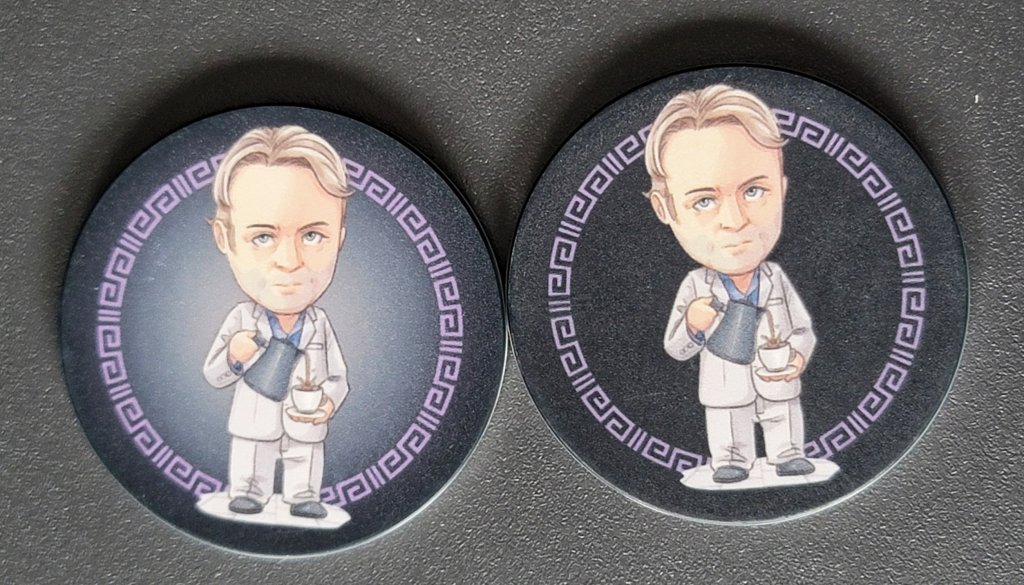 Purple - (Standard 500 USD)
Well there is this .....
This thing is awesome, and again the photo seems a little blurry, the photographer is complete crap!
I can't put into words, its like a Russian doll of awesome inside awesome inside awe... you get it!
Okay so please post, if you hate it, tell me how much, if you'd change things, what would you change? where would you put the denoms at? What do you think of blue over red, would you have gone with solid blaze orange or orange for the 5?
What do you think of the art? What elements of formal logic do you see? Who are the figures?
I want to thank Kristil so much, if you've worked with BR Pro on anything, you know how amazing, patient and kind she is.