Full House
Moderator
Supporting Member
Joined

Apr 28, 2013
Messages

3,706
Reaction score

5,710
Location
After two months I finally have some time to take a few minutes and post up on the two gaming tables that I built for my brother's bachelor party in April. My brother wanted something low key, but gave me no advice about what he actually wanted to do, or even wanted me to share the plans with him so everything was a surprise. My brother likes to just hang out with people, but is not a huge poker fan so I thought that while we were all shooting the shit that it might be fun to gamble it up with some play money.
I had everyone chip in for the party for beer, food, etc. and used some of the funds (combined with a $300 amazon credit because they made several mistakes when I was putting in the order) to pay for all of those things, plus part of the table that was being gifted to my brother. Everyone also brought or chipped in on a bottle of scotch or whiskey to the party for tastings throughout the evening. We ended up with wonderful selection of around 10 bottles that included Glenlivet 15, Oban Distillers Reserve, Federalist 12, Monkey Shoulder, Glenmorangie 12, and a few others that aren't coming to mind right now.
In the end, I decided that the two simplest games would be Blackjack and Caribbean Stud. Knowing my brother, who is a lover of all things tropical I decided to make his table the Caribbean Stud one. I kept the other table as my own.
I started with four sheets of 4''x8' plywood and made a layout of each on the wood. First step then was to cut the dealer holes out using a router plus a straight edge guide.
From there I used a router + Lewin circle jig and extension to cut out the half arc. From there I made the straight cuts on the back rails
Next I bolted everything together using T-Nuts and a bunch of flat head hex bolts. I had to trim down the ones that went on the playing surface as they were a bit too long, but in the end not a big deal.
Front side of one of the tables with the dealer tray test fit.
Polying all of the pieces that go under the rail. I'm anal and don't want something rotting out the wood if it spills so I spend the extra hour or two and just poly everything.
Unfortunately, I started these tables a week before the party (was finishing my dissertation just before this so I didn't have time) and just kind of stopped taking pictures from here on out. Since I was under a major crunch I had to get some additional help from my wife, who put the nails in on my brother's table and then I enlisted the help of my dad for both of the rails which were a pain in the ass. Yes, the rail is one continuous piece all the way around. Smart idea? Nope, but I didn't know that before. There are some slight gaps in each of the inner corners, but with how much time we took to make sure it looks right you probably couldn't even tell up close unless you were looking for it.
To cap everything off, I ordered custom cloths for both of the tables, one to match my set up and another to match my Hawaiian, tiki themed brothers. Here is the final products.
My Table w/ my custom chips
My brother's table. I have another metal dealer tray that I found on Ebay for $5 that I'm going to put in to replace the plastic one.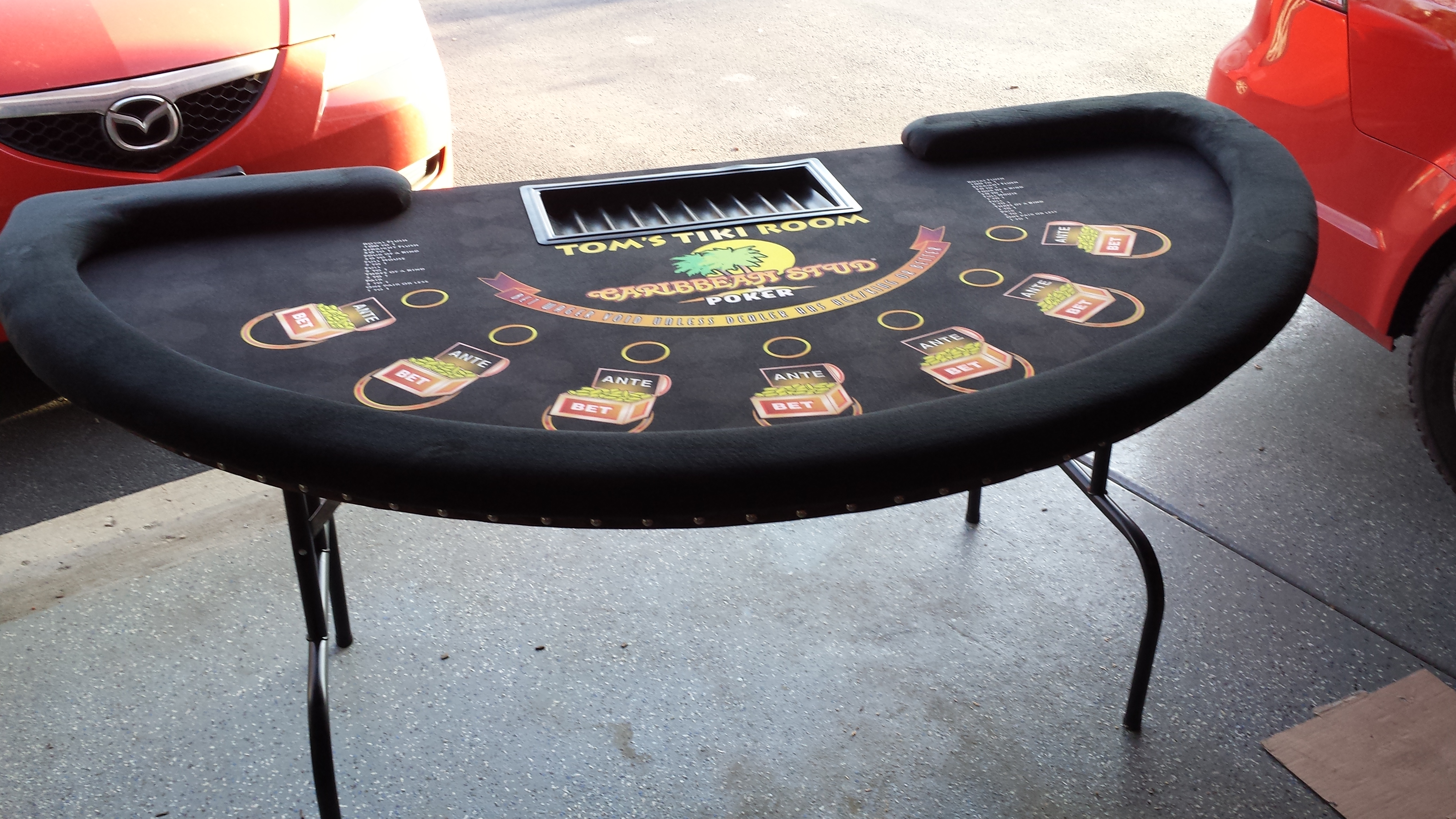 The set up at the bachelor party.
The matching bar
My brother checking out his new table.
All in all, everything turned out great....Until the party started and after one of my home game regulars who was one of the dealers for the evening called me over to look at the cloth on my brother's table. The guy who printed them fucked up the payouts, excluded two pair, misspelled straight, and called a full house just a "full". FUCK. I checked over the proofs on it and missed this, but to be fair I looked at them after 12 hours of proofreading a 300 page dissertation so my eyes were a little buggy. I told my brother if he wants a new cloth to let me know and I'll get it fixed. He's still thinking about it. Maybe when we put in the new dealer tray.
If you made it this far thanks for reading.