I'm not very motivated to split this one up so priority will go to any buyer that wants the full set. I will leave this open for claiming (tentatively) until Thursday February 13 at noon PST. If there are multiple buyers interested one will be randomly selected. This will go for the smaller lots too.
Full set is:
100 x 25c
200 x $1 (American Legion $1s on the THC mold)
200 x $5
200 x $25
200 x $100
40 x $500
10 x $1k Matsui plaques
1 x DB (not pictured)
Price is $5100USD shipped to CAN/US.
Smaller lots that are dibs-able but would get trumped by a full lot dibs:
Lot 1A:
100 x 25c
200 x $1
$700 + shipping
Lot 1B:
100 x $5
100 x $25
100 x $100
$1600 + shipping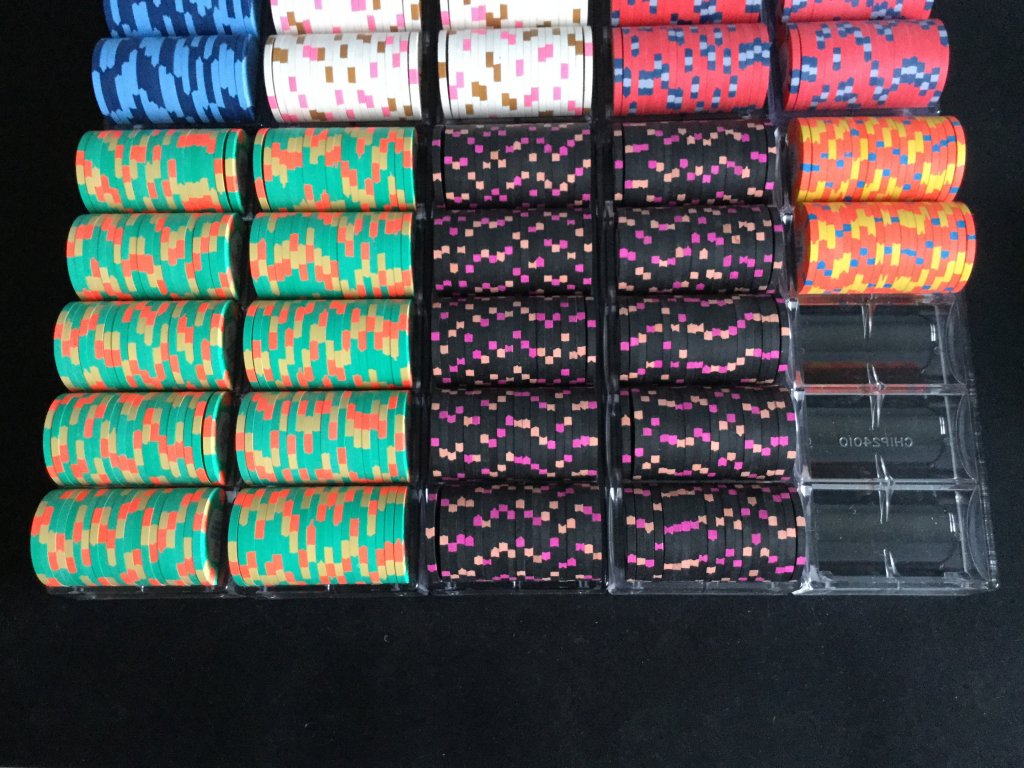 Or both lots 1A and 1B for $2300 shipped CAN/US.
If there is no interest in the lots these are the general split prices:
$5s: $500/rack
$25s: $300/rack
$100s: $800/rack
$500s: $500/barrel
$1k plaques: $200 for all
Doesn't mean I'll split, but depending on the interest I might.
I've used some of the chips two or three times. I'd say they are near mint (except for the $1s). I noticed that some of the inlays on the $500s are a bit darker than the rest, I'm not sure about the other denoms but I think they are consistent.
As for the American Legion $1s, I thought they'd make a nice PCA $1 being leaded and on the THC mold. They have different stamps on each side as pictured below. These are in great shape, stack evenly with the rest of the chips but are a bit dirty and slightly more used I would say:
I'm not sure if I missed anything but I'll edit anything in later if need be.
PP F&F is the preferred method of payment. Insurance is the only safety net against a lost shipment which maxes out at $1000CAD per box. I haven't had an issue to date.
Thanks for looking
Last edited: