Well, there is a set that I really would like to pick up, so I am doing the unthinkable, posting up some chips for sale.
I will be listing chips, but they will not necessarily go to the first person that posts "dibs" or "sold" I will wait until possibly Sunday or Monday to see who wants what, and then will make a decision.
I am still researching pricing , but wanted to let people know what is potentially being made available.
ALSO please note that I am currently in Canada. The border has been shut down , so if you would like these shipped from the US, I will have to wait until things clear up. If you can't wait, I will look into shipping rates from Canada for you.
First up is Empress $5 chips. I am not sure if they are primary or secondary. They are mint, unplayed.
Next is Aztar $25s. They are in very good condition. They might have been used in a couple of games 15 years ago? Can stand on edge easily.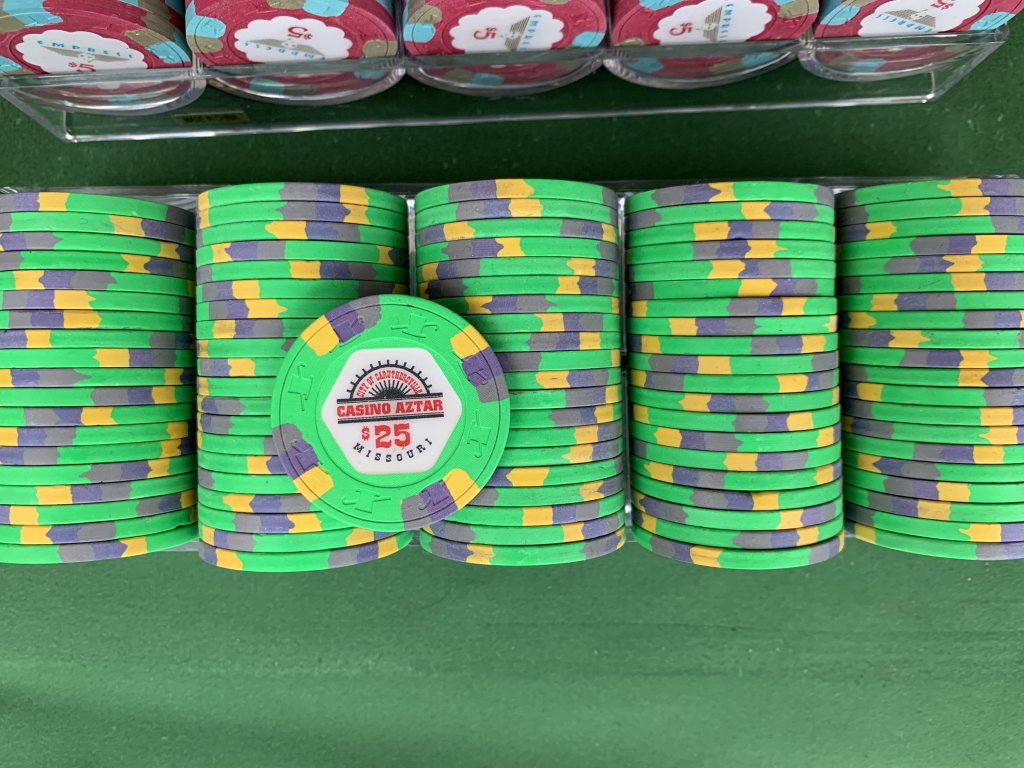 And finally is Empress $100s. These are in good condition. Most can easily stand on edge, some take a bit more effort.
Again, please post interest in this thread, thanks!
Edited at 19:00 GMT-7 , Thursday March 26
For those wondering, I am not looking to maximize return on any of these chips, but I am looking for fair value. I really don't want to see them shipped out and then resold for a lot more, and will try to take that into account when choosing who to sell to.
I also would like chips to go out to people that have a specific need for them, although that's pretty subjective.
Anyways, for pricing on these,
Empress secondary $5, mint , it seems like there is a wide range on pricing for these. The first thread I found snap sold a rack for $200. then a couple of racks sold around the $300 range, and another 2 rack solds at auction (here) for $445. Given that info, I'll post these for $235.
Aztar primary $25 , Found a couple of sales threads around $220 and $200, and $150 . All chips roughly same condition as these, so I'll post them for $185.
Empress secondary $100, pricing seems to be all over the map on these. Cheapest I saw was $350 a rack, but that was a few years ago. Most expensive I saw was around $7 per chip. I'm going to list these for $495.
Again, this is not a first come, first served sale. I will be waiting until Sunday March 29 , or possibly Monday March 30 to make a final decision. Also, if any chips don't sell, I'm fine with that, They can sit amongst their friends in my shelves again, waiting for me to build the set around them.
Edited at 17:15 GMT-7, Sunday Mar 29
Ok, I think this is the list of interest, from going through the thread as well as PMs. PLEASE VERIFY, I will do my best to make the decision tonight on who gets what.
This is the busiest thread, which, was kind of expected.
Empress $5
@Jhoov2412
@Jeevansluck
@Anthony Ferguson
@Mac128k
@Balanar
Aztar, I think I can work something out here...... hold on for a pm
Empress $100
@UnicornFlash
@Ethan
@JeepologyOffroad
@ReallyGoodUsername
@Hornet
@superchromix
@DMack
@Josh Kifer
@Moxie Mike
Last edited: