Back in 2013 I picked up a mint 300pc set of Paulson Monte Carlo chips off of craigslist for i believe GearX.
I scoured the innerwebz and sought help on CT but alas nobody had ever seen them before.
The person I purchased them from stated they were a gift and he believed they were purchased at the Paulson store many years ago.
I completely forgot about them until I caught the tail end of a tv program called "What on Earth"...Mafia Ghost ship.
Turns out it was a concrete tanker built for WWI but the war ended and was eventually sold and converted into a gambling/prostitution/speak easy. It's wreckage is thought to still contain $100,000 in gold / silver coins.
Sorry no picture of the chips. Hoping GearX can share if he still has them.
https://en.wikipedia.org/wiki/SS_Monte_Carlo
Grounding[edit]
Monte Carlo
was
anchored
3 miles (4.8 km) off Coronado Beach in
San Diego
where it was in
international waters
, outside the boundary of state and federal law. During a storm on
New Year's Day
in 1937 the
anchor
lost its hold and the ship drifted onto the
beach
in front of what is now the El Camino Tower of the Coronado Shores condos. No one claimed ownership because, once on shore, this gambling and prostitution ship was illegal. The wreckage can be seen underwater at low tide, and is occasionally exposed during strong storm tides. The surrounding beach where the
Monte Carlo
came to rest was coined locally as "Shipwreck Beach" by a Coronado writer and historian in 2005.
[2]
There has been speculation that there may be $150,000 worth of
silver dollar coins
remaining in the wreckage, according to the late Bud Bernhard who retrieved hundreds of dollars from the shipwreck as a child. "I'm convinced there is $100,000 in gold and silver coins deep in that wreck.", he once said.
[2]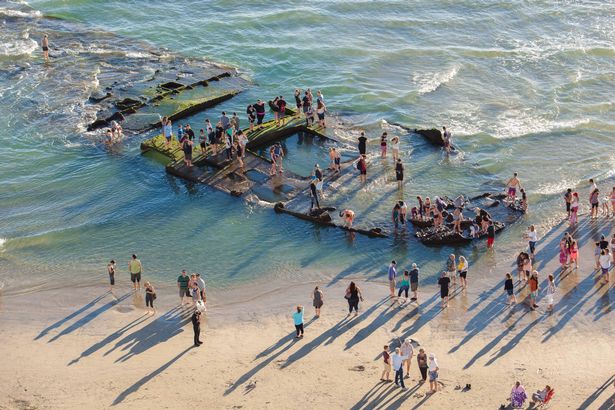 Last edited: