Like others during this pandemic, I am spending more time at home. I have spent part of that time thinking about whether or not we will have the same number of players at Wednesday night's tournament when we resume playing. Whether or not I want to get back into hosting or buy a set-up of Da Vinci cards to switch out with the Copaq's, etc., etc.
I also thought about the number of different home games I have played in, the handful of tournaments that I have won at casinos (4), and the memorable players I have met along the way. It occurred to me that I have played in over 700 poker sessions at other people's houses and another 175 to 200 sessions at various casinos. I have also hosted close to a 100 sessions, which adds up to a thousand games of live poker over the last twelve and a half years.
My journey began with a twelve player, winner take all, $10 Texas Hold-em re-buy tournament in an unheated basement to finding myself sitting down at $2/$5 PLO tables at Foxwoods.
In 08 and 09 we had two full NLHE .25/.50 cash tables running twice a week with $600 to $700 on each and $800 to $900 on the final table by evenings end. Back then, I thought that was fairly big. I would not have imagined that I would one day find myself buying into a game of PLO for $650 or sitting at a $2/$5 NLHE table where every hand cost $25 to see a flop, nor did I ever think I would find myself upside down $500 in a .25/.50 game, and yet somehow manage to finish in the black, cashing out with $625.
Pictures from the past year:
No power, no matter.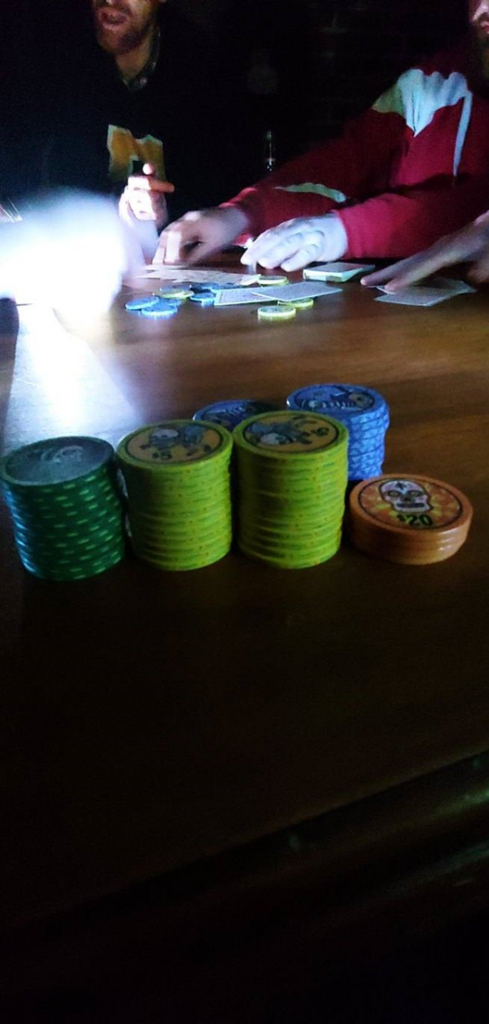 I have many fond memories, but now I catch myself asking if I should distance myself from poker and devote myself to other things.