Hello Chippers!
Nothing like waiting until the last minute, Again, I am asking for team sponsor donations for our third time raising funds for the Southeastern Brain Tumor Foundation by participating in their 5k walk (I am not a runner).
Here is a link to the original post from 2018
(please note that none of those chips are for sale, ACTUAL SALE is below the fluff text and pics, for the internet challenged like me):
https://www.pokerchipforum.com/thre...rn-brain-tumor-foundation-ends-9-15-18.33163/
We're a non-profit organization on a mission to fund research to find a cure for brain tumors. We provide supportive and safe environments for patients, families, and caregivers to share experiences, learn about current therapies, and receive information about various aspects of a brain tumor diagnosis and treatment through monthly support group meetings.
Our 2019 Walk Pics:
Link to Team Lucky Dog
http://support.sbtf.org/site/TR/Race/RaceWrapper?team_id=5285&pg=team&fr_id=1290
Long story short, we celebrated my wife's "6-year brainiversary" last July. Procrastinating until the deadline to register about 2 weeks ago, I decided I would again walk the 5k to help raise money for others affected by brain tumors. While it is not a lot, every bit helps!
So, other than inviting folks to donate, I am selling the following chips and donating all the funds including shipping to Team Lucky Dog!
NONE OF THESE CHIPS ARE BEING REPRESENTED AS MINT. (but I give condition as I see it)
I harvested these chips from tables and cages, or got them from others, but none are new. Some I ran in the ultrasonic cleaner, some are "casino gooped", look at the pictures and use your own judgement. Some are live, most are obsolete.
Prices are simple – listed price includes shipping in the US. For lots #2 and #6, if someone dibs one chip first, you cannot dib the whole lot.
Sorry international folks, nothing I am selling is worth the cost of shipping. If you REALLY need international and are willing to pony up extra for shipping and can tell me how to address the label, I will do my best.
Post the lot(s) you want
in this thread
. I will only log in around 8pm Eastern each night, the 10/15 filing deadline is taking all my time.
Sale ends Friday at 8pm
. I will confirm you are the winner via PM at which time you can pay the SBTF directly using the "Donate Now" link from Team Lucky Dog page:
http://support.sbtf.org/site/TR/Race/RaceWrapper?team_id=5285&pg=team&fr_id=1290
Remember, for Charity and Includes Shipping!
*** BONUS FOR ALL WHO DONATE $10 OR MORE FROM PCF TO TEAM LUCKY DOG***
(including purchasers of the for sale lots)
Donate by going to this link: http://support.sbtf.org/site/TR/Race/RaceWrapper?team_id=5285&pg=team&fr_id=1290
Please either put your username in the text field of the donation, or let me know who you are and donation amount in PM. I will run a flip either in rounds or single table depending on the number of entries on Saturday evening 9/25 after some beers.
I am giving away these
60 chips
: all from Lawrenceburg, Indiana - 34 $5 Cancelled Argosy (sharp), 6 $1 Cancelled Argosy (sharp), 4 $0.50 Indiana Gaming Co. (very good)
**ADDED**
16 Cancelled Argosy $25s (good) Total of 60 Chips!!!
** $10+ Donation will get you into the Flip! **

LOTS FOR SALE:



SOLD Lot #1 = $25

"5 Gambler's Spree" Riviera Win Card and $0.50 Treasure Chest Kenner, LA

@FordPickup92 gets first dibs (basically a lot just for her)
SOLD Lot #2a and 2b (2b is SOLD) (1 chip for each lot) = $10 per chip or $18 for both
$5 Hard Rock Biloxi 2019 Year of the Pig – 39mm new from cage in 2019
SOLD Lot #3 = $12
4 $0.50 RVCL Royal Viking Cruise Line – Sharp edges straight from Spinetti's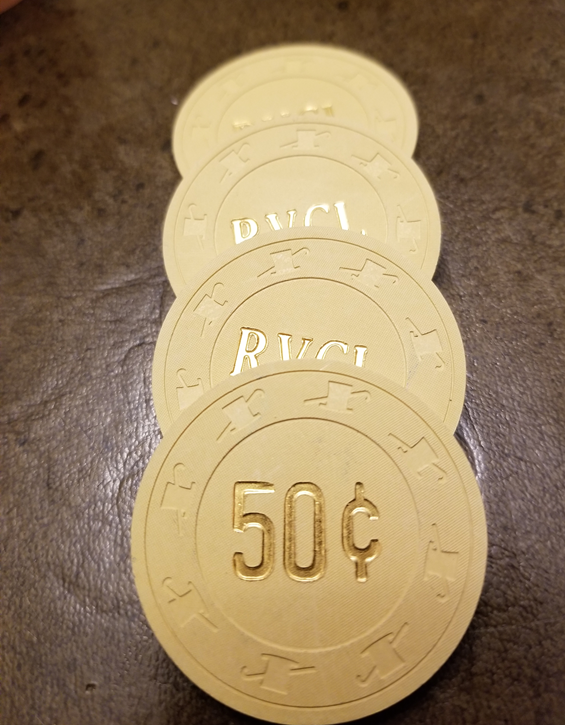 SOLD Lot #4 = $25
7-piece Sample set Casino de Isthmus "CDI" 2005 – from Apache in 2006, shuffled 10 times, maybe.


SOLD Lot #5 = $25
10 "shuffle stack of $1 Harrah's Cherokee, NC – table used, best I could find but still probable flea bites
SOLD Lot #6a, 6b, 6c = $15 per chip $42 for all 3
Wynn $8 Chinese New Year 43mm house mold
6a=2007 Pig, 6b=2008 Rat, 6c= 2013 Snake
SOLD Lot #7 = $15 Miscellaneous Vegas Chips (all for 1 price) table used
$1 Palms (Paulson), $1 Golden Nugget, $1 Bellagio, $1 TI (oversized label), $1 Monte Carlo, $2 Orleans
ADDED LOTS 9/21/21



SOLD Lot #8a and 8b = $25 each lot of 10 (first dibs for @Gear )

10 "shuffle stack" of $1 Harrah's Cherokee, NC – table used, best I could find but still probable flea bites
SOLD Lot #9 = $30
10 "shuffle stack" of "200 Casino de Mexico" – in condition I got them in, look like they were cleaned.
NEW Lot #10 = $12
4 chips 1 $2 Mandalay Bay (like new) and 1 $2 Venetian $2 (table goop used) and 2 $1 Horseshoe Cleveland (used, cleaned)
sorry for the poorly combined photo…..
SOLD Lot #11a, 11b, 11c, 11d, 11e = $33 per lot (barrel) $160 for all (excellent condition)
20 $1 Lady Luck Caruthersville, MO – Direct from the Chip Room sale to this rack, not touched since.
Again, for the sale,
you must post dibs and lot # in this thread, first dibs gets first
. I will contact you via PM in the evening Tues, Wed, Thurs, and Fri, following your posts,
so please be patient.
Payment on the SBFT website, no checks, no mailing funds, no currency other than US$, payment due by 9/24 walk is 9/25, so gotta post the $$$$ to the team before the walk.
http://support.sbtf.org/site/TR/Race/RaceWrapper?team_id=5285&pg=team&fr_id=1290
FAQs: Answer is always NO, please do not PM me with questions.
Do you have more of these chips for sale?
NO
Will you combine shipping?
NO
(charity, don't be cheap, I will combine as much as possible)
Will you discount for more than one lot?
NO
(again, charity, don't be cheap)
Will you hold until "X" date?
NO
Will you accept returns?
NO
Will you throw in free stuff?
NO (except the flip for the set of chips for all who donate $10 or more)
Thanks again everyone who donates, purchases a set, or cared enough to read the text. I really do appreciate the folks I have met here and who make this a place I still like to visit and make friends. I also reserve the right to add more stuff to donate, but the sale ends Friday night.
BiGGyT aka Tim
Flip entries so far-
@FordPickup92
@MegaTon44
@Ethan
@Gear
@Jackstraw
@DMZ
@Laker285
@roofingman2
@Thomacetti
@JesterTX
@CDC
@PocketAces
@JeepologyOffroad
Add your name by making a donation to Team Lucky Dog
(or buying the stuff above)
http://support.sbtf.org/site/TR/Race/RaceWrapper?team_id=5285&pg=team&fr_id=1290
Last edited: