Flush
Site Vendor
Supporting Member
Joined

Mar 26, 2013
Messages

1,392
Reaction score

3,178
Location
Key West Resort & Casino introduces its newest Key West table game accessory:
KEY WEST $100,000 TOURNAMENT PLAQUES
​
The Key West is proud to offer our newest table game accessory for your home table: a ceramic $100,000 tournament plaque from BR Pro Poker.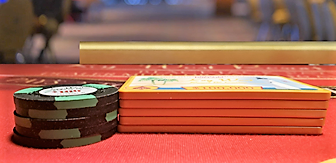 ​
SPECIFICATIONS:
Dimensions: 85 mm (3.34 inches) x 53 mm (2.08 inches), with rounded corners (slightly smaller than a playing card.) Thickness: 3.5 mm
Weight: 1.2 ounces each
Material: Ceramic
Finish: Matte
PRICE:
PCF member price: $6 @, plus shipping (The price per plaque considers production cost, packaging and transaction fees.)
PCF quantity disc
ount:
$5.75@ for 10 or more
, plus shipping
DESRIPTION:
Our new ceramic poker tournament plaque is slightly smaller than a playing card. It features a full-bleed image of the Key West lighthouse and a double palm tree along with the casino name in its signature font. The image includes muted background tones of peach and sky blue. Each plaque carries a unique permanent serial number on one side starting with number 1001. The same image is imprinted on both sides of the plaque, and the serial number appears on only the front side.

The plaques are 3.5 mm thick, and approximate the height of a Classic Poker Chip.

The plaques were manufactured for us by BR Pro Poker (ABC), known here for their exceptional quality We did a small initial run of serialized plaques, which we'll be offering exclusively here on Poker Chip Forum. They won't be available on the Key West site until 2022.

ON THE DESIGN:

I've considered doing a plaque for some time, and toyed with various traditional designs -- a solid plaque with a marbled look, a casino logo and a denomination, and the like.

With these plaques, I really wanted to create something different and instantly recognizable as "Key West." The gold color is unique and slightly different from any of the chip colors, but fits well, I think, with the high-end Key West chip colors. I also wanted to include the Key West spade, by J5, in one corner to have a distinct image when spreading and counting a stack on the table. Adding a unique serial number to each plaque was an extra offered by BR Pro Poker that I really like.

ORDERING:

Available to ship now. To order plaques, PM me here on PCF. If you're not ready to order right now but would like some plaques in the future, please post here, as it will let me know if and when to do subsequent orders.

SHIPPING COSTS:

1 or 2 plaques ship to a U.S. address via First Class mail for $4.45 for the package.
3 or 4 plaques ship to a U.S. address via First Class Mail for $5.50 for the package
5 or more plaques will ship via insured USPS small flat rate box for $8.45
ODDS & ENDS:
You don't have to own any Key West chips, cards or other things to buy plaques.
Insurance is optional but recommended.
If you receive your plaques and don't like them, you can return them for a refund. Shipping can't be refunded.
For PCF members outside the U.S., PM for a shipping estimate based on the number you order.
Questions? PM dennis63 here on PCF
Last edited: