Joined

Oct 31, 2014
Messages

1,591
Reaction score

3,082
Location
Numbers for drawing
Ohio Pick 4 link here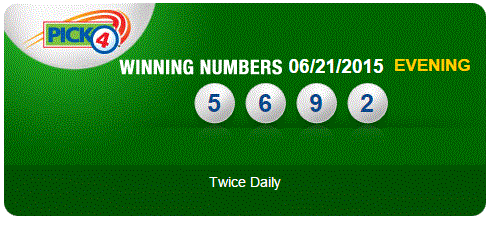 CONGRATS LABMONKEY!
Small change. We will not be using the pick 3, the pick 4 numbers worked out better. Again. This drawing is for the EVENING of June 21, NOT THE MORNING DRAWING.
GOOD LUCK EVERYONE!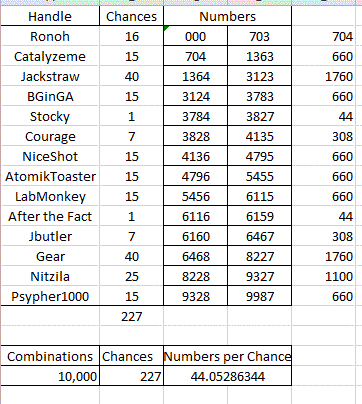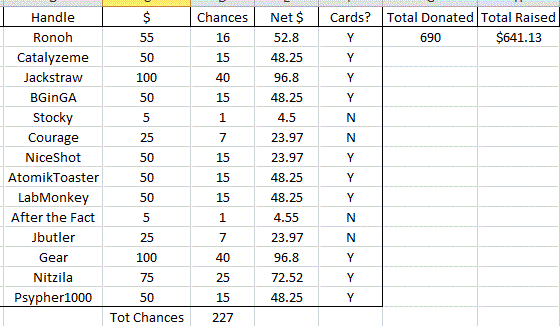 *SPLITTING THE PROFITS WITH LINK SLAYER'S CHARITY DRIVE!*
I've done this a couple times on the blue wall site.
Over time I've acquired a lot of poker stuff that I really don't need. So I'm raffling off these chips to the community.
What's in the Mystery Box?

Well that's the mystery! There are couple of pictures of the lot. I won't go into detail about what you see there. However, everything in the pic will be in the box. There will also be stretch or add-on bonus for each $100 that goes into the box. The stretch goals will be disclosed before any entries are sold.
$100 STRETCH GOAL - Stack of Snappers
$200 STRETCH GOAL - 1 Dozen sealed paper cards from Hard Rock ABQ, and a Stardust Mansion Tourney Sample
$300 STRETCH GOAL - 6 Fournier Double setups, $25 El San Juan chip, $20 Ritz Carlton Chip
$400 STRETCH GOAL - Nearly 300 HORSE HEAD LEFT DOC'S chips. These are in rough condition, but I was getting between $25-$35 for a sample set. Most stamps are worn down, the used the best chips I could find for the photo.
$500 STRETCH GOAL - $160+ Tropicana 3rd and No Cash Value Chips. These chips are warped to some degree, some are really bad, some are barely noticible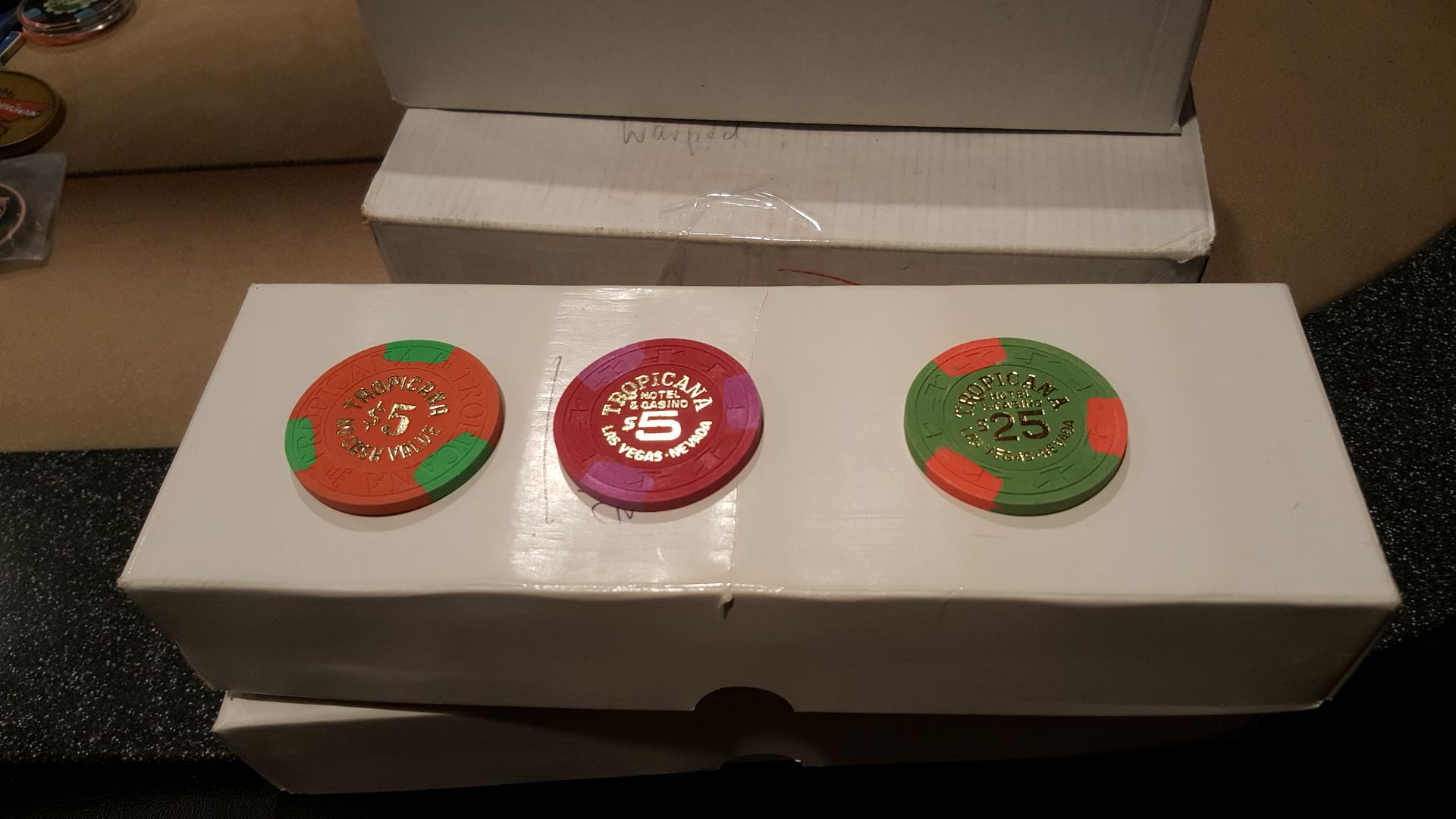 *** ADDED STRETCH GOALS BECAUSE YOU ARE SO AWESOME***
$600 Stretch Goal MOAR HHL! These are a little beat up, but ridiculously old. DON hotstamps
$700 Stretch - Las Vegas Tourney sample sets! These are from the sets that I managed to find and regrettably sell.
$800 - TBD
$900 - TBD
$1000 Stretch - Genuine KGB Rounders movie prop. This one is special though... one side has a tan shade to it. Hard to notice but it's there. Very hard to photo.
How much will it cost?

Entries are priced according to this table. Any entries totaling 50 or more person will get a double deck of Fourniers as well! I will take $20 from the value and give free shipping CONUS.
$5 - 1 Entry
$25 - 7 Entries
$50 - 15 Entries
$75 - 25 Entries
$100 - 40 Entries
How will the winning entry be selected?
Entries will be accepted until June 21st, 00:00 Pacific Time (Saturday Night). I will calculate all of the numbers for the drawing based on the number of entries to assign each person a window of numbers base on the
Ohio Lottery's Evening Pick 3
Ohio Lottery Pick 4
For example... If we end up with 100 entries, I will divide the number of eligible numbers, 1000 to find the range. 1000/100 = 10. So each entry would occupy 10 spots. If you have 15 entries you would have 150 numbers. I will try to keep the numbers consecutive, but I may need to massage things a little. I will have the numbers posted prior to the drawing. If I can't get the numbers up for the 21st, I will NOT use the evening numbers on the 21st and will move back a day until I can get the numbers posted.
I will attempt to keep a semi-live current sheet. Updated once a day in the OP so you can see where you are.
I'm in! How do I buy entries?

Easy! Click one of these links below!
PayPal
1 Count $5.00 USD
7 Count $25.00 USD
15 Count $50.00 USD
25 Count $75.00 USD
40 Count $100.00 USD
Square
1 Count $5
7 Count $25
15 Count $50
25 Count $75
40 Count $100
[A
Last edited: