Joined

Sep 17, 2016
Messages

40
Reaction score

49
Location
NOT FOR SALE:
This is not a dibs or a 'if you decide to sell' post. Kidding, I'll field all offers *privately. Not kidding about the dibs, please
PM me with trade offers
; I'm open to *most* things but please don't be discouraged or mad if I'm not into it. Life is full of rejection. Also, I work during the day and not from a desk or computer so I won't be able to reply quickly all the time. I'd prefer not to split my racks unless it makes the trade fair but it's so unsatisfying to leave part of a rack unfinished/incomplete. Yes, I realize a listing like this could be a bit of a headache for me but hopefully some fun and we can get what we want out of a trade. No asshat & cane clause since I don't know who you are yet. AHCC- registered trademark
CHIPS I WANT:
I prefer full racks of mint or lightly used paulsons. Offer me your rare beauties, tri-moons, other cool edge spots, hot stamps, cool or bright colors, oversized high denoms, regular sized high denoms, THCs, RHCs, BMWs, tournament's, cash, live, and will even consider some chipcos, You can offer me anything and I'll consider it. I was advised to keep my 'wants' to casino related items.
MY OFFERINGS:
-900 mint Tonkawa
I would prefer to keep these together and trade for another cash or tournament set.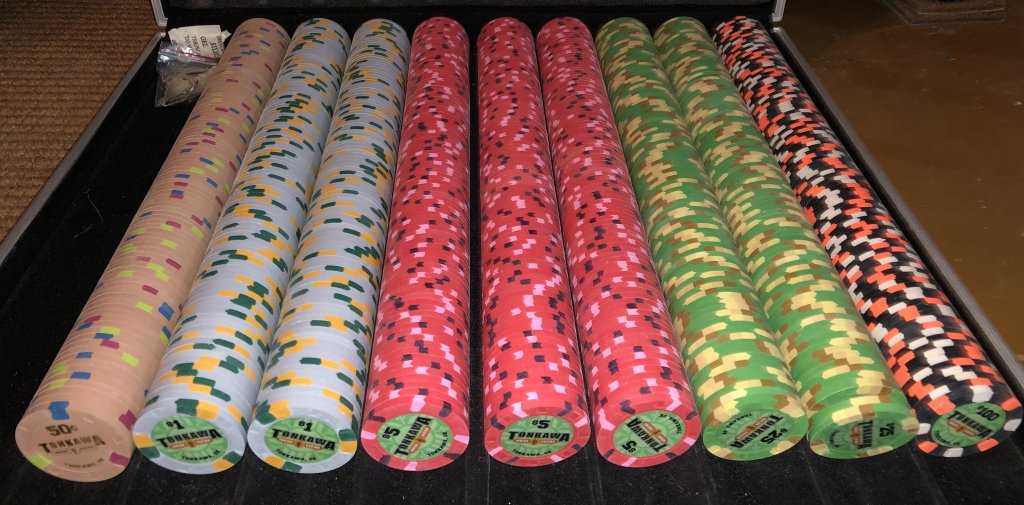 1 rack mint Vegas World Fabulous Frequency Machines NCV 100s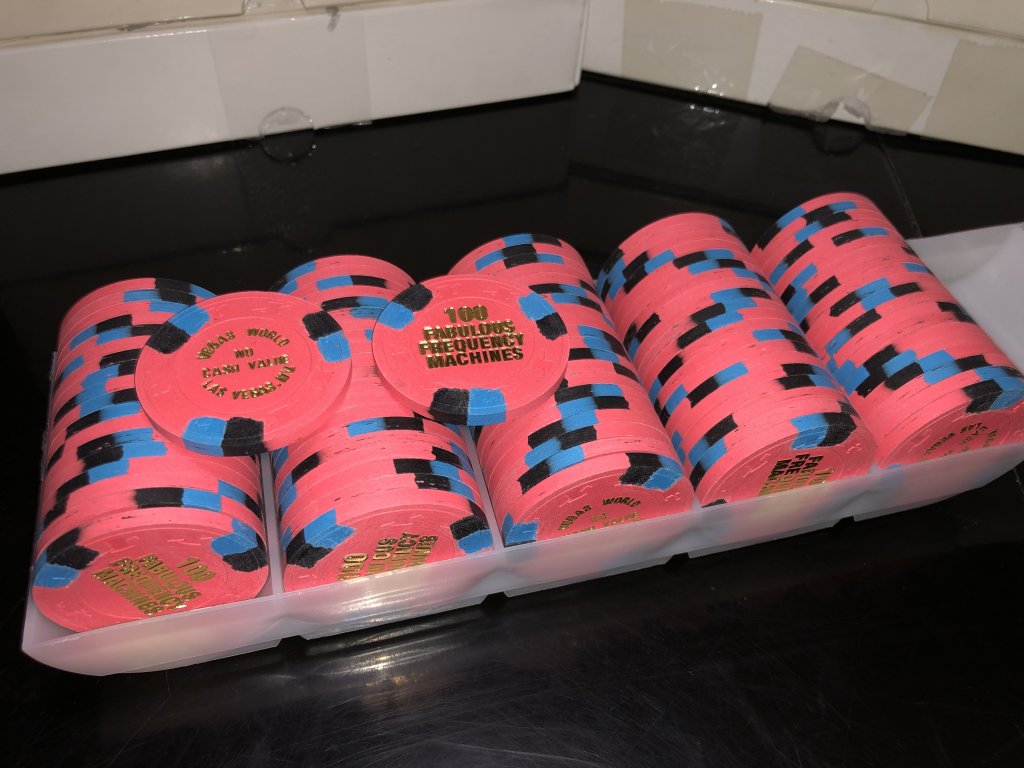 - 3 used racks of Oak Tree 2s
- 3 used racks of Oak Tree 5s.
Decent used condition. Racks not included.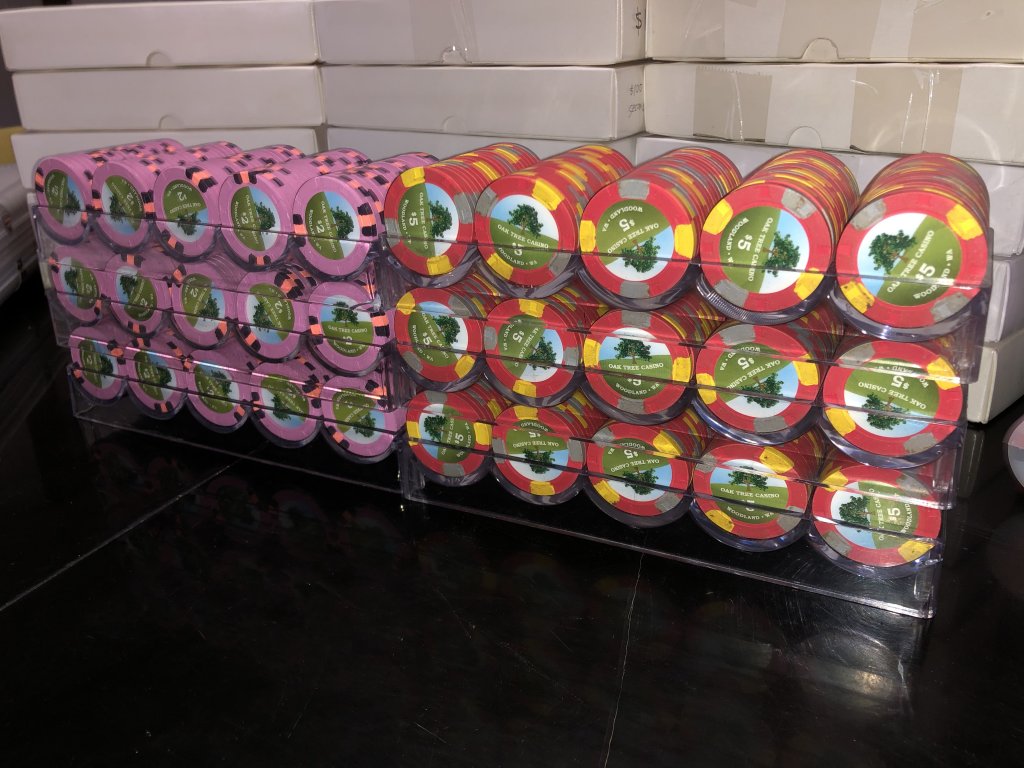 175 Cleveland HS primary 500s in decent shape. Have been cleaned but never oiled.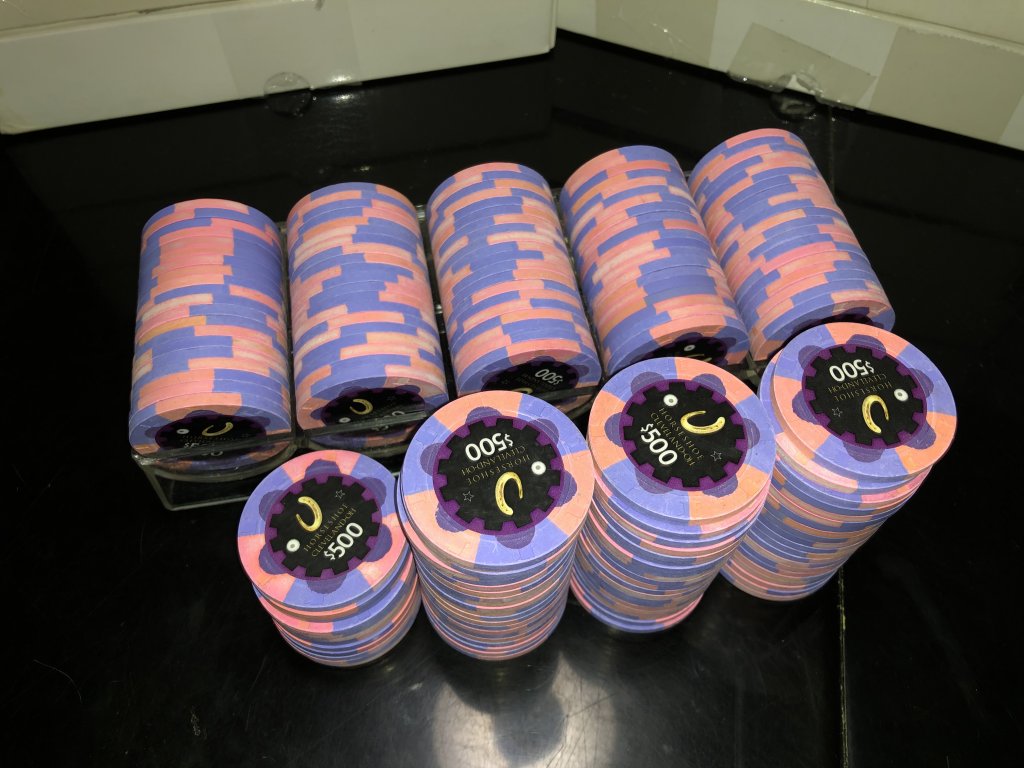 2mint Aces 3s
128 mint Revel Atlantic City 1s
- 99 mint CDI(98)25s
- 114 used Cleveland snappers(quite a few flea bites but pretty decent edges as a whole.) 100 have been cleaned, not oiled.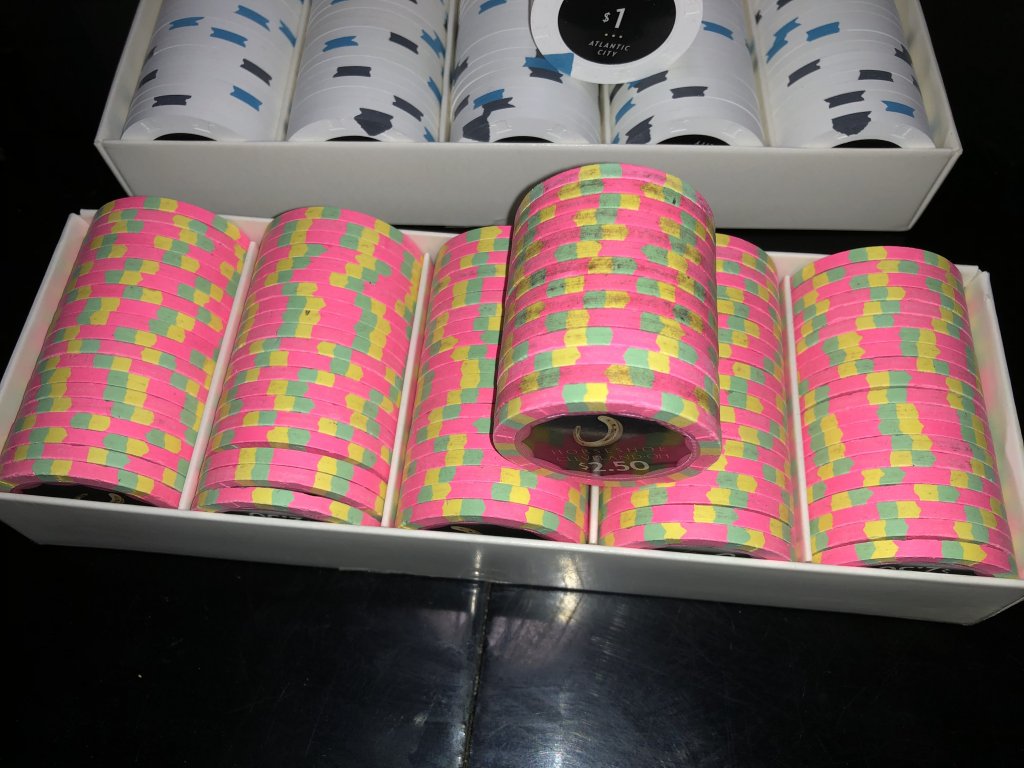 - 260 used primary Cleveland HS 100s
- 3 barrels of secondary CHS 100s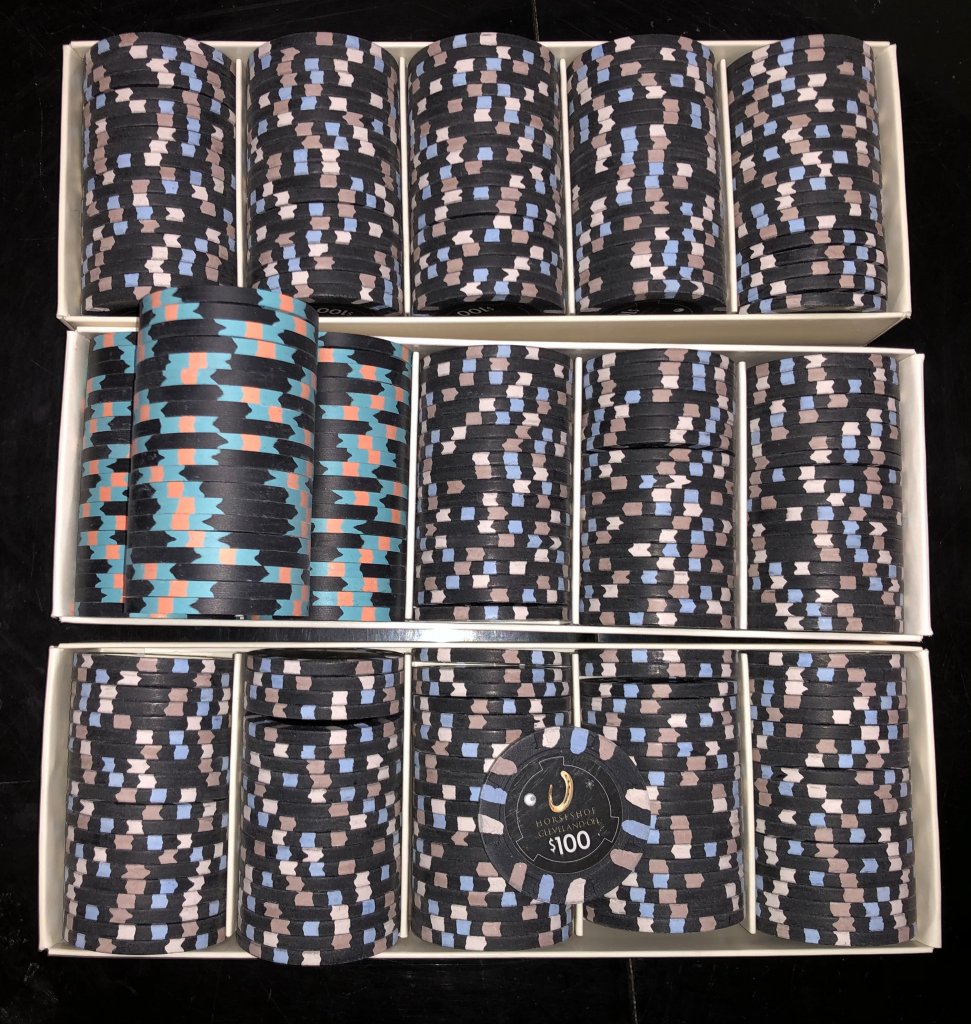 - 3 racks well used primary Cleveland 1s
- 3 racks well used priCleveland HS 5s
All 6 racks have been cleaned but not oiled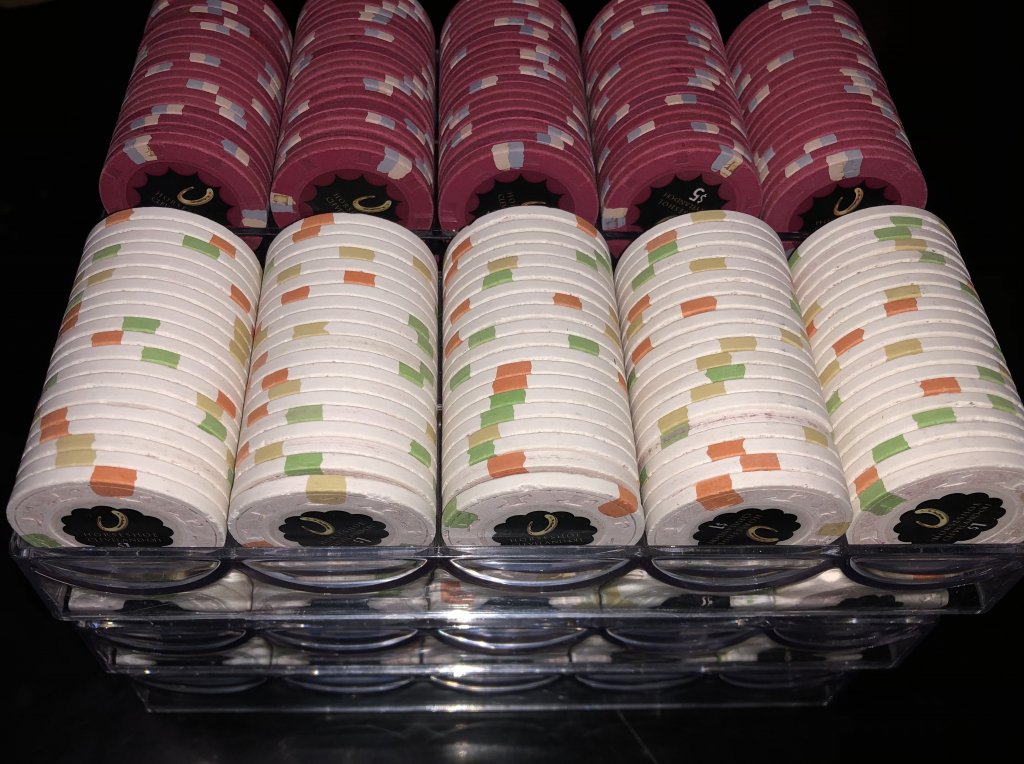 2 racks well used 'New Sonny's 1s
99 overly used Empress 5s
Just like everyone else: 3 racks of mint HSI 1s
Best? For last, almost Paul'sSon
- 200 Reno Hilton NCV plastic things 25s
- 200 Reno Hilton NCV plastic things 5s
- 19 mint cincy 25s
HELP ME COMPLETE THESE RACKS:
-Need 3 barrels of Cleveland 500 sec
-as many Silks 1s in exc condition as possible. Or 61 to complete my rack.
-a bunch of Motorcity .25s or 46 to complet