Joined

Jan 28, 2016
Messages

4,254
Reaction score

6,245
Location
Hello,
Here's most of my playing cards collection.
Let's start with the first ones I purchase, the
Copag made in Belgium
.
They are all Poker size and I've several setups : regular index, jumbo index and 4-jumbo index.
I've also
non-Belgian Copag cards
, mostly Bridge sized playing cards with jumbo index but also 4-regular index. There is also a deck of WSOP 2016.
In Poker size, I've a setup of jumbo index "Chopper" setup that I bought at
@Spinettis Gaming
during a trip in 2014 in Las Vegas.
Still in the
Cartamundi
group, I've Tobago (casino branded decks) and Cartamundi Belgium Casino. These are acetate cards, pokze size and jumbo index. These are one of the best cards I actually have.
Before I was aware of the issue Desjgn had with them, I bought a lot of
Modiano
cards (all Poker sized but with different types of indexes). Bought in quantity, they are even less expensive than Copag.
Even if I am not fan at all of the "peek" index, I've to say that the ones from Modiano are one of the best thought ones with both the rank and the suit appearing on the jumbo index and with a correct orientation, making easy to distinguish the 6's from the 9's.
The only ones I bought more recently, after being aware of the
issue
disaster with Desjgn are the Alpha but I bought them "aftermarket", so not sending any € to Modiano. They are really awesome cards, Bridge sized with jumbo index.
I've of course
Kem
. All of my Kem cards are Bridge sized with regular index. I've WSOP 2008, Casino Club and Arrow.
Due to the bowing issues, I'll not add any more Kem cards to my collection.
Still in Bridge size, I've only ( :-( ) one setup of
Piatnik
, with Jumbo index. One of my favourite cards but I'm sad there is no perspective to re-stock once they'll be worn.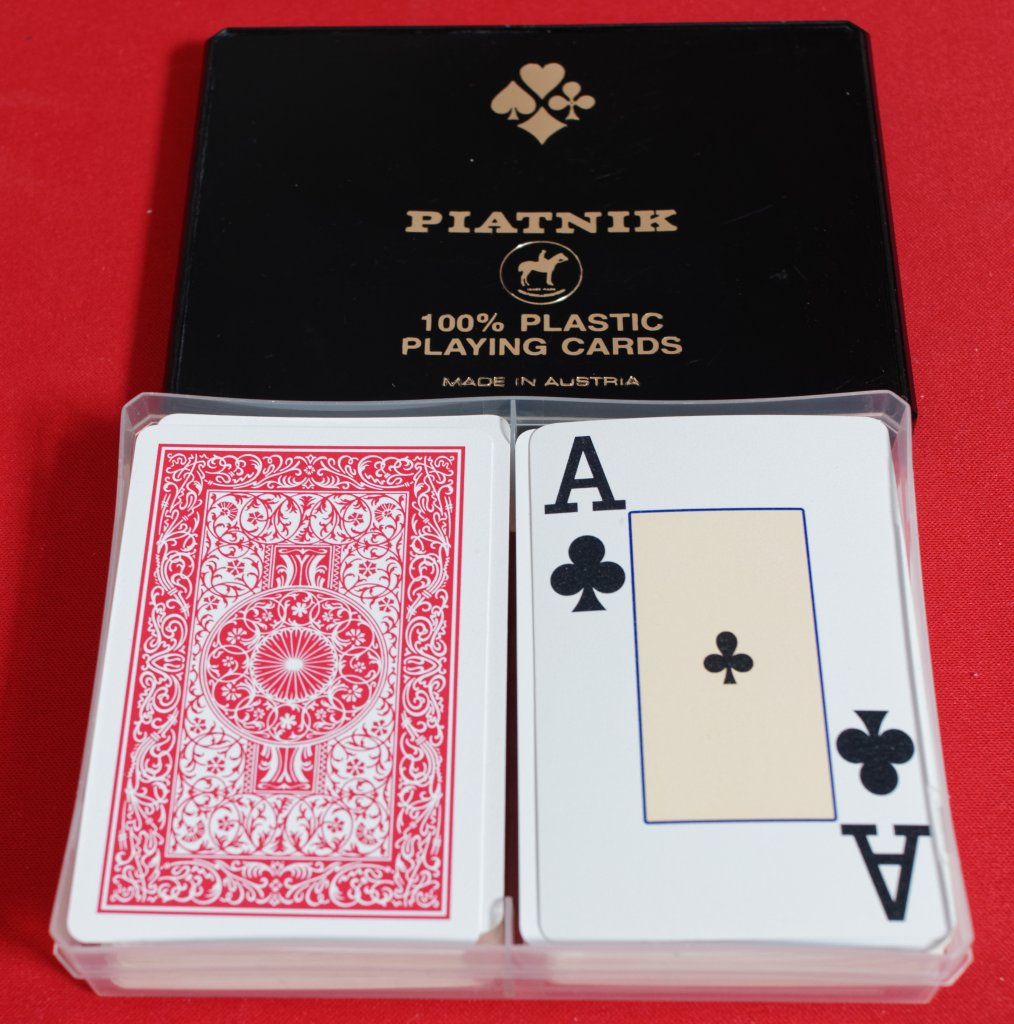 Other cards that I love,
Fournier
. All the Fournier I have are jumbo index. I've some in Poker size (the EPT, WPT and WSOP) and in Poker size (2826 setups).
And finally, some other misc (still 100% plastic cards) I have :
@SUN-FLY Poker Chips Lucky Dragon which are made by Cartamundi I think. They are Poker sized with regular index.
Nevada Jacks, poker sized with regular index too.
Dal Negro Napolitan cards to play "Scopa", "Briscola", ...
Here in Europe, it's difficult to get nice / high-end poker chips, but at least, we have many awesome and affordable options for the cards.
Missing on the pictures :
Kem WSOP 2008 setup x 4
Kem Casino Club Bridge Regular setup x 2
Fournier Poker Jumbo WSOP setup x 2
Fournier Poker Jumbo WPT setup x 2
Cartamundi acetate Poker Jumbo setup x 2
On its way :
@desjgn Classic Diamonds setup x 4
Copag WSOP 2021 setup x 2
Kid.
Last edited: