Joined

Nov 7, 2014
Messages

3,640
Reaction score

2,452
Location
So I've been playing with the idea of variable-entry tournaments, or multi-pool tournaments, as I'm calling it.
It's a way to allow each person in a group buy into a tournament for the stakes they feel like playing, as opposed to forcing everyone into a single stakes.
The mechanics are the same as for a hand with an all-in and a side pot:
The lowest amount that everyone covers becomes the main prize pool.
The excess above that becomes a side prize pool, and only those who bought in at the higher amount are eligible for the second pool.
Tournament plays normally, all with the same starting stack, and with just one finish order.
An example: ten people want to play a tournament. Five of them want to do a $20 buy-in, but five want to do a $50 buy-in. So you let them all buy in as they want:
Everyone has bought in for $20 or more, so that establishes the main pool:
Now, the remaining $150 goes to a second pool - a side pool - consisting of five people who entered with an extra $30 beyond the $20:
So ten players vie for the $200 pool, and five of them vie for the $150 side pool.
Tournament plays normally, all with the same chip stack, and with just one finish order.
Some interesting dynamics emerge - Adam, in both pools, might be wary of losing all his chips to Doug, who's only in the main pool... then again, Adam would love to pick up all of Doug's chips, because they help Adam relative to the other players in the side pool. The effects balance each other out.
Later, though, if Charlie, Ed, and Iggy get knocked out, then Adam and Bob are the only players left in the $150 side pool. There may still be lots of players in the main pool... but Adam and Bob might start playing like they're "on the bubble." Players should be aware of this, and what it might mean for their play... but it's still fair, because everyone has the same knowledge.
A more complex example - let's say the tourney ends, they decide to do it again, and this time, Ed and Bob have a little more gambool:
Everyone is in the $20 pool is playing for $200; the same five people as before are in the side pool of $150, but Ed and Bob are in third side pool of $100.
They play one last game; a lot of players turn out their pockets to have one more go:
That one is pretty crazy, with seven side pools! But the spreadsheet does the work.
Also, there are only really six side pools - Bob's big $200 entry is unmatched, and he gets $125 back. Instant win.
Settling the payouts seems confusing, but if I replace player number with finish order: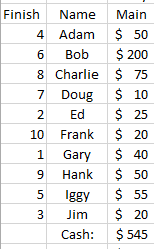 And then tell the spreadsheet to sort by finish order:
If you look down a column, the highest person with money in that pool wins it.
It's easy to see that Gary sweeps all the pools he's in - he wins $100, $90, $35, and $90.
Adam takes in $50.
Iggy gets $15
And Bob gets $40 - and his $125 back. It's as if he only bought in for $75, which was the biggest anyone matched.
Jim finished ahead of Adam and Iggy, but didn't have money in side pools against them, so they won money and Jim didn't.
And when Gary and Ed were heads-up, Adam, Iggy, and Bob could be paid out.
In fact, when Adam got knocked out, Gary won $90 right then, and there were only three pools left 'in play.'
If everyone buys in for a different amount, it can get crazy and almost require a spreadsheet... but when there are only two levels, it's really quite easy - and it doesn't matter if there are eight people buying in for $100 and two for $20, or eight buying in for $20 and two buying in for $100 - it allows everyone to play the right stakes for themselves.
Thoughts? Love it? Hate it?
Want the spreadsheet?