3 of a Kind
Supporting Member
Joined

Apr 21, 2020
Messages

612
Reaction score

2,353
Location
Before finally making an account on PCF, I lurked for a year or two in the shadows and became aware of Tony Chan's amazing work. COVID-19 provided the lull to conduct deeper research, which included reading numerous threads here and scouring the Internet for his company's reviews. He and I exchanged numerous emails and a phone call or two, and I found myself extremely comfortable before taking the plunge.
Allow me to echo what so many on PCF over the years have stated about Tony's dedication to customer service, which is downright incredible. He genuinely wants to build your vision, but won't hesitate to provide advice on why something you requested might not be a good idea while offering alternatives. Tony is an excellent communicator and kept me informed every step of the way.
Tim, one of Tony's designers, was also great to work with during the period we went back and forth on the graphics. I truly appreciated their patience with me whenever I either tweaked the order a couple of times with Tony –– I'm positive Tony cringed every time he opened an email from me and it started with, "Sorry for doing this, but can you do (insert new request) …" –– or made adjustments on the table art with Tim. With everything squared away, all that remained was the wait.
That was then, this is now.
Tony just sent me the below photos to show how he executed the mission on my new Army-themed 108 x 44 poker table with custom gaming suede cloth, 1.25-inch custom-illuminated raised rail, brass cup holders, brass star decorative nails, pedestal legs and built-in USB ports. Tony tells me this is 95 percent finished and the only part remaining for him to do is the installation of the custom acrylic on the raised rail, followed by crating and shipping within next day or so.
Nostalgia time.
My second career has taken me far away from the Army way of life, a period I forever cherish. Nevertheless, I've always yearned to capture my 20 years on active duty with a unique and personal touch ever since retiring from the Army in 2006. So, I decided to go full steam ahead by doing it with something I love. Troops getting together to play cards and strengthen camaraderie during downtime is essentially a time-honored tradition across the armed forces, after all.
Picking a color scheme proved easy since the Army's official colors are black and gold. I rolled with a fading dark-to-light green felt while incorporating black and gold –– like the brass cup holders and decorative nails –– around the table. The betting line border also has a touch of gold.
Here's a shot of how Tony built-in the USB ports to the table.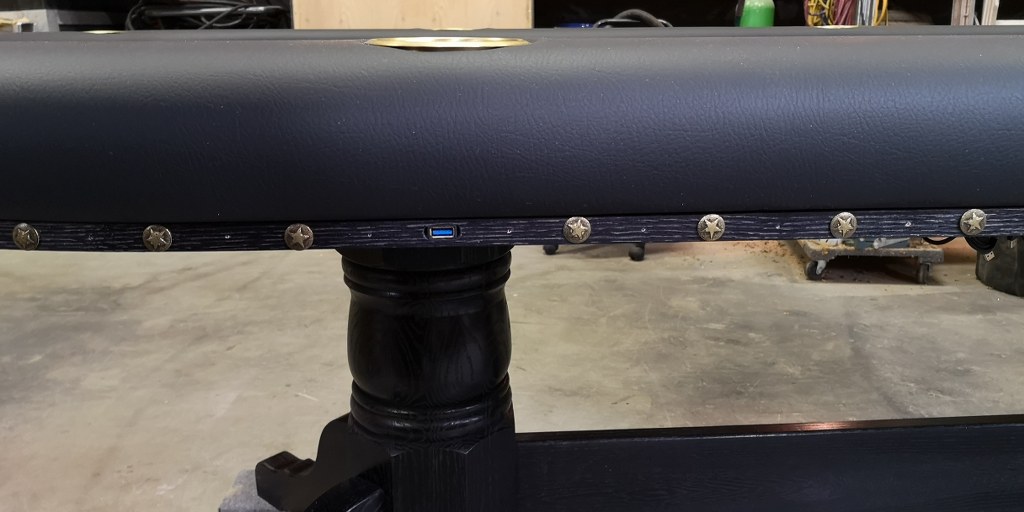 When veterans initially meet, the first question often asked is, "Where were you stationed?"
The table, which effectively tells my story, answers the inquiry and opens the door for friendly banter while sharing memories of either past duty stations or deployments.
Starting from the spot to the left of middle/dealer seat (or right looking at the photo below) and going clockwise, the unit patch graphics are in chronological order and reflect every command I was assigned to throughout my military career. Patches are in an OD green pattern since I spent 18 years in the BDU era before the Army switched full-time to ACUs in 2005. I left a spot blank outside the betting line directly in front of the dealer seat to represent the empty feeling I've endured since hanging up the uniform.
The illuminated rail contains a Drill Sergeant badge –– did my time wearing the "Brown Round" on the trail at Fort Jackson, SC –– at the 12, 3, 6 and 9 clock-like spots with the Army motto and 1st Infantry Division motto engraved in other spots.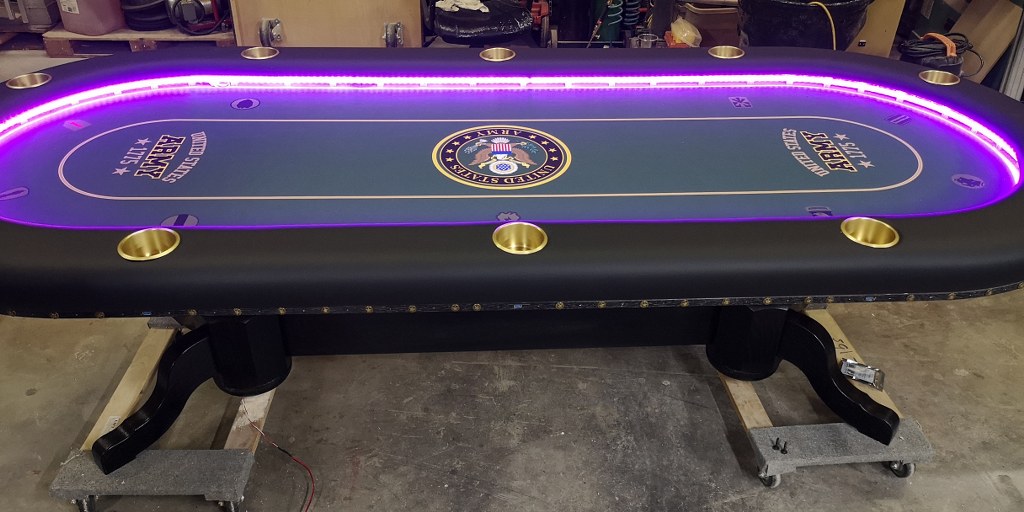 My apologies for the long post, but I'm jacked up. I can't wait for the table to arrive and will follow up in this thread with photos once I have it set up.
In the meantime, thank you so much to
@T_Chan
, who stepped to the plate and blasted a game-winning home run. Mission accomplished, kind Sir.
"This We'll Defend!"