Joined

Nov 7, 2014
Messages

2,861
Reaction score

3,913
So I have 8 different molds to mill, and they're all a different circumference by the tinyest margin.
The jig I created by following
@Eloe2000
's guide is awesome. But I thought it would be nice to be able to move the jig back and forth a mm or so to account for this size difference.
(To be clear, If I were only milling 1 mold, I wouldn't need this milling table add-on for my drill press).
Enter this milling table I found on Amazon for $66 CAD (about $50 US).
While there is a video or two out there showing negative reviews,
I read many reviews stating they did not adjust the table and tighten it correctly.
I just milled a barrel of chips and this thing came out the box ready to go. It was solid, table was not wobbly at all. Even though it was fine, I still used the included allen key to tighten the 3 black screws that lock the left-right axis in place. I just placed the rubber mat and jig on top of the table and locked it in place with 2 bolts. And used the other 2 bolts supplied to attach it all to the drill press.
So far I've tried swapping in a few different molds, and can easily adjust in/out with a quick turn of the dial. If my 1st side milled is off by a hair after eyeballing it, I can adjust and easily get it right on center without fear of setting things off too much like I did before.
*I will update after milling a few racks with different molds, and using the adjustments more. To see if they stay as solid as they are now.*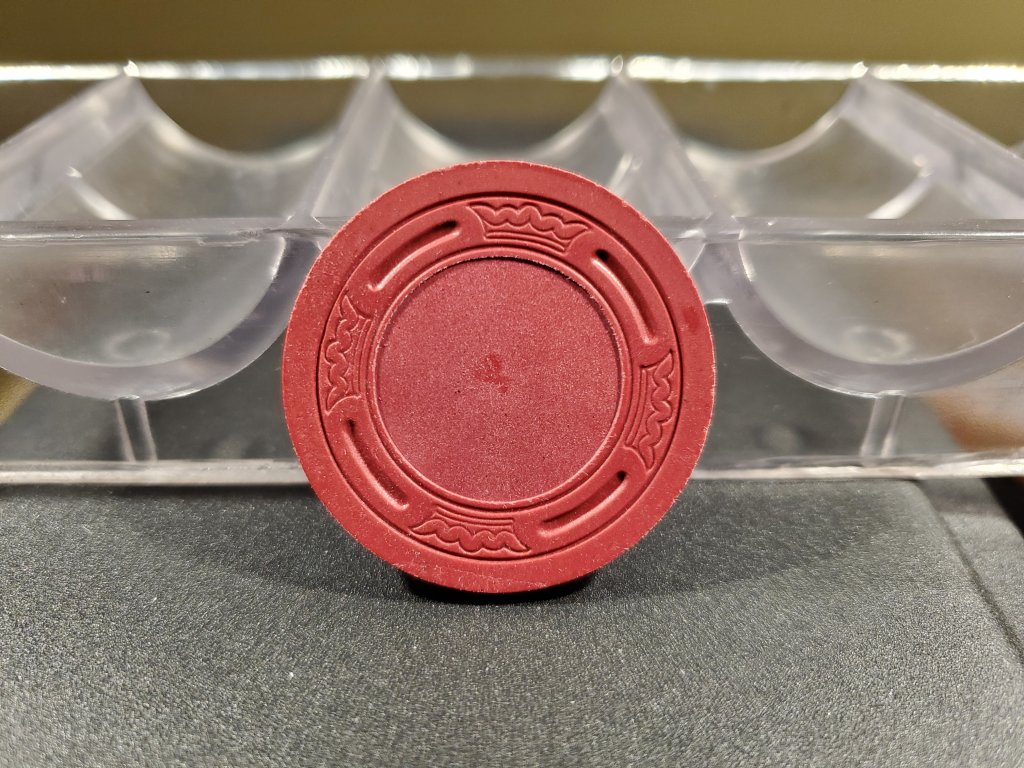 Still using duck tape to hold my shopvac in place. I moved it closer to the chip and it removes 99% of the shavings.
After swapping molds and having it all aligned for something different, I took out some Nevada molds. 1st side after eyeballing it: too high
Side 2 after adjusting the table back a bit with a turn of the dial:
These 3 screws lock the left-right axis from moving. I locked them down.
Each stack here is 6 chips. I photographed chip #6, #12 #18 to show there's no movement from one chip to another and no wobbling during milling.