Hey all,
Just wanted to catalog this and gather thoughts. I've been assembling a BCC Mardi Gras cash set, and have a problem with a very slight diameter difference among the $5 denom chips. To be specific there are a bunch of $5 chips (sadly, about 70%) which are a hair smaller in diameter than all the Mardi Gras chips. I will also note that my Paulsons actually all align perfectly with the
smaller
chips, which also means that the set doesn't really fit into the racks that I have.
I honestly could not pick up the difference with a standard mm tape measure (it is less than 0.5mm), but it is definitely there. The second pic makes it look worse than it is, but in that position the differences are most noticeable.
Luckily the heights are not affected:
Weights are also pretty much the same: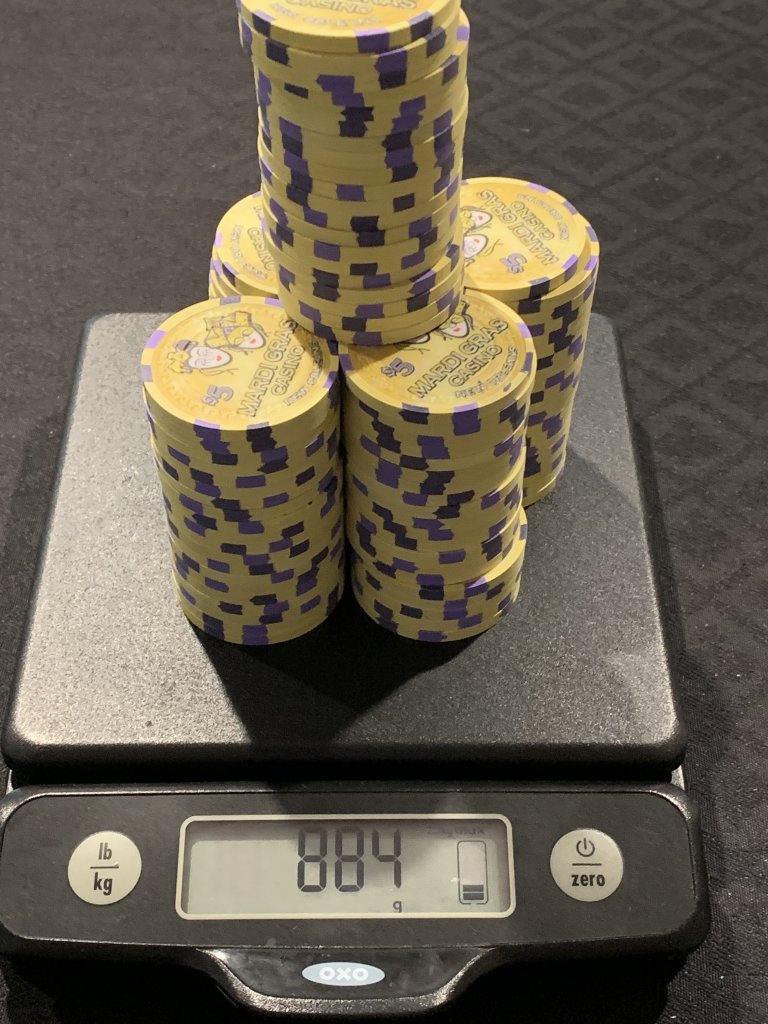 Obviously I would like to have all the $5s be the same size as the other chips. The problem is that most of the $5s are the smaller diameter
. I guess I would be okay with having an entire denomination having this issue (we mix 39mm and 43mm after all, although that is a bit different obv) as one should never be stacking different denoms together. Or maybe I just jumble them all together? I don't think anyone but I will notice this, since it can only be seen when the chips are racked, and in stacks chips are never neat enough for this type of difference to be noticeable. The differences are also small enough that it doesn't affect shuffling or ability to do other chip tricks. But there lies the rub:
Oh also, if anyone has this same issue and want to work out a mutually agreeable trade to consolidate identical diameter 5's, please pm me.