Looking for:



AP $100s.

Ideally a rack (or two) at once for trades. Would likely take barrels. I don't have a pic but Item #2 from

this

ad has some for reference.

Used/excellent/near mint conditions are all fine though a bit used would probably be preferred. They would go towards this set as there aren't any $100s readily available. Either as cash and/or T5 base tourney with AP $500s:
Price offered: $6-$8/chip? No idea what market is so let me know if I'm off.
CB $5s.
Singles/barrels/racks. The ones in the pic below:
There was an ebay listing a while back that had two racks of these. Tried to bid but failed miserably. Looking to complete a rack or 2 or 3 for my set. Found a few singles recently but would love more.

Price offered: $4/chip. Condition: excellent/near mint. Not sure if used exist.

Other items of interest at a lower priority are below:

GCOP T1ks (up to 100 or possibly a small set with some). SDPM T1ks (up to 100). T-mold canary yellow solids (blanks or with the generic tourney stamp, up to 100 or possibly a set). Roadhouse 43mm $5ks (10-20). Cigar and Snifter samples/shuffle stack.

Available for trade:



Indiana Grand chips:


Condition: as received from TCR. Dirty. 84 of the $5s are GOs.

MD-50 tourney set: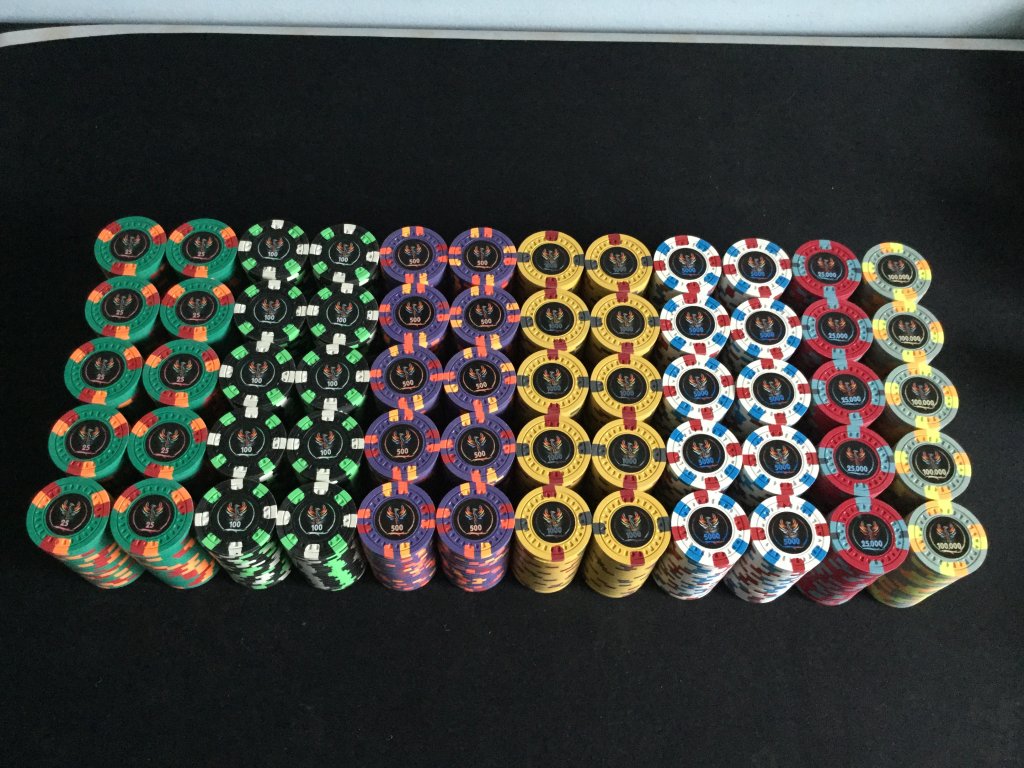 Other side of the chip has the denom spelled out ("five hundred" instead of "500")
This is an old pic. I have used some of the chips a couple of times since. The chips were oiled before I received them.
There is one more rack to this set. Full breakdown is the following:
220 x T25
220 x T100
200 x T500
200 x T1k
200 x T5k
160 x T25k
100 x T100k
King's Crown set:
Another old pic. Haven't used these in a while. I'm pretty sure there are a few less than perfect stamps. Colors to the best of my knowledge:
80 x signal green $25s
80 x purple $100s
40 x orange $500s
IG secondary $1ks:
Other singles/samples may be available for trades involving fewer chips.
Nothing is for sale at this time. I will update if I change my mind.
For trade values it would most likely be "market price" though I would be a bit nicer if the trade is for exactly what I want (racks of AP $100s or CB $5s and possibly racks of the lower priority items).
I have a US address for receiving.
Thanks for looking!