Joined

May 18, 2020
Messages

29
Reaction score

41
Location
Hey Everyone,
I'm starting a new build and thought I'd document it here. It will probably be my 5th or so and I was looking for a little more of a challenge and might need some design ideas. I live within 30 minutes of a local casino, but Covid has shut it down and pushed everyone to home games. I sold my last table and am starting a new one.
My last table was a super down and dirty budget build. Our last house (rental) had no work space so I did this over a weekend.
All our home games are pretty legit around here so my next build will have a dealer spot and cup holders in the rail. I've got a decent woodworking hobby/background and was looking for some sort of challenge. I was trying to think about how to incorporate a dovetail design somewhere but since I don't prefer a racetrack I couldn't come up with anything. I think instead I'm going to try my hand at a kidney bean shape. I've done lights before, but don't really want them in this build either.
However, I think I might add a little raised rail because I like how it makes the rail wrapping perfect. I also like having an exposed edge under the rail, but again, not real sure what to do with it yet. And I don't want to use 4 sheets of plywood if I can help it. Maybe edge banding? Either way, that's a problem for future me!
So all my builds start with the base. Unless I get commissioned for a 'perfect' table I usually wait and get a good deal on a craigslist table and go from there. So I've been scouring and found this gem for $40.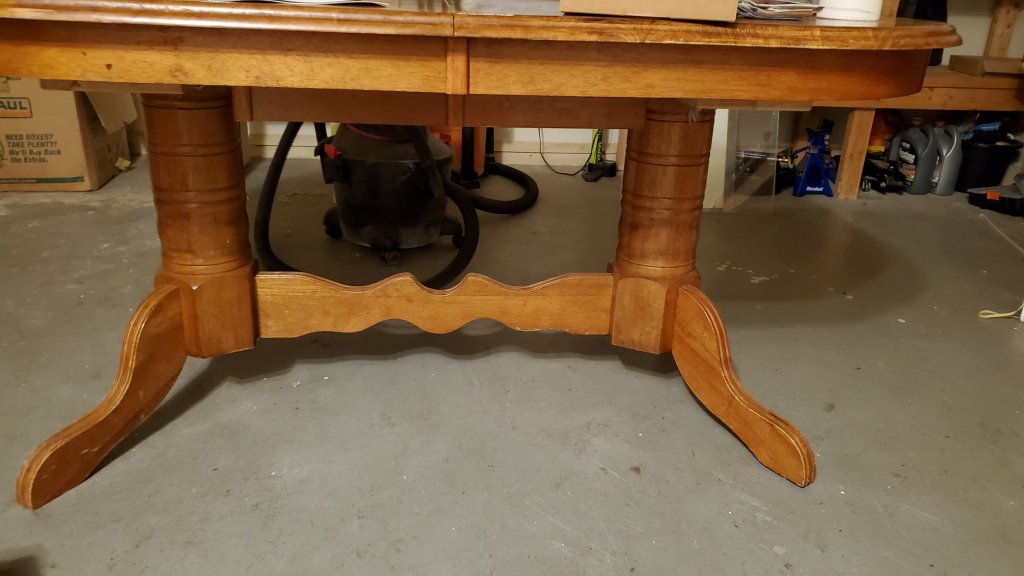 I'd prefer claw feet, but these will clean up nicely.
I usually go with volera 1/4" from Your Auto Trim with unsuited speed cloth, but we have some Diva dealers who think it's 'too rough' so I might try out Chanman and some custom cloth. I've got a super cool idea (in my head) but I'm not sure if it's executable like I want. I have a back up design though which should be easy enough. My favorite beer is Guinness and I just love their logo. So if my first idea (can't spoil it yet) doesn't work out I was thinking Guinness custom felt and a 'cream' colored rail to tie it together.
Aside about Your Auto Trim. I always went with speed cloth, but the person who bought that table above wanted softer felt. I ordered and refelted with Reno Suede and it's unplayable. Cards don't slide and you can't sweep them up at all. Super surprised they would even advertise that as a playing surface. Is there any place to get actual gaming suede for cheap? Anyone try the velveteen from
American Gaming Supply
?
Up next will be the kidney design and hopefully people can help me think through a few things.
Marsh