Joined

Jul 5, 2016
Messages

400
Reaction score

557
Location
I've been running a weekly game for 10 plus years and one issue I've struggled with was managing my invite list and tracking the responses. I've tried out all the invite apps like Evite and the like. But my crew is old school and I didn't get much adoption. Emails and texts were a pain to manage and the threads often got hijacked for banter and other things. It made it very difficult to track who was in, out, late, etc.
I've finally came up with something that works and I'm happy to share it. I've used it for the past three game nights and it worked like a charm.
For some background here were my requirements:
I needed something that was easy on the player. They should be able to respond right from their phones without a need to know a user ID or password.
Players should not be able to update each other's statuses but they should be able to see everyone else's status.
The system should be completely automated and be able to estimate jape many people will show.
I should be able to manage everything from my mobile phone.
What I came up with:
I was able to build a Google Sheet with a built-in web based front end. The Google Sheet is used by me, everyone else uses the web front end they access via a personalized link I send them with the invite.
All they have to do is click on the link and update their status.
Here is a screenshot of what that looks like to the players:
While they are there they can see everyone else's responses.
I use an iOS app called SendHype to send the invites with the personalized links. Their user name is embedded in the link. I'm not too worried about security. We're all friends.
On my end, I can use my personalized link to check responses or I can use the Google Sheets app to do a lot more. The spreadsheet is able to track who responded when and I'm able to see who my frequent flyers and chronic non responders are.
Here are some screenshots of what it looks like from the Sheets app.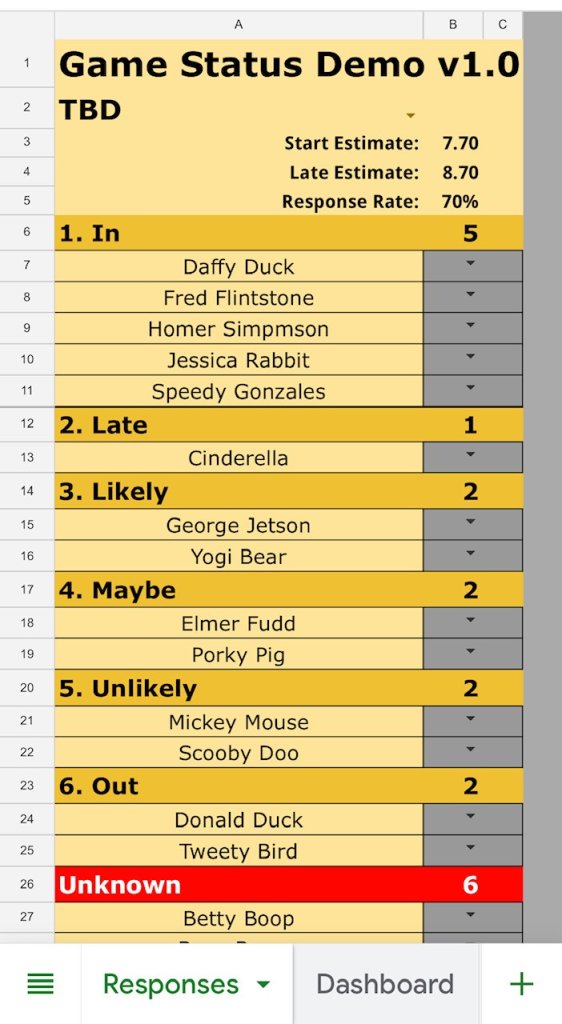 Like I said, I'm happy to share a copy of this google Doc with anyone who is interested.
I also welcome any feedback or suggestions for improvements.
Lastly, I'm a complete hack at css/html and JavaScript. So please don't judge my code. I welcome any help in making the page more responsive and better looking in general.
Oh, one last thing, here are some live links to a demo I set up. Feel free to take it out for a spin.
Personal Links
Click on any of the links below to impersonate any one of the 20 pre-configured players. (If you are doing this on a computer resize your browser window to the shape of a phone so you get the full effect.)
View Only Link
https://script.google.com/macros/s/AKfycbzOrNw3vjdO-cVmApSuv7y_AJz-xXYN0n0N_nTcHy8skyJ70RVGR8nEPEy5xdIpSpdL/exec
Last edited: