Joined

Nov 10, 2014
Messages

9,476
Reaction score

15,767
Location
I typically don't play casino tournaments (last one may have been 2016?), it's a hefty time commitment in addition to being a 45min+ drive from Denver.... which is just a pain in the ass. I'd much rather play with the local PCFers who host kickass games like
@Kyle
,
@pokerplayingpisces
,
@markleteenie
,
@ruskba
,
@nitzilla
, and
@One Eyed Dollar
!
Having a baby has also put a crunch on spare time, but for my birthday I asked the wife a month or so ago if I could treat myself to the local $300 Saturday noon tourney (one of the biggest local/recurring casino tournaments we have). She said "yes!", so I blocked off my calendar, and "up the hill" I went yesterday to Golden Gates.
A very long story short: after 11 long hours of play, 127 entrants, 3.8 million chips in play, 8-9 tables of players, and almost 90 minutes on the 14-player bubble, I CASHED in 10th! After nursing a swinging 100k-200k chipstack for another hour, I survived a pay jump (top 13 paid) and also made it to the final table. I didn't even make it one orbit, as I was down to 80k... and with 32k forced out of my stack by the combined BB and BBA, I made the ultimate decision to jam with my

. Of course I was snap called by two monster stacks, flop was


, one player jams, other preflop caller folds, jammer tables his


, and I call it a day. I don't even know what the turn and river were.
I shook everyone's hand and headed to the cage for 10th place money. What a thrill!!!! Not a great per-hour rate, but for a b-day gift to myself and only my 3rd casino tournament ever, I'll take it! And I can't really say I did anything wrong. I played levelheaded/smart poker for all 11-hours. Never got antsy, never got desperate, and just worked my stack/cards as best I could. OK, maybe I made 1 dumb play...
A couple of fun spots I'll highlight:
1. My only real "bad" play of the day was playing

around the 4th or 5th level.
Blinds are probably 300-600 - there are a few limpers and then player to my left raises to 2,500. I make the (admittedly poor) decision to call. But I was sitting on a nice stack at that point and decided to get a little kooky with the 72. Flop is



. Player to my left bets out 6k, and I snap call. Turn is the
. He bets out again (maybe 10k ish), and I snap it in. River is the

, and I check my made flush, hoping he gets a little silly. He jams. I didn't think he'd get
that
silly. But I ultimately call (not entirely confident that my baby flush is good). He slowly goes for his cards, and when I say "flush," his eyes blow up. I reveal my hole-cards, and he just about flips the table over. I don't know what he had.... my original guess was something like


? My brother thought he might have had a set of Queens to be betting so heavy. But he never showed. Anyway, he mucked his hand, talked some shit, and left. I'm just glad he didn't punch me.
I then say to the table, "you gotta play the seven-deuce, right?" expecting some laughs. All I heard were crickets - and that was the end of my comedy routine for the night.
2. Same table, around 7th or 8th level, I look down to see


. Player to my right is short stacked and jams about 20-25k. I re-jam to isolate. It folds around and player reveals


.
Flop is


Turn is

Now I'm getting nervous.
River is the

I counterfeited his two pair. Eek. Brutal.
But he rebought and was seated to my left at the final table. And he was still there when I left and saw 7 players remaining, so he was at least cashing for $1,400.
3. Bubble hand was on my table. A gal seated across from me had a smaller stack than I did, and we were both eyeing each other to see who would go out first. She finally got a hand she liked and shoved, enticing one big stack caller. With the nitty-ness of the prior 90-minutes, everyone was pretty excited to see a short-stack-shove and a call.
She tables her
and the big stack shows his

.
Off to the flop we go:


Monster stack says, "dammit - nice double up," and everyone saddles up, expecting the nitty bubble play to continue.
Turn and river are:


Gulp.
No double up. Everyone feels the gut-punch suckout and truly feels sorry for the short stack bubbler. The monster stack apologized. And even the dealer apologized. But everyone was happy that the bubble had finally burst!
Floor announces,
"Players get your IDs out - you're in the money!"


WaHoo!!!!
A few pics for the history books...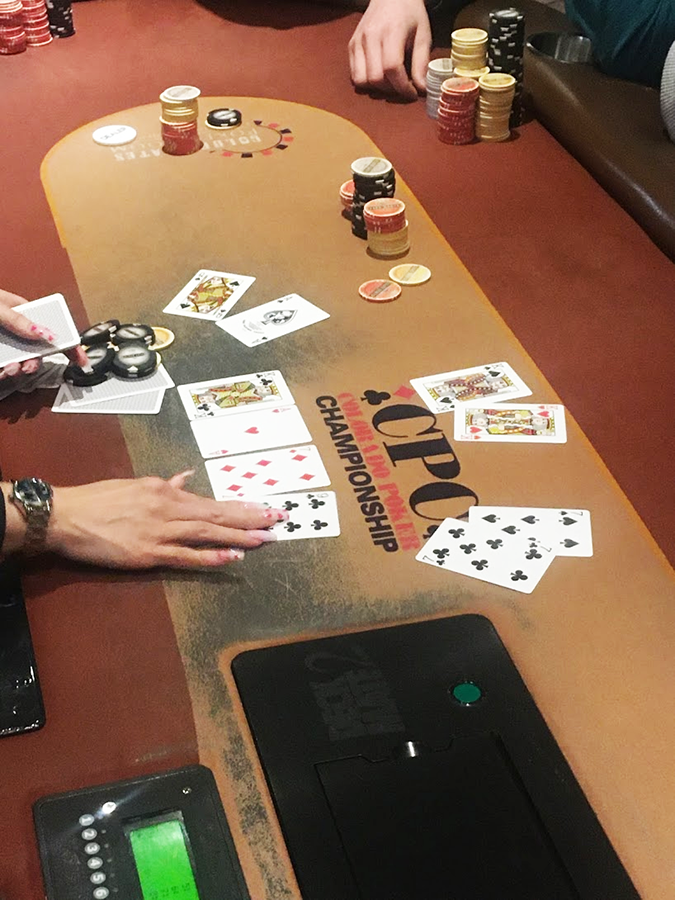 Glad I did it. The birthday present to myself ended up paying off. And while I won't have time to do it again anytime soon, maybe this will become my new birthday ritual.
Last edited: