Full House
Supporting Member
Joined

Apr 29, 2020
Messages

3,310
Reaction score

4,082
Location
I just started putting together my first Paulson set. Important point #1 - I'm trying to do this very inexpensively. My original plan was to buy a mixture of THC and RHC, mostly Jack Cincinnati chips. But then I ran across a very nice rack of red/green Town Tavern chips, milled and all ready for a label. These will make excellent $5 chips for my low stakes cash set. They were more expensive than Jack $5s, but well worth it for THC. They are in very good used condition., Nice and buttery but all stand on edge.
I haven't bought them yet, but I plan to eventually acquire the Jack Cinci $1 chips.
Photo borrowed from
@TheChipRoom
Jim, if you need me to take this down, just let me know.
One possibility for quarters are these solid dark blue chips. I originally bought just shy of a rack (93 chips) and planned on making them my nickels. But today I chose to go a different direction. So these are now available, but I would need to find a minimum of 50 more, as I would like to have between 140 - 160 quarters in my set. These are a bit dirty, but they are in excellent condition with nice sharp edges. The stamp is a bit odd, but if I use them, I will have them milled for labels. There is also some minor color variation in these. If someone want to offer me more of these, I have another photo I can send with these next to several Paulson color chips in an attempt to determine the exact color. Most of them appear to be between Bahama blue and Dark blue, with a few that look like they are Dark blue.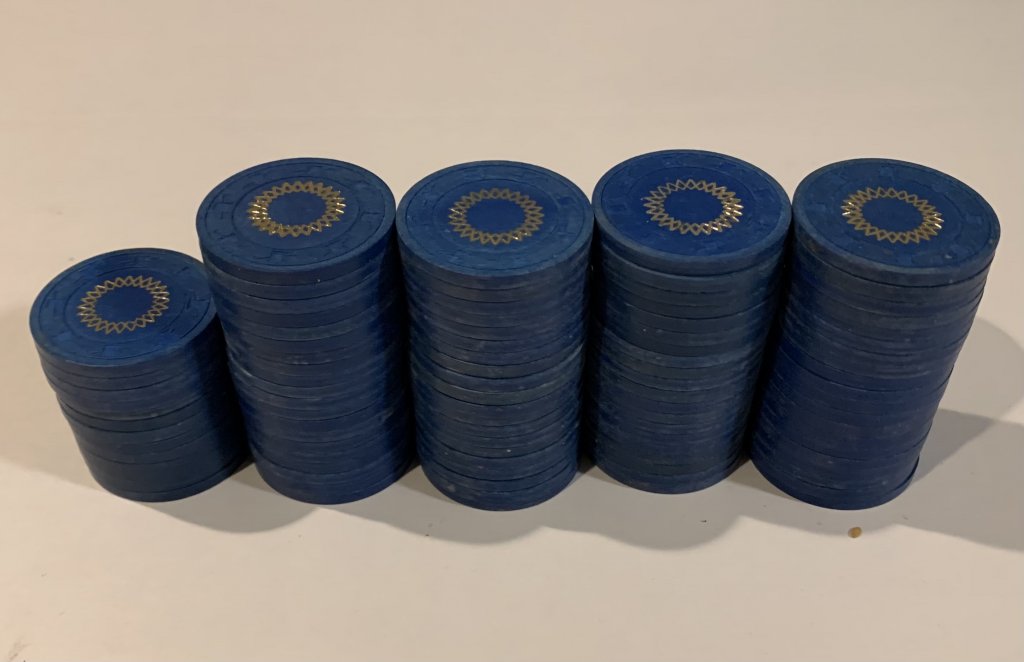 But honestly, I really prefer not to have more than one solid colored chip in my set. I'm not convinced that I want to use these for quarters, so
this is my main want for this post. Suggestions, ideas, or offers to sell approximately 160 used, budget priced THC chips, with a STRONG preference for spotted chips.
If the seller is interested, I would be willing to trade these blues as partial payment.
My latest purchase was just yesterday when I pulled the trigger on a rack of very sweet looking 36mm India blue (look green to me) Horseshoe Cincinnati chips, murdered, and relabeled as Jack Detroit 5 cent chips. Perfect! Love the color. Already labeled. Price was right! These chips are why the blue chips are probably being kicked to the curb. They are not THC, but because they are 36mm, that doesn't matter. They are already different from every other chip that will be in this set.
So that is mostly it. I am looking to acquire 140-160 Paulson THC chips
( will consider two full racks dependent on the chip and the price)
to use as quarters in this set.
I am open to various colors and I'm not looking for any specific spot pattern. For what I'm looking to spend, I can't be that picky. I want good condition used chips that can stand on edge. My ideal budget is around $1.50 or so per chip, but I realize this may be difficult and will consider cool chips that cost more. Already murdered/milled or labeled as quarters would be awesome, but definitely not required.
I also plan to add about 40 chips to be used as $20s
, which is all the bank I need for my small micro stakes cash games. My preference is for a black or yellow chip, and I may just buy 2 barrels of Jack Cinci $100s until I can find the right THC chip, which I suspect is going to be by far my most expensive chip (per piece) in the set.
Please let me know if you can help out, or if you know of anything currently for sale that might be of interest. Thanks!