Full House
Supporting Member
Joined

Apr 13, 2015
Messages

4,547
Reaction score

16,459
Location
I have decided to split off a piece of my personal set of Lac Courte Oreilles chips (i.e., LCO, pronounced lah-coot-oh-ray). These chips are the heavy leaded Paulson clay formulation on the THC mold, with shaped inlays on the high denominations. The chips were used in this small northern Wisconsin casino for about 25 years. The chips in this set are the absolute best quality chips in existence, having been hand-sorted and ultrasonically cleaned by me from the original horde. I package extremely well, and all chips ship FOB from my post office. Additional insurance can be purchased (as available). As with other used casino sets, some chips have rack checks that may or may not come off with cleaning. I used a Magic Eraser to easily clean up several in my keeper set. This auction is for one complete set of all-THC chips with the following breakdown: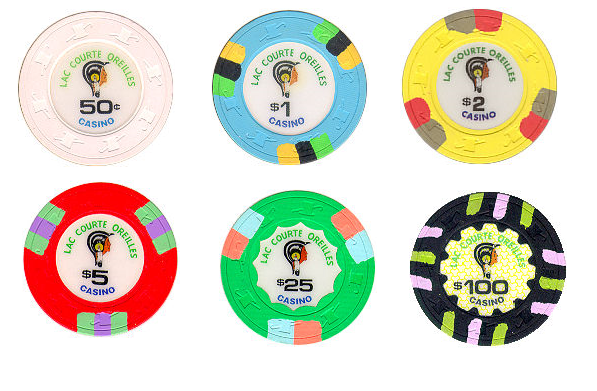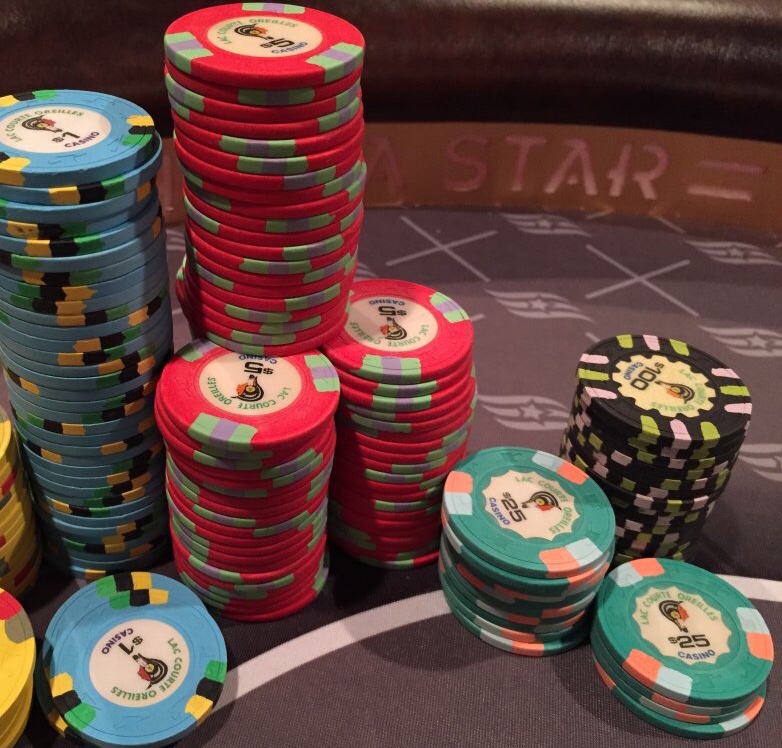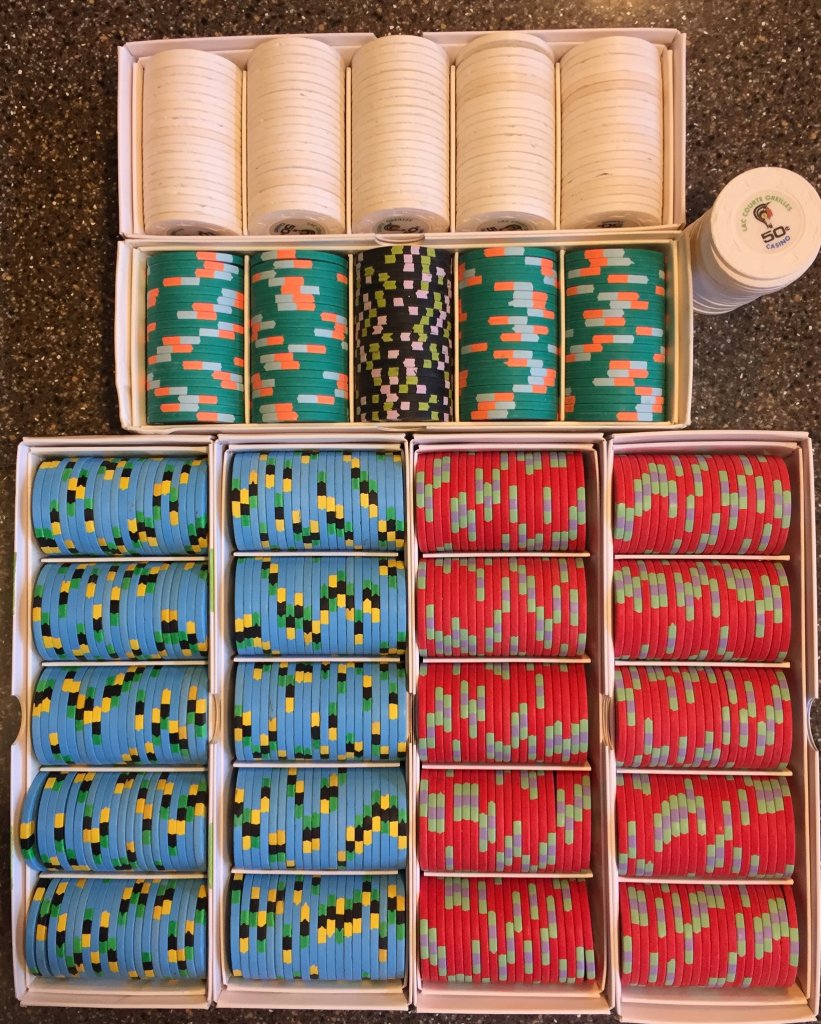 $0.50 = 120 (these are the only fracs ever put up for sale). All these fracs have edge chips/wear as the casino only had ~300 total fracs in circulation for 25 years.
$1 = 200 (SC = sorted + cleaned top condition)
$5 = 200 SC
$25 = 80 SC
$100 = 20 SC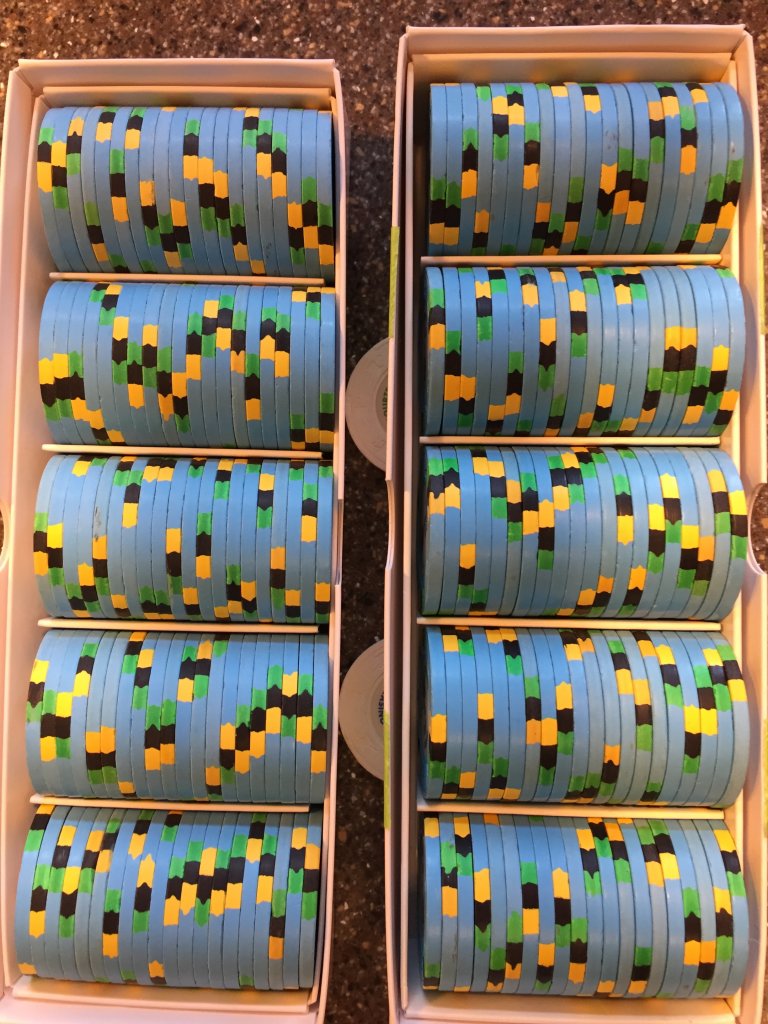 The winner of this auction will have the option to purchase the following 500 chip add-on to make one larger set for bigger games and higher stakes at multiple tables. The cost of the add-on will be the final closing price of this primary auction minus $200 (i.e., as the add-on does not contain any fracs). If the winner decides to not purchase the add-on, the add-on chips may be auctioned separately or I'll just keep them.
$1 = 200
$5 = 200
$25 = 80
$100 = 20
Auction Rules:
STARTING BID: $1
Bids must be placed using numbers (no images), in whole dollars, and in minimum increments of $5.
NO RESERVE. The Starting Bid of this auction will be treated as the Reserve Price.
All bids are to be placed openly in this thread. No bids via PM/Conversation.
No bid edits or bid retractions permitted. (note: ALL edits are logged instantly)
Auction will use the '5 minutes after last closing bid rule'. Highest bid @ 4pm US Central Time on Sunday, 21Jun2020 wins unless there is a bid within 5 minutes of closing time - then the closing time will be within 5 minutes after the latest bid was posted. A bid at the close time is NOT a valid bid. Since seconds are not displayed on post timestamps, these examples will be used as a reference.
I reserve the right to: 1) cancel the auction if no bids have been made; 2) edit the listing to correct errors or clarify rules as needed.
PCF (its Owner, Admins, and Moderators) are in no way responsible for any actions in this auction.
Shipping Terms: All purchases ship FOB from my post office. Actual shipping costs to be added to the final price (i.e., based on buyer's geography), likely shipping in one or two MFRBs. Insurance may be purchased (if available) to protect against loss/theft/damage. International buyers are welcome.
Payment Terms: Venmo, cash at a meetup (free pickup at MinneMania), cleared personal check. For international buyers, cleared check or PayPal G+S with Buyer to pay all related fees.
PM with any additional questions. Edit: notice for
@bhofeld
and
@PocketAces
, who inquired earlier.
Last edited: