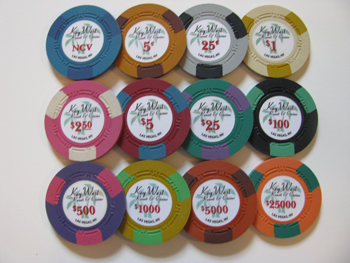 Here is another chance to win a sample set of Key West Resort & Casino chips. Sample set includes all 12 available denominations.
(more info about Key West chips and other products can be found on http://www.keywestresortcasino.com)
Many thanks to Dennis for sponsoring this giveaway and good luck to all!
THIS GIVEAWAY IS OPEN TO ALL NON-VENDOR/NON-SPONSOR PCF MEMBERS WITH A MINIMUM OF 25 POSTS.
INTERNATIONAL MEMBERS WELCOME! WINNER WILL RECEIVE FREE WORLDWIDE SHIPPING!
Thanks and good luck to all!