Joined

Nov 3, 2019
Messages

1,046
Reaction score

2,334
Location
So, Tony came through on
this thread
, and I'm sorted for the winter.
Now, I'm doing my custom Chanman build with him. Here are the details:
The Game:
Mostly 6 handed self dealt cash games among friends, I want my table to handle 8 and I will have the space, but that's for rare times. It's a casual and fun weekly game, but I'm the only real serious one amongst the group, the rest would be happy playing with dice chips on dining tables and using paper cards. I've got some things nailed down, others I may need help with:
(workhorse chips)
The Crew:
We're a bunch of prairie boys living in the mountains, so was thinking of a western theme. I mean, my go to chips are Dias de los Muertos, so I'd love to incorporate a Mexican/western theme. I'm trying to think up some good names for our poker group, usually I'm good at that thing, but "the hitching post" was already taken
(typical idiots that show up
)
The Space:
I'm doing an addition to our house, and that includes a 750 sqft garage, we'll only park one car in it, so the rest is for toy storage (ski's/bikes) and workshop (3D printing but no serious woodwork). So my plan as you can see here is to turn it into an amazing den/media/whisky tasting/poker room with vinyl woodlike flooring, not unlike a pub. I've got two areas, one 12.5' x 13' and one 14' x 15.5', or I could combine them, but I want to put some nice furniture there to sit and watch games and hang out.


The Inspiration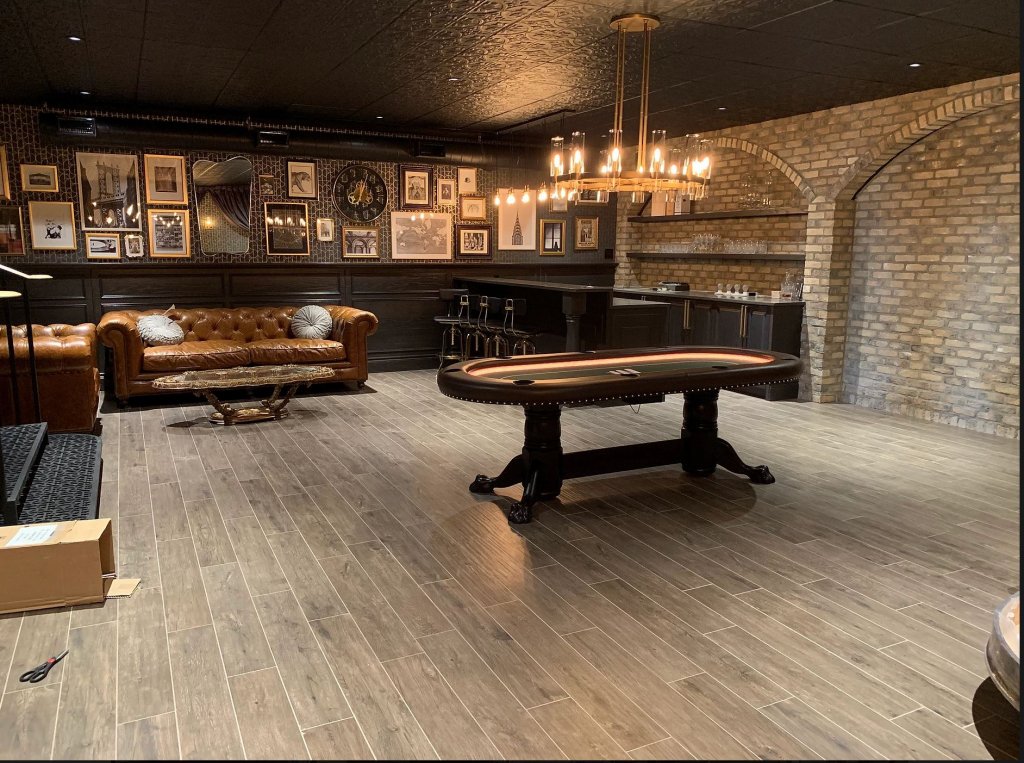 The Good:
3/4" Raised Rail, likely a wood raise.
Custom Felt with betting line (need to get size confirmed before I can start design)
The Bad:
USB chargers, last thing I want to do is encourage phone use at the table
Racetrack, *shudder*
LED lighting, doesn't fit theme, and would rather budget go elsewhere
Dealer cutout, I like the look, but we've never had a dealt game, although we are thinking of doing it once a month
The Unsure:
Cupholders, I like the look of them in rail, but then sometimes I don't. Not sure if drink carts are the way to go as I'm going from having no space, to lots of space. (I won't do slide in)
Felt themes, I like the green, but also lean towards poppy colours like purple (now I'm basically copying
@TheWhat
's thread!)
Rail material, leather or tuxuede? $1000 difference, but damn that leather looks good.
Dimensions, while we don't need a huge one, I love the look of oval tables, but want to keep it manageable. Tony suggested
48'x68"
. does anyone have pics of that? I want it to be a presence if it can.
Tables I love:
This one with a raised rail and my own take on the felt would be my dream table.
This basement is what convinced my wife to support the garage makeover/build
I Just realized they're all leather.... Wallet crying
Last edited: