Hi all,
I am happy to finally share the project I have been working on during the second half of 2019: my old school, 0.25 / 0.25p JACK cash set.
The Background:
This was a bit of an odd set, one that happened by accident, essentially.
Long story short, I started buying singles from a UK ebay seller, who was intrigued as to why I was buying so many from her.
When I told her I collected them and used them for my home game, she said that she and her husband went to Vegas regularly — and would be willing to harvest racks for me. Naturally, I knew this was too good an offer to pass up.
At this point, I didn't even know that I was going to build a set; I just asked them to try and get a rack of Flamingo and Paris ones in as good a condition possible. They obliged...
With no real need for both racks, I sold the Flamingos, deciding that I rathered the Paris. When a rack of mint green Outpost 0.50s became available from
@justincarothers
for a really reasonable price, I swiped them — knowing that I now had the makings of a really solid set.
Knowing that I wanted a black chip for my £20, I took a punt on a mint barrel of the amazing KING hundos from
@kmccormick100
— and I was not left disappointed as they fit the lineup perfectly.
The final piece of the puzzle — or so I thought — involved being up at a ridiculously late time here in the UK to get dibs on 52 purple VLV 500s from
@kaimat
. They looked great in the lineup mockup, so I pulled the trigger on them. Naturally, I was over the moon when they arrived...
... until I lined them up and noticed a pretty bad clash with the black chips.
I knew I had to avoid black in the lineup, so opted for white. And, just like that,
@Spinettis Gaming
came to my rescue with a barrel of mint NYNY dollars — a chip I had always admired. Having added eight more purples from
@Steppenwolf
to the set, I was good to go with labelling!
The Inspiration:
Driven by my love for simple design, old school Vegas,
@wonderpuddle
's Circus Circus California set and the Flamingo labels below, I approached the man behind the aforementioned Cali masterpiece,
@timinater
.
He was so easy to work with and, after a couple of rounds of amends, we ended up with a design that completely exceeded my expectations (I had initially approached him when I thought I was going to go with the black KING chips).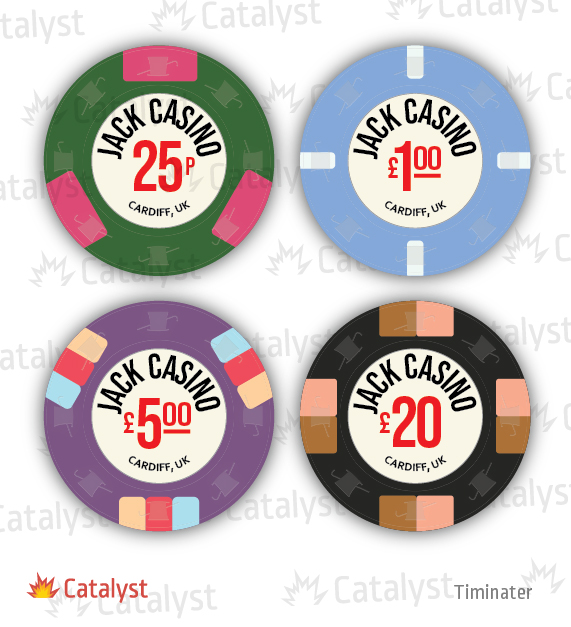 What can be said for
@Gear
that hasn't already been said? The man is a legend, whose dedication and work never fails to amaze me — especially his ability to colour match perfectly!
Thank you to everyone who helped make this happen. I don't know if I will ever be able to create a more perfect set than this and, as such, will keep them forever. And to think this time last year I was happy playing with stock plastic chips, ha!
OK, I've kept you all long enough...
Have created a poll as I would love to see which chip people like the most — because, personally, I still can't decide!
I look forward to hearing your thoughts and answering any questions.
Best,
Jack.
Last edited: