Joined

May 23, 2017
Messages

4,313
Reaction score

4,885
Location
Hello everyone,
With my 2500th post I am proud to reveal the completion of my Free River club custom label tournament set from the clearance 8v china clays from
@ABC Gifts and Awards
, thanks for the great deal
. (And also thanks to
@MarquetteMonkey
for helping me acquire extras when I decided to go from 600 chips to 900.)
This is a "high roller" set with denominations from 500 to 100,000.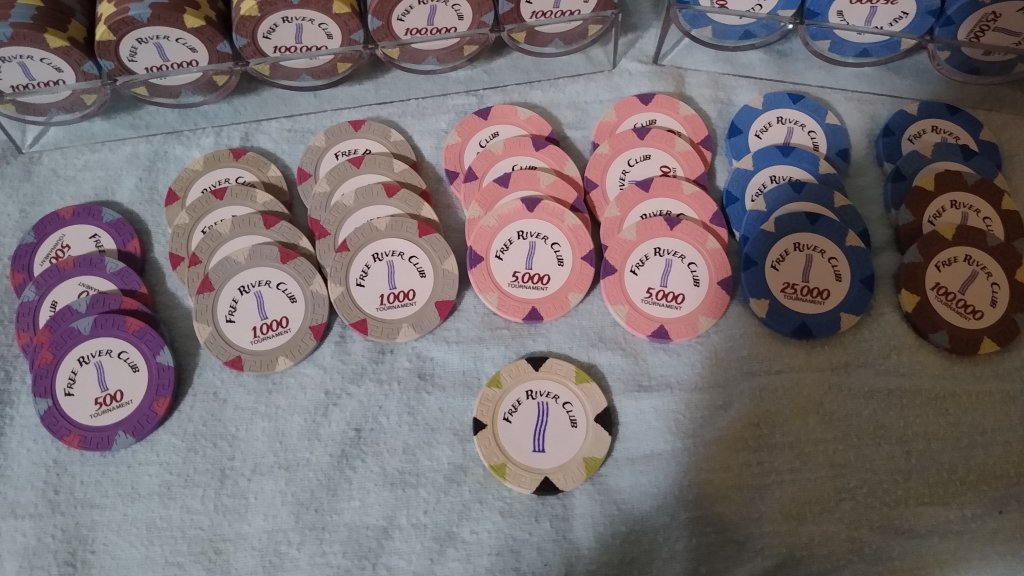 I did go with
less expensive labels from onlinelabels.com
. The labels are 1" on white glossy laser custom printed, and it came to about 3.7 cents per label ordering 32 sheets of 63 labels (I have spares so I can replace inlays as needed.) Now the recess on these chips is closer to 1 1/8" so as you see the labels aren't perfect, but I was okay spending a quarter of what other labels would cost.
The logo is a tribute to the sculptures on the
I-35W crossing over the Mississippi River
when they built the replacement bridge following the 2007 collapse.
The white non denominated chips are going to be used for seat drawing, and they could serve other purposes as well. Unfortunately, by the time I came back to deciding on seating chips, white was the best color available, but I wouldn't be keen on these being in play at the same time as the gray chips I used for the T1K.
I have a total of 900 chips and I did luck into some of the leftover 71mm PGI racks when ABC sold those last winter, but even those are a little snug.
125 * Purple (T500)
225 * Gray (T1,000)
225 * Pink (T5,000)
175 * Blue (T25,000)
100 * Brown (T100,000)
50 * White (Seating chips)
I can do starting stacks of 200K using 6/12/12/5 of 500/1K/5K/25K for up to 18 players, or 4/8/8/6 for up to 27 players.
18 Players set...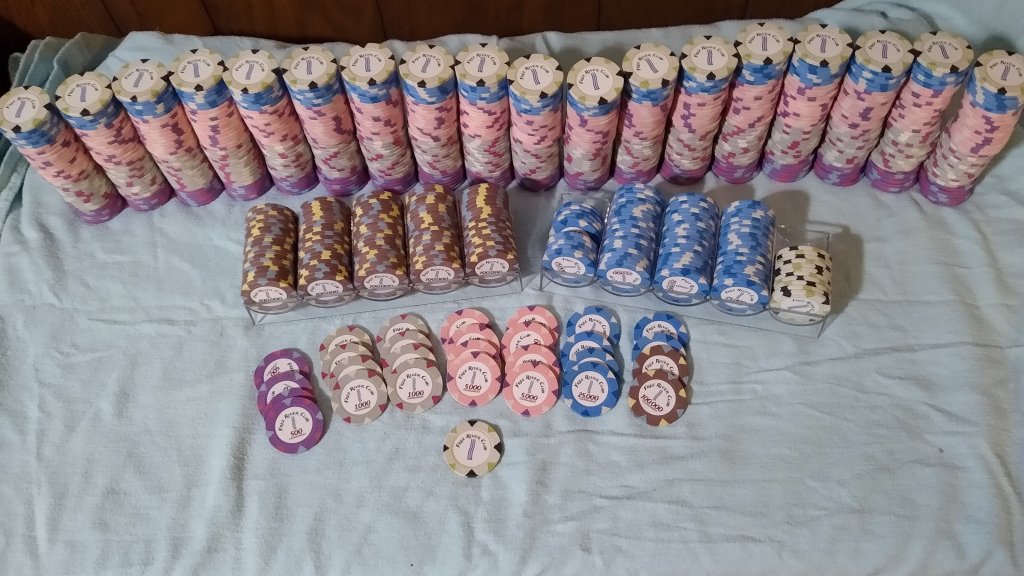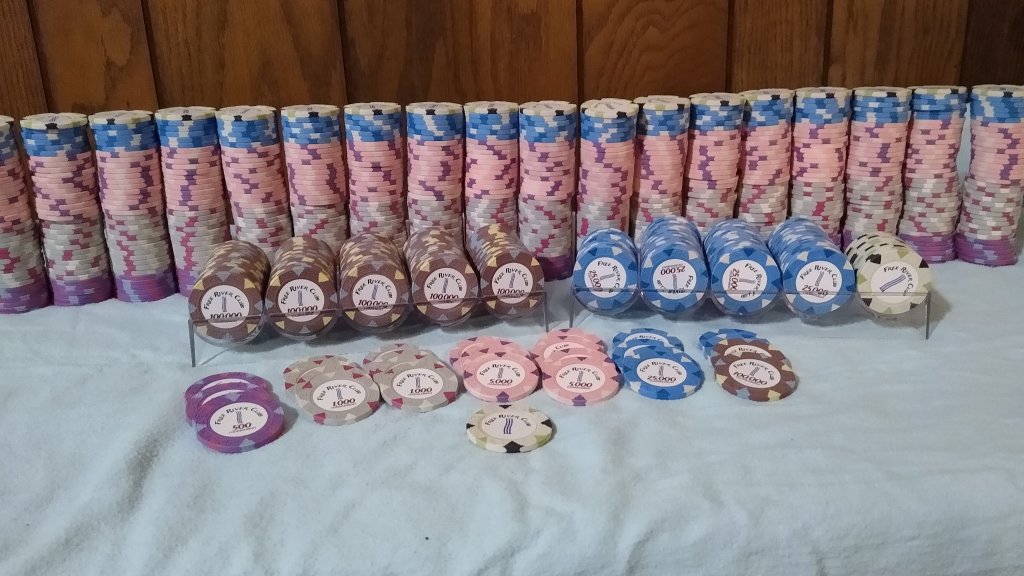 27 Stacks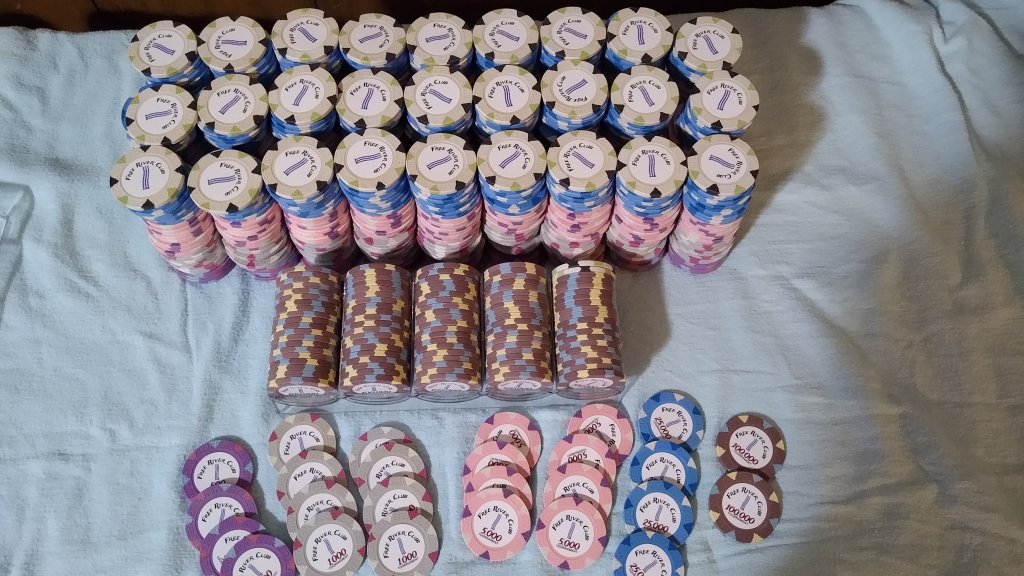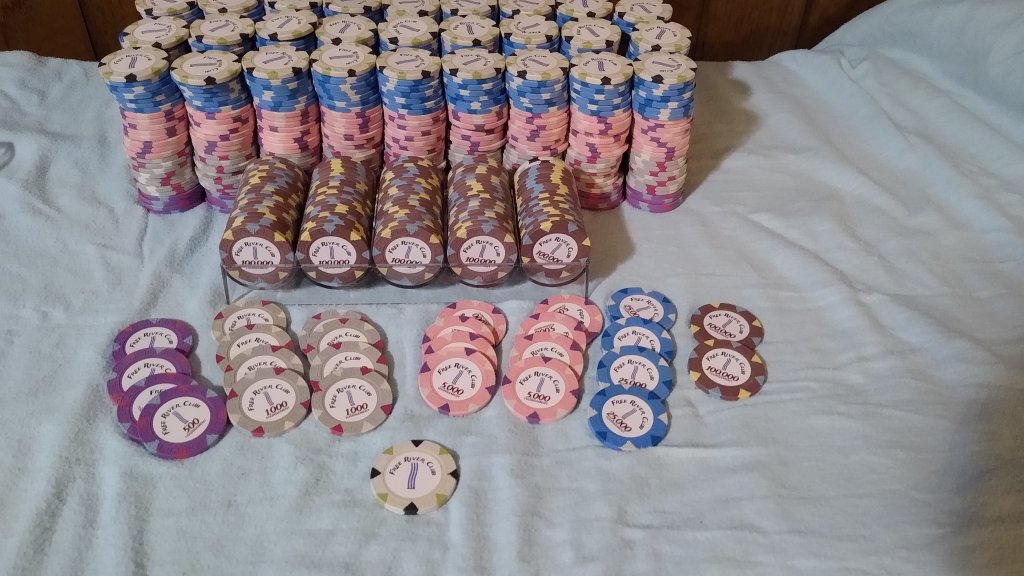 But I am very pleased with how those turned out, considering I had ordered these originally almost 18 months ago
. Doing my
cash set
this fall did sideline this project, but I wanted to make sure I had a similar font so they tie together, even though obviously I think very differently about how tournament inlays should look.
Hopefully I will get these in play soon
.
Thanks for reading.
Last edited: