Flush
Site Vendor
Supporting Member
Joined

Mar 26, 2013
Messages

1,291
Reaction score

2,795
Location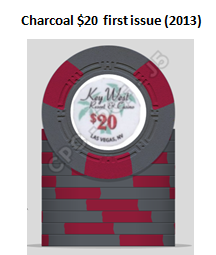 ​
A PCF member recently requested to create 200 charcoal $20 Key West chips.
Since Classic will be putting the H-mold into production in the not-too-distant future, I reached out to David to see if we had time to get an order together here for members who'd like to get in on some of these chips.
The history:
We created a small number of these chips in 2013, when Michael Dambauch was running ASM, Portland. The chip is the Key West $20 inlay on a charcoal base H mold chip with red 312 spots. ASM invoices from 2013 indicate that only 180 of these chips were ever produced. If there is interest in creating more of them, we could publish the total in the next run, so the charcoal $20 "2013 Edition" chip would still be limited.
The next run:
is thought to be during the first half of 2021. Nothing specific on the projected date for availability yet.
The window of opportunity:
I'd like to offer this version of the chip here for the next 10 days, until 8 p.m. EST on Dec. 21, 2020. Then an order would go in to Classic for inclusion in the next scheduled run of Key West chips on the H mold.
The offer:
Post here if you are seriously interested in ordering, or would like to actually order. Please specify if you are definitely ordering, just interested, and any specific number of chips.
The price:
$1.79 per chip, plus shipping.
Minimum number of chips?
No minimum if we get requests for at least 20 single chips.
Maximum number of chips?
Negotiable
Payment:
Payment for your order would be due on March 15, 2021. Payment can be by PayPal or credit card.
Anticipated production, shipping and delivery:
This date has not yet been determined, and would depend on Classic's production schedule.
Questions?
Please post any questions below or PM me (dennis63) here.