Joined

Mar 24, 2015
Messages

34
Reaction score

167
Location
some time ago I started to design poker chips during long train rides or boring lessons at university… not because I wanted to get them produced, just because the design tool is fun. so now I have multiple half-finished custom poker set designs lying around that nobody has ever seen and obviously never got made. I figured i'll start (kind of) finishing them when I get time and post the mockups here.
maybe you like some of them, i can't really tell if those are any good
CMYK Tournament Chips
those are based on the CMYK (cyan, magenta, yellow, black) colors used in printing. I really love those, and if I ever get the funds to do custom chips it's most likely gonna be them - quarter pie chips ar just amazing.
only problem is that the CPC color palette doesn't really offer the colors needed… chipcos polyclay chips would probably work for them and could get the colors right (so if someone wants to sell a sample of those…)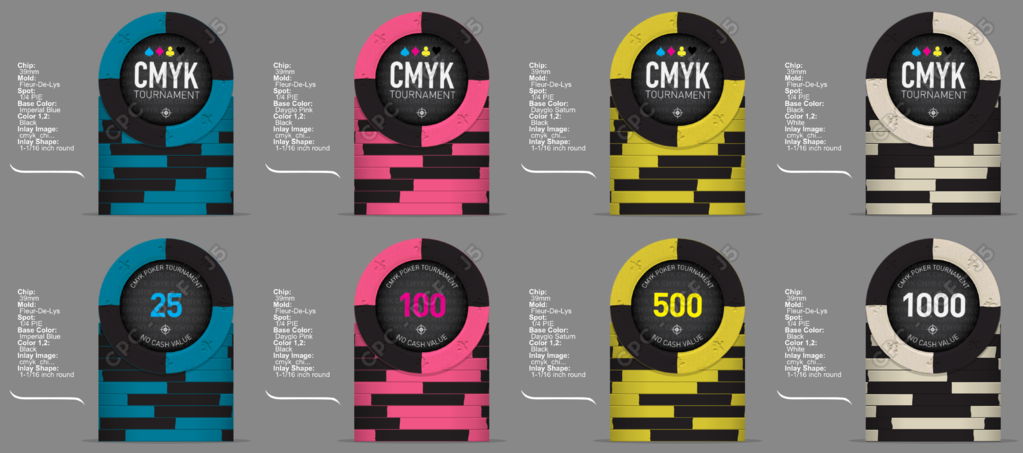 Barber Shop Backroom Poker
last week I walked by some barber shop that just opened across the street of my university (didn't know they still exist) and saw a black curtain at the back someone just walked trough… i spent half the day deciding how the chips would look that the older men and hipsters use to play poker in the back of this barber shop...
i actually think this might could be going somewhere (the inlay - the colors, not so much)
cheers!
Cookiemonster